This post may contain affiliate links. For more information, read my disclosure policy.
Macarons may seem hard, but really they just require patience. These Chocolate Mint Macarons are so good – and they'd be a perfect addition to any holiday platter!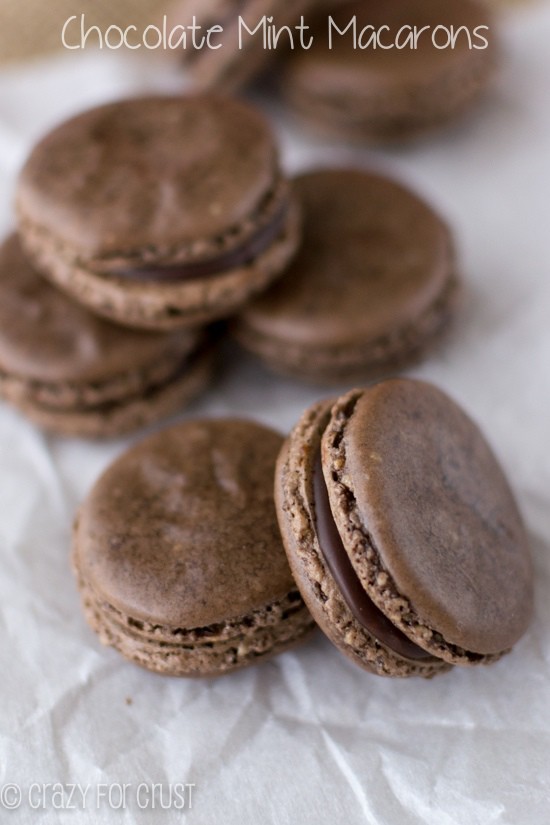 No, not Macaroon. Macaron. You know, the new en vogue cookie? Florian, the dude from Cupcake Wars? You know what I'm talking about right?
Macaroons (two o's) are a coconut cookie traditionally served in Spring. Macarons (one o) are little sandwich cookies that have no coconut whatsoever. They're an airy-yet-chewy kind a a meringue but not really, made with almond flour cookie.
And they're amazing!
My first experience with macarons was a few years ago at the Foodbuzz Blogging Conference. They served all these different flavors in all these pretty colors. Since then, I've seen them across blogland and in pretty much every dainty bake shop. I've heard all the horror stories about how hard they are to make, about how fickle they can be. But, even with all that, I've been dying to make them. They've been #1 on my baking bucket list for some time now.
And I can finally say I've conquered the macaron! And you know what? It wasn't that hard. A long process? Yes. Did I need patience? Yes. But hard? No. I think anyone can make these – really.
I mean, how could you not make them?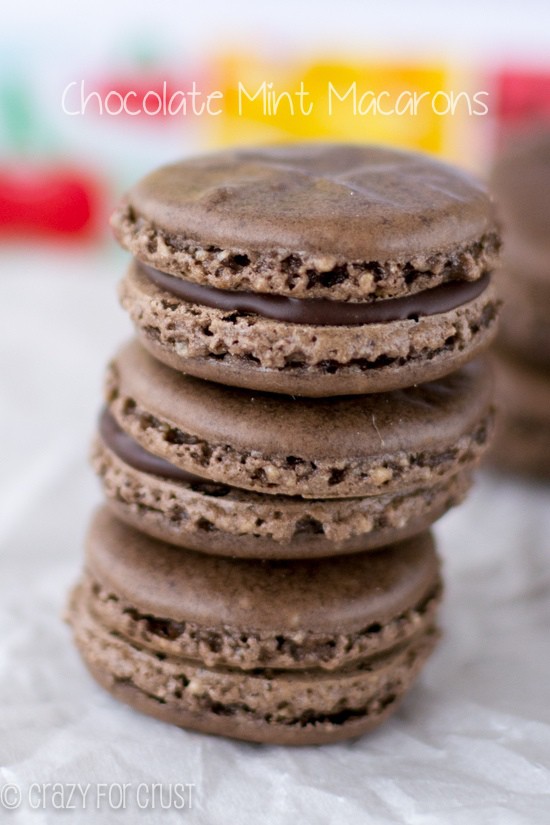 These macarons are chocolate, with a mint chocolate ganache filling. The best part about macarons are how versatile they are. It's like making whoopee pies: just change the flavor profile with a new filling. I used ganache I had leftover from this cheesecake. I knew that mint ganache would go so good with a chocolate macaron.
Now, like I said before, making macarons requires lots of patience. There are lots of steps. There's lots of sifting involved. You need a kitchen scale and you need to age egg whites. After my pie crust tutorial the other day, I was not in the mood to do another step-by-step photo post and luckily, I don't have to. Mindy has done it all for you in her new cookbook!
Mindy Cone, the writer behind the blog Creative Juice, published the Gourmet French Macarons just a few months ago. In the book she details step-by-step, with photos, how to create the perfect macaron. She broke it down so good that I was able to do it easily! And now I want to make more, because I'm not scared of them anymore!
Then, not only did she fill the book with fun flavors of macarons and a bunch a delicious filling ideas (from chocolate ganache to white chocolate and caramel macadamia nut to butterscotch and pink lemonade!), but she turned the basic macaron into tons of cute shapes! The book, with over 75 designs, was written and photographed by Mindy. It really is a piece of artwork. And her macarons are so yummy! The book even comes with a template CD so you can print the shapes you need.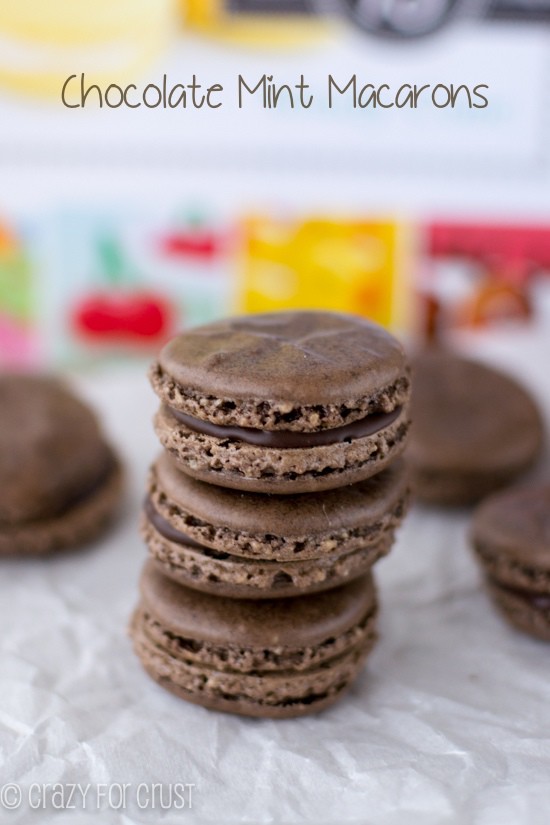 I was so proud of myself when these turned out. I cannot wait to make more flavors! The outside is crunchy and the inside is chewy – these really are the perfect cookie. Don't let them scare you – anyone can make them!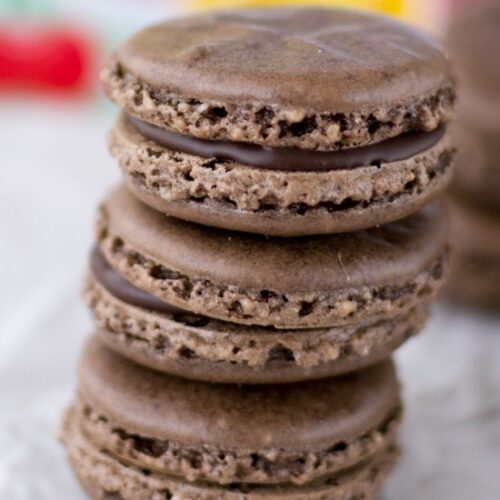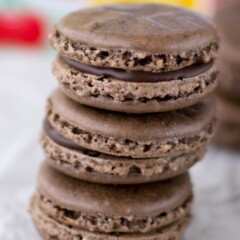 Chocolate Mint Macarons
Ingredients
For the Macaron:
100

g

of egg whites aged at room temperature

about 4 egg whites; separate 5 eggs and leave the whites out at room temperature covered with a paper towel for 24 hours, then measure for the recipe

Pinch

of Cream of tartar

35

g

of superfine sugar

110

g

of Almond flour

200

g

of Powdered Sugar

10

g

cocoa powder

For the Mint Ganache

1/4

cup

mini chocolate chips

1/4

cup

chopped creme de menthe pieces

1/3

cup

heavy cream
Instructions
Make the Macarons: Measure out all ingredients using a gram scale

Prepare the baking sheets by lining them with a silicone mat or parchment paper. Slide a printed 1 ½ inch template sheet underneath and set aside.

Prepare piping bag to be filled and set aside.

Sift powdered sugar, almond mixture, and cocoa powder together two or three times through a sieve and set aside.

Place the egg whites in a large bowl or in stand mixer with wire whisk attachment. Whisk on low until egg whites become foamy. Add the pinch of cream of tartar. Continue to whisk until soft peaks form. Slowly add in the superfine sugar. Once all of the sugar is incorporated, scrape down the sides with a spatula.

Turn your mixer on medium-high and continue to whisk until you reach a stiff meringue. If adding liquid or gel food dye, do so toward the end of whisking.

Sift 1/3 of the almond flour, powdered sugar, and cocoa powder mixture through the sieve and into the meringue. Fold the dry mixture into the meringue.

Repeat with the remaining mixture. Once all of the dry ingredients are incorporated, the batter will be thick and have a dull shine. Continue to fold. As you do so, the batter will loosen. Stop folding when the batter has a glossy sheen, a "lava-like" consistency, and falls in a ribbon like manner off the spatula.

Transfer the batter into a large pastry bag fitted with a round tip and pipe 1½ inch rounds on the parchment paper following the template.

When all of the rounds are piped on the parchment, rap the sheet pans evenly on work surface a few times. Remove templates from below your parchment paper carefully. Let the batter rest at room temperature for 20-40 minutes.

Pre-heat oven to 350 degrees. Reduce temperature to 300 degrees and bake one sheet at a time for 12 minutes rotating the pan half way through.

Remove from oven and allow to cool.

Match up similar size shells into pairs and sandwich with filling.

Make the Mint Ganache: Add heavy cream, chocolate, and creme de menthe pieces to a measuring cup. Microwave for 30 seconds, whisk. Heat for an additional 15 seconds if needed. Whisk until smooth. Chill until it is the consistency to pipe into cookies.

Fill the cookies with the mint gananche. Place in a sealable container and chill overnight. They are best after they have sat overnight.
Nutritional information not guaranteed to be accurate
Cookies & Mint Chip Cheesecake
Sweets from friends:
Macaron Brownie Bombs by The Domestic Rebel
Pumpkin Pie Macarons by Bakeaholic Mama
Chocolate Macaron Footballs by Something Swanky
Last Updated on May 31, 2020