This post may contain affiliate links. For more information, read my disclosure policy.
This Chocolate Malted Pudding comes together super fast using Ovaltine, Cool Whip, and Jell-O instant pudding. It's a retro dessert your family will love!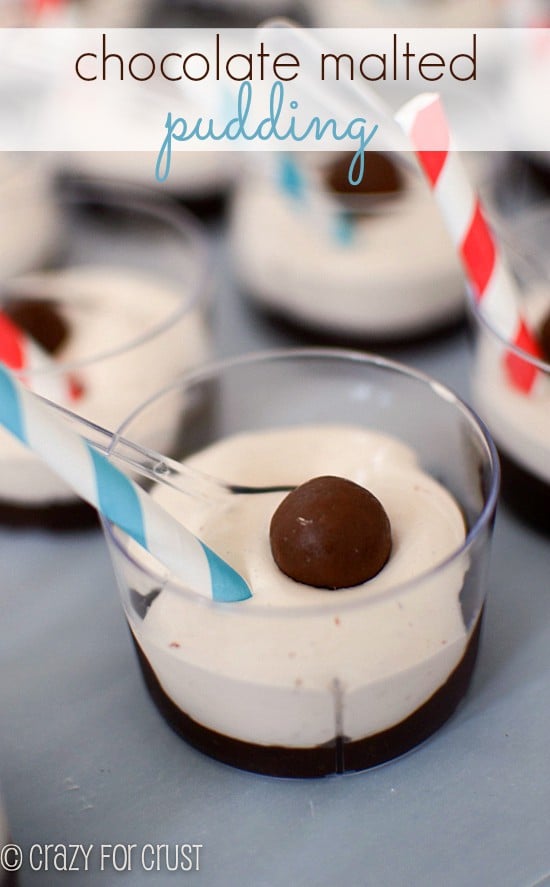 This is one of those posts I've been meaning to share with you since February. Yes, I said February. I made this, along with my Banana Split Cupcakes, Crumb Apple Pie, and Rocky Road Pudding Cookies, for my mom's 60th birthday party five months ago…and I never shared it.
Shame on me!
I also never shared details from her retro 50s diner themed party. Double shame! That's still on my list of to-dos!
This pudding was a huge hit at the party. I was a little shocked, really. I mean it was the easiest dessert to put together, and it was just…pudding. But OMG everyone loved it. I kept getting asked for the recipe. So now, here I am, a mere 5 months later, sharing it.
Shame. Just shame on me!
When I was a kid, I loved Ovaltine. I used to drink it all the time. I remember the one time I got grounded (yes, I only got grounded once) it wasn't from watching TV or playing with my friends. Nope – my mom took my Ovaltine away for a whole week. I was crushed.
Obviously, the punishment worked, since I was never grounded again. That, or I was just a spoiled only child whose parents didn't have the heart to discipline me. Whatever you prefer. 😉
When I was brainstorming desserts for my mom's party, I wanted retro, old-school flavors. I immediately thought of chocolate malts. I mean, from what I've seen in movies, a chocolate malt was the bees knees in old diners back in the day. So I turned the chocolate malt idea into a pudding.
This recipe is so easy – it comes together quick using Jell-O instant pudding mix and Cool Whip infused with Ovaltine. You layer the pudding/Ovaltine mixture on the bottom and the Cool Whip/Ovaltine mixture on the top. Easy peasy!
Since this was for a party, I made little serving sizes. I found these party sized serving cups and mini spoons at Party City. You can find the straws everywhere now, online and in craft stores. Heck, even my grocery store has them!
If you're just serving this to your family, you can use regular pudding dishes, or even a trifle dish or large bowl. Adapt it to suit your needs!
Also, I made my pudding *almost* sugar-free (Ovaltine is not). You can use sugar-free or regular ingredients, whichever you prefer!
This is the perfect retro dessert. Or a current dessert, since malt flavor is all the rage right now. Whatever – your family will love it just like mine did!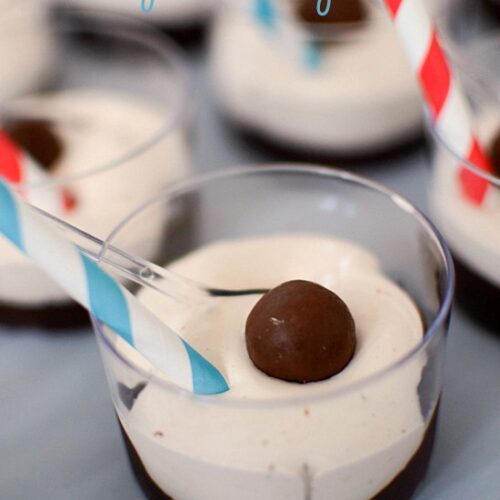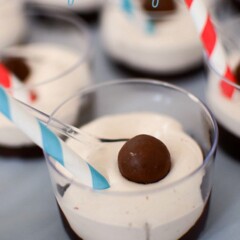 Chocolate Malted Pudding
It's a chocolate malt in a pudding! Chocolate Malted Pudding is a retro treat your family will love!
Ingredients
For the pudding:
2

small boxes instant chocolate pudding

regular is 3.4 oz or sugar-free is 1 ounce

4

cups

nonfat milk

1

cup

Ovaltine powder
For the topping:
8

ounces

whipped topping

regular or sugar-free, thawed

1/2

cup

Ovaltine powder

1

teaspoon

vanilla

About 24 Whopper candies
Instructions
Whisk pudding and milk in a large bowl. Once the pudding powder begins to dissolve, whisk in the Ovaltine until no lumps remain.

Chill until set, about 5-10 minutes. Divide amongst serving dishes. I used 24 mini cups from the party store, but you can use whatever size you'd like!

Stir Ovaltine and vanilla into whipped topping until no lumps remain.

Spoon evenly over pudding in serving dishes. Top with a Whopper candy. Chill until ready to serve.
Nutritional information not guaranteed to be accurate
Other retro treats you might like:
Rocky Road Nutella Pudding Cookies
Sweets from friends:
Simple Chocolate Mousse by Something Swanky
Chewy Malt Ball Cookies by Shugary Sweets
Heath Bar Brownie Trifle by Mom on Timeout
Last Updated on May 13, 2020