This post may contain affiliate links. For more information, read my disclosure policy.
Twice a week I take a class at the gym. It's the perfect class for me because it's only 25 minutes.
(Sure, I take the hour long classes sometimes. But usually about halfway through I am feeling like I'm going to be sick and I stare at the clock willing it to move faster, which it usually mocks me by…not. So a 25 minute class is perfect for me.)
The class is called Core and More. I think it's like pilates. It's a half hour of abs, arms, and legs, working hard while keeping that belly button kissing the spine!
The instructor rotates the workouts and I guess recently she's been feeling like she needs to find new material. So she's been searching YouTube for great new workouts.
Bad idea, people. Bad. Wrong.
Yesterday she had us balance on the big exercise ball. On all fours. For two counts of 10. While asking us politely to please not face plant, lest management get peeved.
I don't think the instructor likes me very much; I'm known to laugh out loud when she explains some of the moves we'll be doing. I can't help it. It just comes out because, while she comes from the planet SuperCore where they can all levitate themselves using only their stomach muscles, I am just a lowly earthling afraid that her expensive orthodontia may be compromised while balancing on a ball.
Balancing aside, the last two classes have filled me with confusion. Because one of the things she learned from the sadistic instructor on YouTube was the push-up roll. You do two push-ups with one leg looking like a dog is having it's way with a fire hydrant, then you lay flat and roll, hot dog style, to the other end of the mat and do two more push-ups. Then you roll back and repeat.
I didn't even try the roll. There are just some things that you intrinsically know about yourself; like how horizontal stripes are not okay or trying to do a cartwheel will put you in traction. I know, deep down, that if I was to roll across my mat I would have be nauseous for the entire day and I would have needed a coke and a Big Mac to make it go away.
Which kind of defeats the purpose of taking the class, no?
So why is it that everyone else could do them? I can't be the only one who can't roll. Heck, I can even do a neck roll without needing to sit for a minute for the room to stop spinning. Please tell me I'm not alone.
Now, if I did attempt the roll, I could choose to eat these truffle pops instead of a Big Mac. They'd achieve the same purpose, but still probably defeat the purpose of even going to the class. Or wait, maybe I do the class so I can eat the cheesecake? Hmmm…
The method for these pops comes from Bakerella. I made my favorite cheesecake without the crust (gasp). Scoop equal sized balls into graham cracker crumbs and roll. Then I chilled them overnight, to make them easier to dip.
Oh, and the really awesome thing? I only wanted about 24 pops, so I froze half my cheesecake. Now I have half a cheesecake in my freezer for the next time I make truffles…or for a gym emergency.
Instead of using lollipop sticks, I put these on straws. These super cute straws came from Cupcake Social, the same place I got the rainbow ones.
Once the balls are chilled, they are super easy to dip. I used the same method I use for my cake balls, which is to dip the straw, stick it into the truffle, then dip the whole thing into the chocolate. Make sure the chocolate is deep enough to cover your truffle. It makes it easier to cover and the less you move it around the better it stays on the stick.
Then you add your sprinkles (or you could use more graham cracker crumbs or anything else that makes you happy).
And there you have it.
The perfect roll-inducing, nausea eliminating, gym workout wasting cheesecake truffle pop.
Enjoy!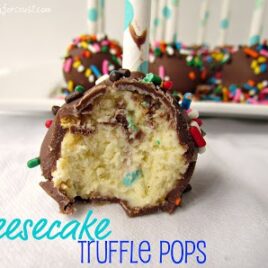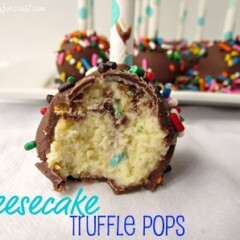 Cheesecake Truffle Pops
Ingredients
For the Cheesecake:
3

– 8 ounce packages of cream cheese

, at room temperature

1 1/3

cups

sugar

5

eggs

, at room temperature

16

ounces

sour cream

, at room temperature

¼

cup

flour

2

teaspoons

vanilla extract

2

teaspoons

fresh lemon juice
For the Pops:
Chocolate Melts

Graham crackers

, crushed in the food processor, about 1 sleeve for a whole cheesecake

Lollipop sticks or paper straws

Sprinkles or other decorations

, if desired
Instructions
Preheat oven to 325°. Line the bottom of a 9" springform pan with a circle of parchment for easy removal.

Beat cream cheese on low speed until fluffy using an electric mixer fitted with a paddle attachment. Add the sugar and mix on low until creamy. Add one egg at a time, mixing in between each addition. Add the flour, lemon juice, and vanilla and mix until combined. Add the sour cream and beat well.

Pour the mixture into the pan. Bake for one hour and 15 minutes. Turn off the oven and prop open the oven door. Let the cheesecake sit for one hour. Remove from oven and cool completely. Chill 24 hours before making pops.

To make the truffles: place graham cracker crumbs in a bowl. Scoop equal sized balls of cheesecake and drop into crumbs. Use the crumbs to help you roll them into balls. Place on a wax-paper lined cookie sheet and chill until hardened or overnight.

To dip them: Melt your chocolate according to package directions. Make sure your chocolate is deep enough to dip your truffles into. Dip the end of your stick or straw into the melted chocolate, then insert into chilled cheesecake ball. Dip the entire ball into the chocolate. Do not swirl. Remove from chocolate and tap gently to remove excess. (I like to hold the pop with my left hand and gently tap my left wrist, not the stick.) Place on a cookie sheet and let harden. Store in the refrigerator.

Note: you can freeze the cheesecake if you want to make your cheesecake pops in the future. I cut my cheesecake into quarters and froze each separately. Each quarter makes about 12 pops.
Nutritional information not guaranteed to be accurate
Last Updated on May 13, 2020