This post may contain affiliate links. For more information, read my disclosure policy.
Wait…you're wondering where the dessert picture is, right?
I'm taking a little break from desserts today to show you the party I threw for Jordan last weekend. It was her "fake" 7th birthday (she says "fake" because her real birthday is this coming weekend, lest we forget to celebrate it with more cake and presents). Right around Christmas she told me she wanted a rainbow party. I was excited because there is so much that can be done around rainbows.
Enter Pinterest.
Just search "Rainbow Party" on Pinterest and you come up with tons of great ideas. Many of which I incorporated here.
First up, an invitation.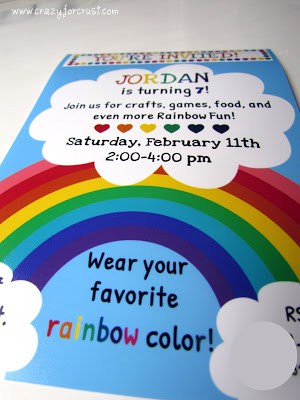 It was inspired by one I found on Etsy. I lucked out and found a digital scrapbooking layout on Etsy, at a shop called hellolovetoo. I created everything I made from that simple, $4 kit, using my Creative Memories scrapbooking software.
Then I went a little crazy with the making of labels and such. Waterbottles, name tags, bag tags, goody bags, a pennant, oh my!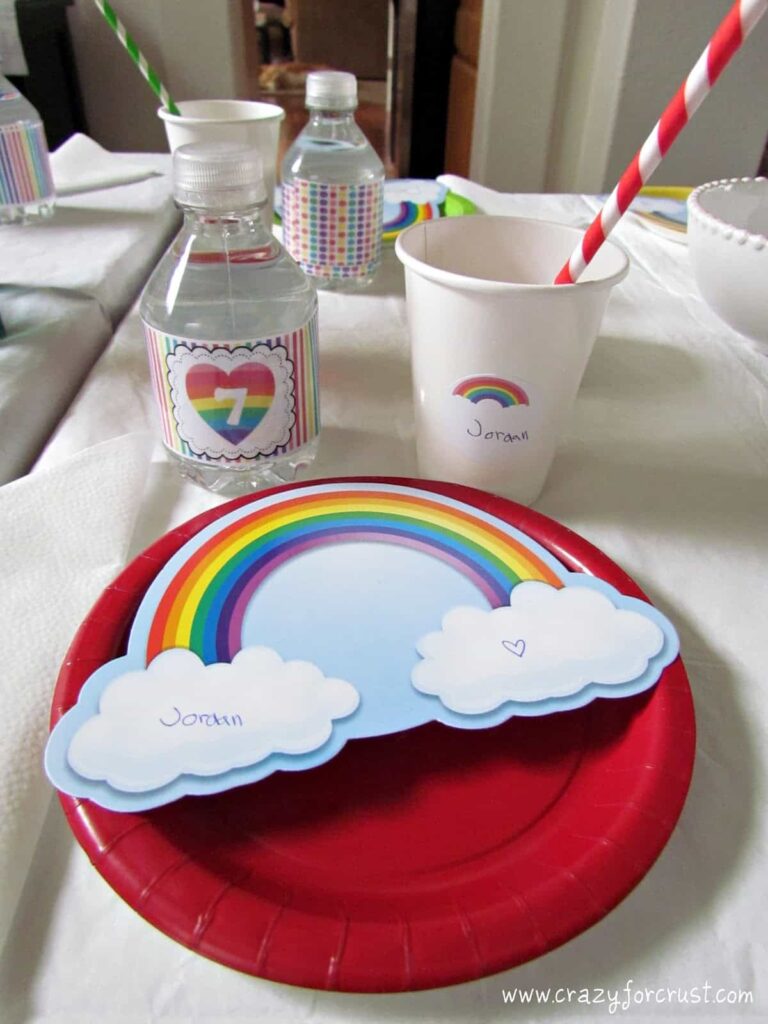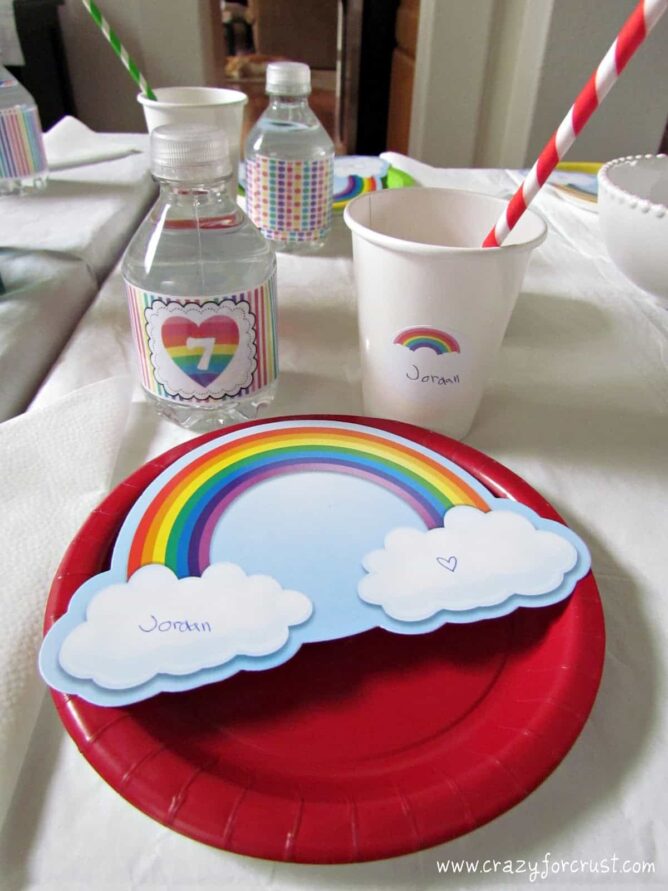 Making the water bottle labels was way easier than I thought it would be. I designed the graphics using my software and rainbow kit. The labels are 8 1/2″ long and 1 3/4″ wide. I printed them, four to a sheet, on regular printer paper. The trick for getting them on the bottles? Packing tape! You just lay out a strip of tape, place the label face down, and wrap it around the bottle. These were so easy, Jordan helped me do it. Here's the tutorial I used from Glorious Treats.
I also printed labels for the cups and Jordan wrote each guests' name on the label. You can buy circle labels (1″) or Booklet Seals (1 1/2″) at office supply stores. Each bag had a name badge label (also from the office supply) printed with "Thanks for coming to my party" and Jordan again wrote names on each one. I made rainbow cookies (tutorial and recipe coming soon!) to go in the goody bags.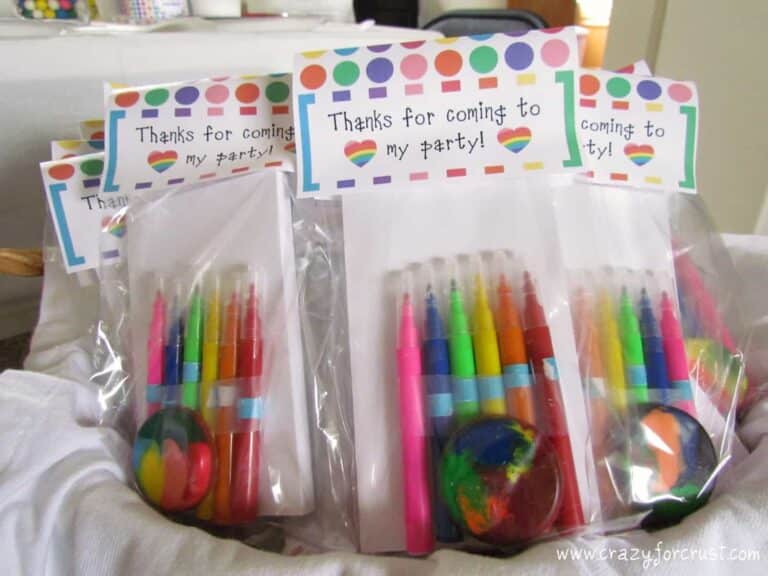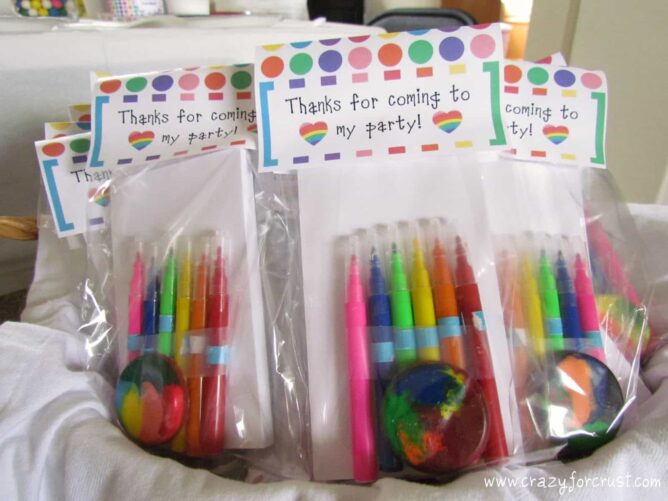 I'm all about giving goody bag items that are usable. I included a crayon melt, pack of pens, and pad of paper. And I made tags just like I did with my Elf and Heart Munch, using the rainbow kit and regular printer paper. (The pens were from Party City. They came in a bag – not sorted. Jordan actually did all the sorting and helped me tape them together. She also taped all the bag labels on. I'm really liking this "able to help" age!)
We had a bounce house – because we could. See, in our old house I always wanted one but it wouldn't fit. So I had to get one this year because we can finally fit it. And then I prayed it wouldn't rain (it didn't).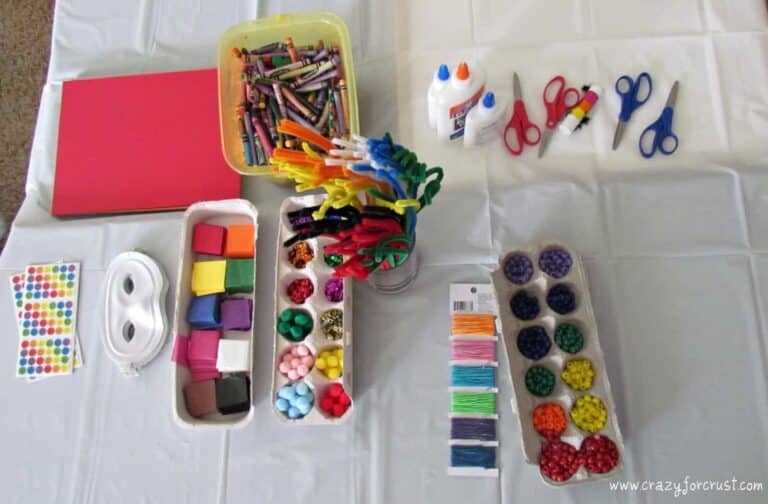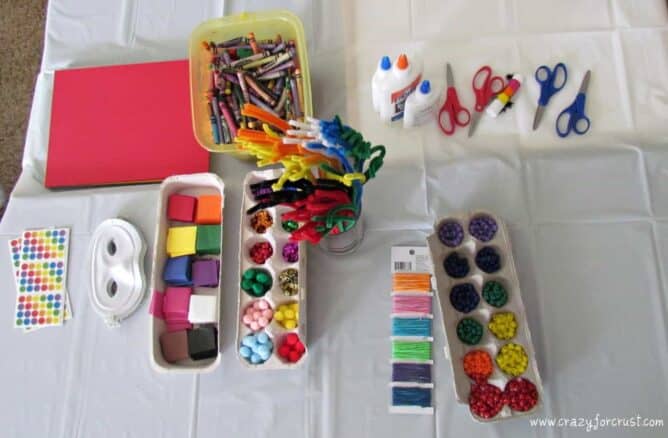 When they weren't bouncing, they crafted. Jordan requested I buy the masks. I also bought beads and string, and tissue paper. The sequins were the biggest hit. Unfortunately I have shag carpet. I have a feeling I'll still be finding sequins on her 17th birthday.
Of course, the place setting was rainbow. The straws are from Cupcake Social on Etsy. The rainbow fruit kebabs were a great idea…until they became weapons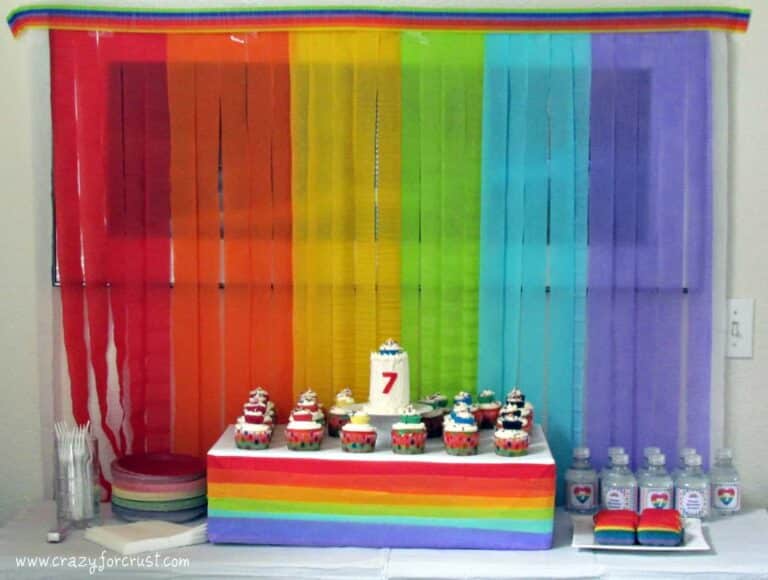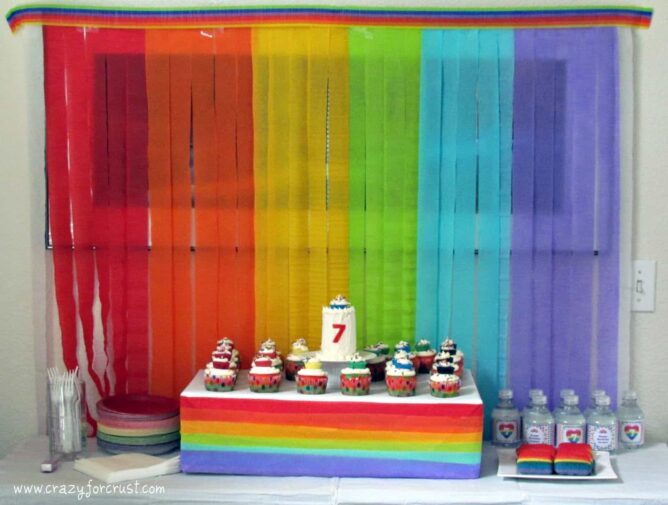 The bubblegum was huge hit – there was none left. I *think* a few girls pocketed bags full.
I was most proud of the cake and cupcakes, of course! I'll be posting the tutorial for those on Monday.
And, most importantly:
She was happy. She said it was her favorite party. And I especially loved that she helped so much. It made it even more special.
Thanks so much for reading! Back to the yummy goodness tomorrow.
SaveSave
SaveSave
Last Updated on May 13, 2020