This post may contain affiliate links. For more information, read my disclosure policy.
Life has been a little crazy lately. Why is it that, when you're super busy, things just get busier?
Normally, Spring is our easy time. Once Jordan's birthday is over I can take a breath and wait for the busy Summer to start.
But this year? Oh my goodness. It's been a month since Jordan's birthday and I feel like I haven't been able to surface to take a breath. She was sick, I was sick. My husband has been traveling a lot. My parent's have had their health scares and I've been down to their house twice. And this list doesn't even include regular day-to-day stuff, like volunteering in Jordan's class or all the stuff that's been happening for the PTC at school.
And then there is the annoying regular stuff, like cleaning the house, grocery shopping, Easter shopping.
Yeah, I have not even begun to think about Easter baskets or treasure hunts or eggs.
And we're going on a trip over Spring Break. In a week and a half. And I have not made one list. *Gasp*
I'm not really complaining, just venting a little. I know that, in comparison to so many, my life is easy.
But still. Sometimes it doesn't feel that way.
I get stressed about making sure I have new content here and commenting and linking and Facebook and Twitter and the next big social media thing. I realize it's almost Easter and I haven't made anything cute.
But then I walk away from the computer for a minute and realize I'm more stressed. Because being here, in virtual land, with all of you? Actually makes me happier. Being in my kitchen, creating and baking and photographing? Makes me relax, in the long run anyway.
Getting to meet fellow bloggers that I had no idea actually live within walking distance of me, and having a three hour coffee that seems like it was five minutes? Priceless.
So thanks, you know, for being my outlet. It gets me through the hard days.
And then, so does dessert. Dessert, like my fellow bloggers, has never failed me. At least now I can check one Easter recipe off my list. (Yippee!)
This is a munch for bunnies. Chocolate eggs (Cadbury, of course), bunny tails (marshmallows), and carrots (dipped Bugles).
The dipped Bugle idea is totally from Cookies & Cups. She dips Bugles to look like Santa hats, y'know.
I dipped my Bugles in orange candy melts.
Then dipped the tips in green.
I added some green sugar to make them look "frawny." (I think I made that word up.)
This is a super easy Easter snack. And easy is good.
And it's almost like I'm eating vegetables. Right?
Bunny Munch
by Crazy for Crust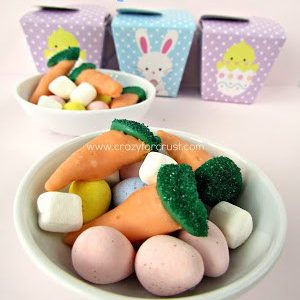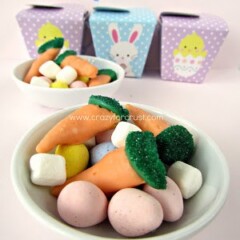 Bunny Munch
Ingredients
Bugles

Orange candy melts

Green candy melts

Green sugar

Chocolate Eggs

(Cadbury or like)

Mini marshmallows
Instructions
Melt the orange candy melts according to package directions. Dip Bugles (point side down) in orange candy and place on a wax paper lined cookie sheet. Chill until hardened.

Melt the green candy melts according to package directions. Dip the top end of the Bugels in green candy and then immediately into the green sugar. Place back on the cookie sheet and chill until hardened.

Mix a bowl full of the "carrot" Bugles, chocolate eggs, and mini marshmallows. Enjoy!

Note: marshmallows get stale quickly. Do not add the marshmallows until you are ready to serve. You can also add pretzels or whatever other snacks you like to this mix. Change it up to your liking.
Nutritional information not guaranteed to be accurate
Last Updated on May 13, 2020