This post may contain affiliate links. For more information, read my disclosure policy.
Microphone Cake Pops – Having a Rockstar Party? Or does your child just love singing and microphones? Make them some Microphone Cake Pops and they'll love to sing with their dessert!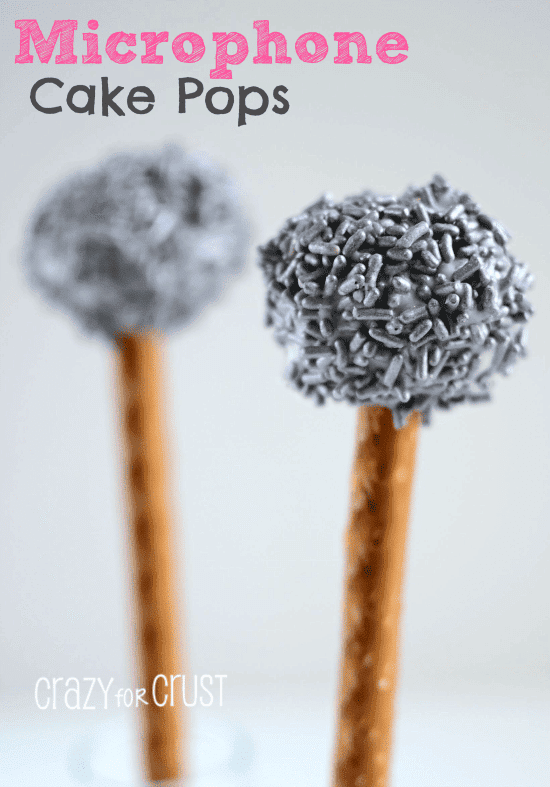 Yesterday in the car, after a parking lot scolding session, Jordan made a nasty imitating face of me when she thought I wasn't looking.
My first thought was, "Oh no she didn't!" complete with head bobbing and finger wagging.
My second one was "Do not laugh." I had to bite my tongue and pretend to blow my nose to cover the chuckling.
I called her out on it and her first words were? "I didn't do it!"
Of course. That's the first thing every kid all over the world says.
She finally admitted to it a few hours later, because she wanted her iPod back.
Apparently, 8 is the new 12. Are we actually to that point where she no longer is upset when I get mad at her? Mocking me today, sneaking out of the house to meet her boyfriend tomorrow. OMG.
It's only been a month since she turned 8. I guess she's forgotten all about all the fun things I did for her birthday.
Like Microphone Cake Pops. Fun party treats for a fun rockstar party that no one mocked me for.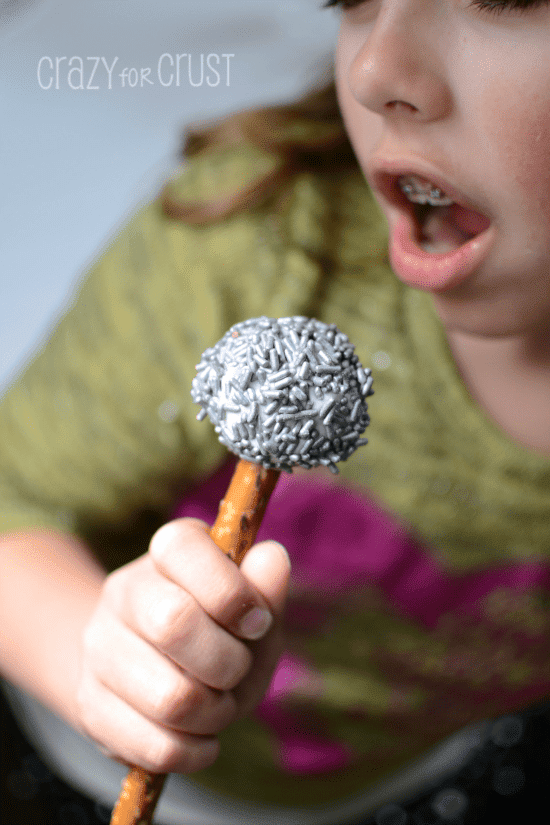 I was originally going to buy a mold for microphone pretzel pops. But when I ordered them and the company never responded and it seemed I would never actually receive the mold, inspiration hit me.
Duh. Cake balls + pretzel rods + silver sprinkles = Microphone Cake Pops.
You can make your cake pop mixture out of whatever flavors you want. I used a chocolate cake mix and vanilla frosting. I made large Microphone Cake Pops, using my 2 tablespoon cookie scoop.
Now, if you know me at all, you know I suck at pops of any sort. So if I can get these babies to stay on a pretzel rod, so can you.
Here are a few tips for dipping your Microphone Cake Pops:
1. Keep your chocolate warm while you work. Heat an electric griddle (I have a Cuisinart Griddler – it's my most used kitchen appliance) to 200 degrees and cover it with two kitchen towels. Set your bowl of melted chocolate on top and it will stay liquid while you dip.
2. When dipping pops, use a drinking glass or a coffee mug. I got this tip from my friend Karyn, who is the Cake Pop Queen. I used a large drinking glass for these pops, one of those wide-mouthed plastic ones. You want the chocolate deep enough that you don't have to swirl or move your pop too much when dipping. Movement = Bad. Movement = Pop falls off stick.
3. Make sure your pops are cold. And make sure you dip your stick (or pretzel rod) in a little chocolate first, before inserting it into the cake ball.
4. After dipping the entire cake ball in chocolate, no swirling, remove it and use your free hand to tap the hand holding the pop, not the pop itself. Do this to get rid of the excess chocolate.
5. Always prepare a drying area before you start dipping. I like to fill a wide-mouthed vase with rice to stick my pops in, especially these ones, with pretzel rods. If you are using lollipop sticks, you can also use styrofoam.
6. Your child will love you if you make these Microphone Cake Pops. Not really a tip, but true. Your daughter's friends will think you're the best mom ever, and even her teacher will gaze at you in wonder that you made edible microphones.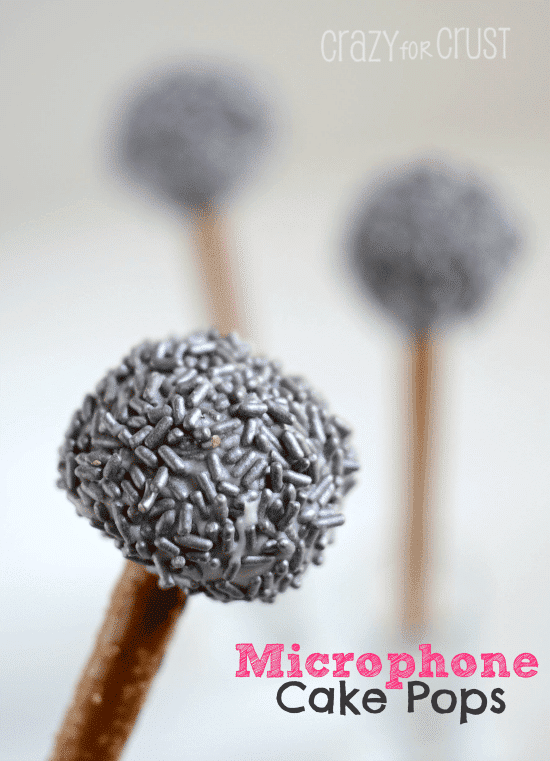 But they probably won't mock you for it. Or make faces when they think you aren't looking.
If 8 is the new 12 then 12 is the new…
*Shudder*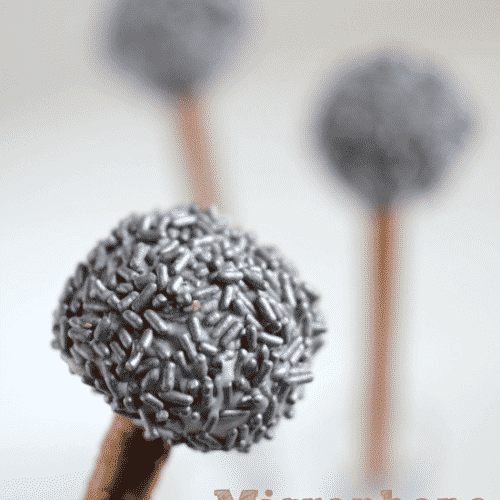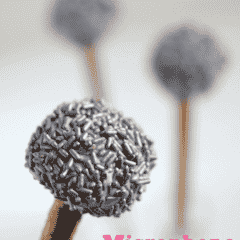 Microphone Cake Pops
Ingredients
Cake

, your favorite flavor, baked and cooled (I used a chocolate box mix)

Frosting

, about 3/4 can for a 9x13" cake (I used a can of vanilla)

White Candy Melts or Candiquik

Silver jimmies

Pretzel Rods
Instructions
Crumble your cake into a large bowl. Mix in about 1/2 can of frosting, adding more as necessary to make the mixture able to stick together smoothly. The mixture should be able to stick together, but not stick to your hands when you roll it (that means it's too wet).

For the microphone cake pops, I used a 2 tablespoon cookie scoop to scoop the balls of cake and frosting mixture. Roll into balls and place on a wax paper lined cookie sheet. Chill until ready to dip.

Melt your candy melts according to package directions. Pour into a large drinking glass or coffee mug for easier dipping.

TIP: When I dip things in melted chocolate, I like to keep it warm so that it doesn't harden. I preheat an electric griddle to 200 degrees and cover it with two kitchen towels. Place the melted chocolate bowls/cups on the griddle and stir occasionally. It will keep your chocolate warm and melted while you are dipping.

Fill a wide-mouthed vase with rice or other small items, to use it for holding the microphones upright while the chocolate hardens.

Place sprinkles in a shallow bowl.

To assemble the microphones: dip a pretzel rod in the chocolate about 1/2". Press the end into a cake ball and immediately dip the entire thing into the melted chocolate, covering the entire cake ball up to the pretzel rod in one motion. Try not to swirl the pop.

Remove from the chocolate and hold the cake pop over the cup of melted candy. Tap the hand holding the pop several times to remove excess chocolate. Dip into jimmies and roll to cover completely, sprinkling them over the cake pop as needed to cover.

Place the pop upright in the vase you filled with rice and let it harden. Repeat with remaining pops.

Once the pops are hardened, you can lay them in a container or on a cookie sheet and chill until ready to serve. Be sure to keep them in an airtight container or cover with plastic wrap or the pretzel will get stale.
Nutritional information not guaranteed to be accurate
Chocolate Cake Ball Stuffed Peanut Butter Cupcakes
Sweets from friends:
Fancy Spring Flowers Cake Pops by Pint Sized Baker
Cake Batter Cookie Dough Bombs by The Domestic Rebel
108 Oreo Cookies in a Cake by Something Swanky
Last Updated on May 12, 2020