This post may contain affiliate links. For more information, read my disclosure policy.
Does how one eats something define who they are? Because, if that's the case, I may be in trouble.
I am a strange eater. First of all, I'm picky. It's been downgraded from "seriously picky" to "moderately picky" but still finicky, nonetheless. I don't like condiments. I don't like most fruit. Cooked leafy vegetables make me shudder. (I haven't, however, ever met a carb I didn't like…which figures.)
Besides being picky, I like to dismantle my food. I like to eat the best part last. (I'm the same way at the dinner table; vegetables get eaten first, followed by meat, then the pasta/potatoes/rice.) However, "saving the best part for last" is a bit difficult when you're eating, say, a bean burrito (no sauce, no onions) from Taco Bell.
I mean, the best part of a Taco Bell Bean Burrito is the tortilla. Sans beans. Duh.
You can probably imagine how I manage to eat the tortilla last. It does not involve a spork, although that might be a more appropriate way to eat something in a public restaurant. I eat the beans first, then the tortilla. It's a bit vampirish.
How do you eat a Reese's? I like the peanut butter best, so I save it for last. That entails eating the chocolate off the outside first.
Let's not even discuss Oreos or Peanut M&Ms. It might make you think I'm really strange.
Enter Almond Roca. I've loved that candy since I was a little girl. My husband loves them too. To me, the best part of an Almond Roca is the toffee. So, if you're following along, that means eating the chocolate and almonds first.
When I was creating the dessert table for my husbands' birthday party, I thought about putting a bunch of Almond Roca in a fancy vase. But I was already doing that with M&Ms and Reese's. So my mind turned to cake pops and the idea for these came to me.
To make them more like Almond Roca I added toffee bits into the cake mixture. I then dipped them in milk chocolate and sprinkled the pops with toasted almonds. The toffee adds a little crunch inside the cake pop, a nice surprise when you're expecting just a bite of cake. Of course, the almonds add crunch too. But, because I'm me, I ate the almonds first. Since the center of a cake pop is the best part, of course.
What can I say? I eat things weird. Wait a minute. What does that say about me?? (Don't answer that!)
How do you eat an Almond Roca?
Almond Roca Cake Pops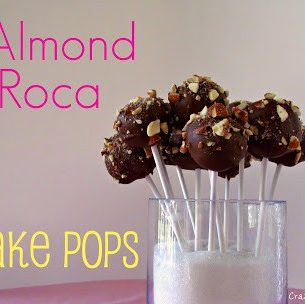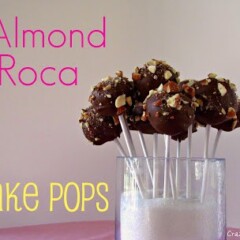 Almond Roca Cake Pops
Ingredients
1

box chocolate cake mix

, with eggs, oil, and water called for on box

1

can vanilla frosting

1

bag Hershey's Heath Toffee Bits

2

bags

(about 14 ounces each) milk chocolate candy melts or almond bark

1

cup

almonds

, chopped and toasted
Instructions
Mix ingredients and bake cake as directed on box for a 9x13 cake. Cool completely before making pops (preferably overnight).

Crumble cake into a large bowl. Make sure it is a fine crumb. Add the bag of toffee bits and stir. Add frosting to the mixture a little at a time (about 1/4 cup) and mix into cake crumbs. You will use about ¾ of the can. Form into desired sized balls (I use a cookie scoop for this) and place on a wax paper lined cookie sheet. Freeze for 15 minutes and then move tray to refrigerator. (You can make the balls a day ahead and refrigerate, not freeze, overnight.)

Melt your chocolate (I like to start with one bag and add more as needed). If you are making pops, gather your lollipop sticks.

Work in small batches so the balls stay cold. I like to remove 2 or 3 from the refrigerator at a time. Dip your lollipop stick into the melted chocolate (about ½ inch), then stick in a cake ball. Then dip the entire ball into the chocolate. Be sure the chocolate is deep enough for the entire ball. Do not swirl the pop in the chocolate. If needed, use a spoon to finish covering the pop. Remove from chocolate and, holding the pop in one hand, gently tap that wrist with your other hand to remove excess chocolate. Place upright in a styrafoam block. If you are making balls, just dip into the bowl of chocolate, remove and place on a wax-paper lined cookie sheet.

While the pop/ball is still wet, sprinkle with toasted chopped almonds. Refrigerate to set. They can be made ahead and frozen. Serve room temperature.
Nutritional information not guaranteed to be accurate
Recipe by Crazy for Crust
This recipe will be linked with:
Last Updated on May 12, 2020