34
Oct 05
Keurig Mini Plus Giveaway {12 weeks of giveaways}
It's a Keurig Mini Plus Giveaway!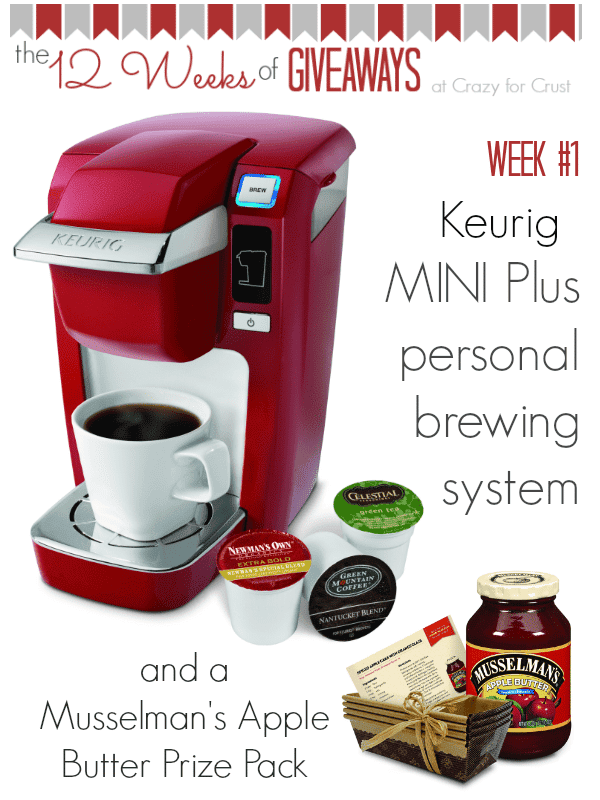 It's the 12 weeks of giveaways! You know what that means, right? Wait for it….
That Christmas is in just over 12 weeks!
#omg #holyheck #nooooooo
Here at Crazy for Crust I'm starting a 12 week series called…the 12 weeks of giveaways! Once (or more!) a week for the next 12 weeks I have some fabulous products lined up to give away. These products range from kitchen items, to home items, to gifts you can give for the holidays!
First up: a Keurig Mini Plus Brewing System and a Musselman's Apple Butter Prize pack!
The Keurig® MINI Plus Personal Brewing System is what you need when a little space is all that you have. Small kitchen spaces, vacation homes or home office desktops. The compact Keurig® MINI Plus Brewing System delivers the perfect cup in just two minutes.
Coffee is brewed in under two minutes, and you can enjoy a hot beverage, or a cold one over ice. There are three cup sizes to choose from (6oz, 8 oz, and 10 oz) and you can remove the drip tray to fill a travel mug.
You know you need a new coffee maker, or you know someone you can give it to for the holidays, am I right?
I live on coffee and I love my Keurig. I use it twice a day – at least! And what better to pair your coffee with than a delicious apple butter quick bread or apple butter snickerdoodle? Along with your Keurig, you'll get a prize pack from Musselman's including a jar of Musselman's Apple Butter, a recipe card, and four decorative mini loaf pans to bake and share!
To enter, please use the rafflecopter below. Open to U.S. residents only, must be 18 years or older to enter. Please sign into the rafflecopter using either your email or with your Facebook account. Please be sure to check your email when the giveaways ends – that is how I will notify the winner. Winner must respond within 48 hours of sent email, or a new winner will be chosen.
The rafflecopter form is right below this sentence. Sometimes it takes a few moments to load. Good luck!
Connect with Keurig
Connect with Musselman's
Website | Facebook | Pinterest
Download the NEW Apple Butter e-recipe book!

 Subscribe via email and have sugar delivered straight to your inbox!