This post may contain affiliate links. For more information, read my disclosure policy.
This post will teach you how to cut recipes in half: simple measurements and tips for halving almost any ingredient! With a FREE printable and easy chart, these tips and tricks will help you in the kitchen.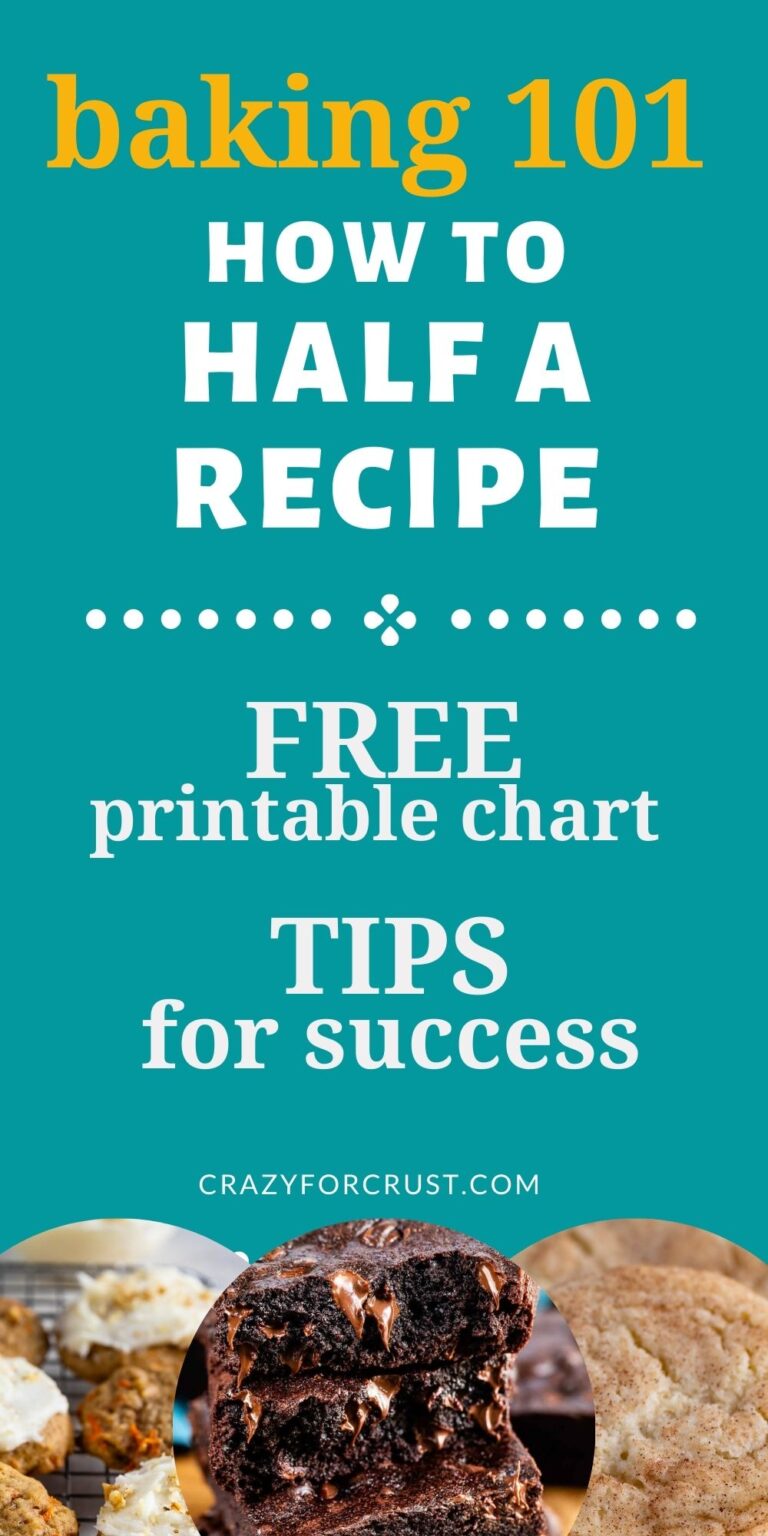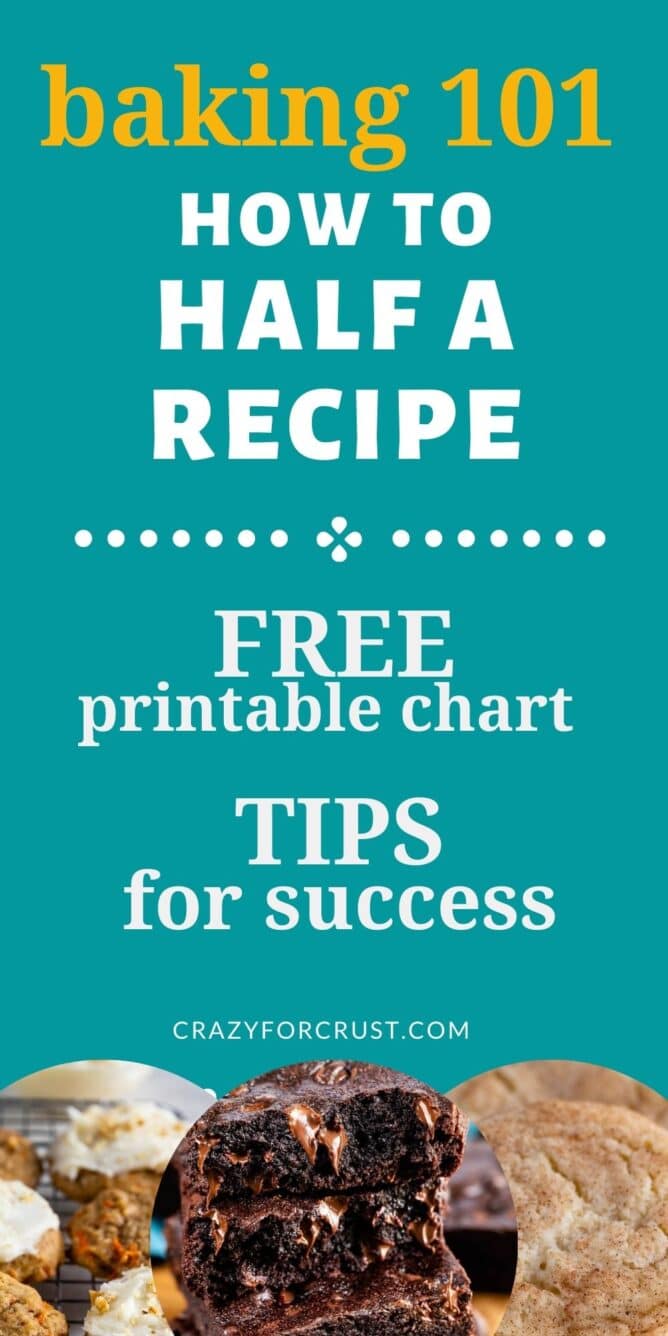 How to Divide Measurements
It's all about fractions! But really, it is. Unless you know the secrets to measurement equivalency:
If you're not great at fractions, you can work in tablespoons.
1 cup = 16 tablespoons
1 tablespoon = 3 teaspoons
That makes things much easier to cut in half. For example:
1/2 cup = 8 tablespoons, so half of that would be 4 tablespoons!
What is half of 3/4 cup?
3/4 cup has 12 tablespoons, so 6 tablespoons (or 1/4 cup plus 2 tablespoons) is half of 3/4 cup.
What is half of 1/3 cup?
1/3 cup is trickier because 1/3 cup = 5 1/3 tablespoons or 2.7 ounces or 78.9 ml. Remember that 1 tablespoon = 3 teaspoons, so half of 1/3 cup would be 2.5 tablespoons plus 1 teaspoon or 1.4 ounces or 39.5 ml.
It is easiest to use a scale to cut these in half, so use a scale and simply cut the grams in half!
You can refer to the chart below – or get the FREE printable download!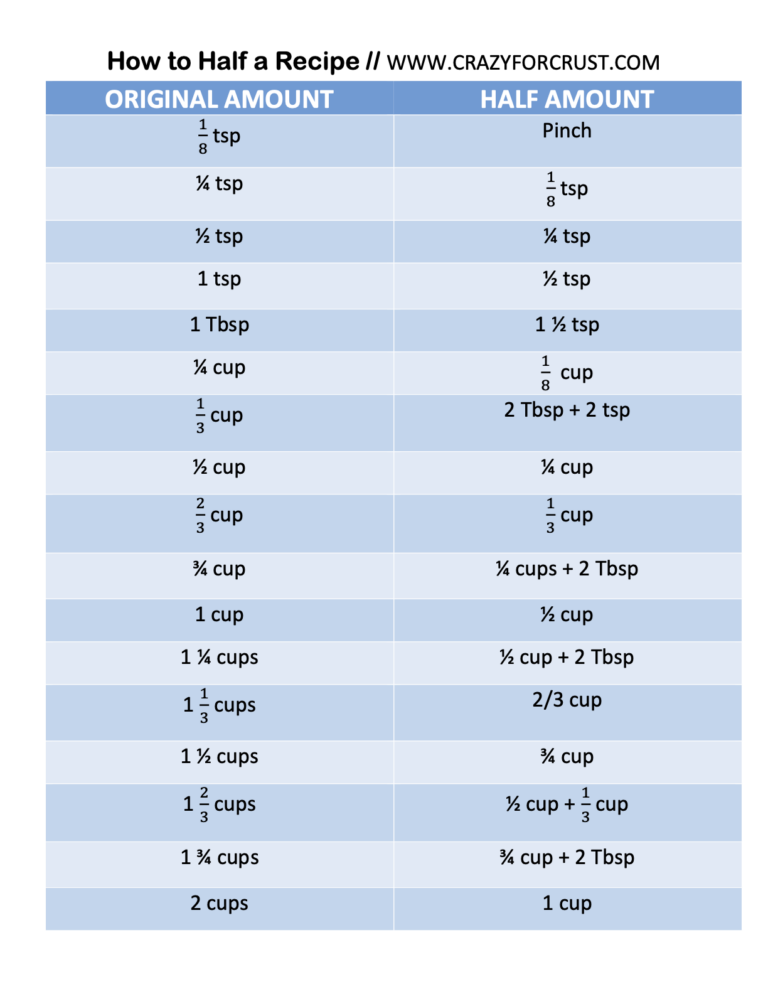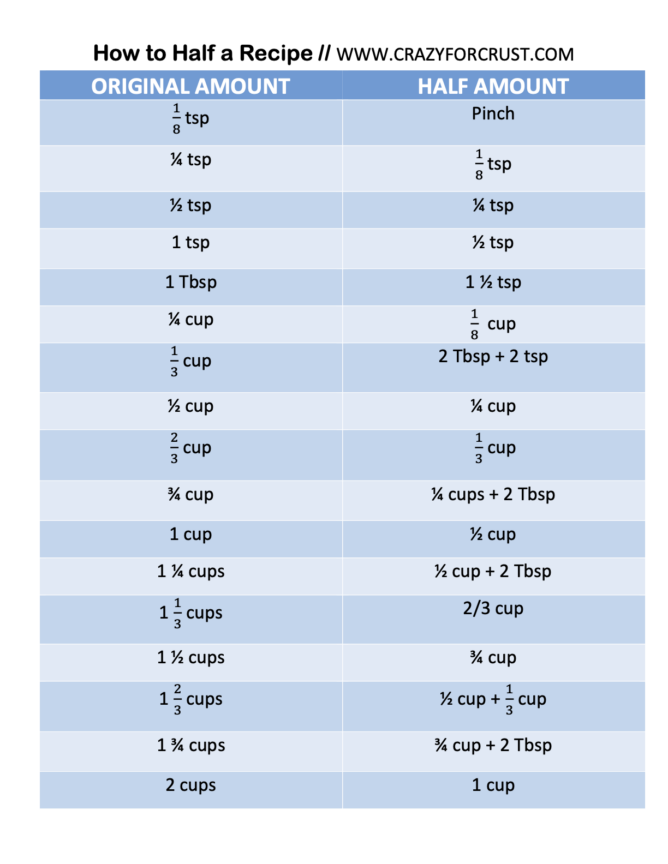 What is half of 1/8 teaspoon?
Half of 1/8 teaspoon is what we call a dash.
How to cut an Egg in Half
The biggest issue when cutting a recipe in half is the egg. I typically only cut recipes in half when they have 2 eggs, so it's easy to divide in half. However, if you're cutting a recipe in half that only calls for 1 egg (or an odd number) you have a few choices:
Crack the egg into a measuring cup, whisk it, and see how much it is (usually about 3 tablespoons) and you can then eyeball it to cut in half.
Use egg substitute. 1 large egg = 4 tablespoons egg substitute. That makes it easier to cut in half.
To cut an egg in half for cookies: use just the yolk. This won't work for every recipe, but often using just the yolk and discarding the white will work.
Use a Scale for Measuring
The easiest way to cut any recipe in half is by using a scale. If a recipe calls for 124 grams of flour, it's easy to cut that in half and measure only 62 grams. A scale is not only more precise but it's much easier to cut in half.
Now that you know how to half a recipe you can easily cut down anything you're cooking or baking!
Last Updated on January 15, 2023