This post may contain affiliate links. For more information, read my disclosure policy.
These Easy Dark Chocolate Peanut Butter Cookies have only a handful of ingredients and they taste like a peanut butter cup!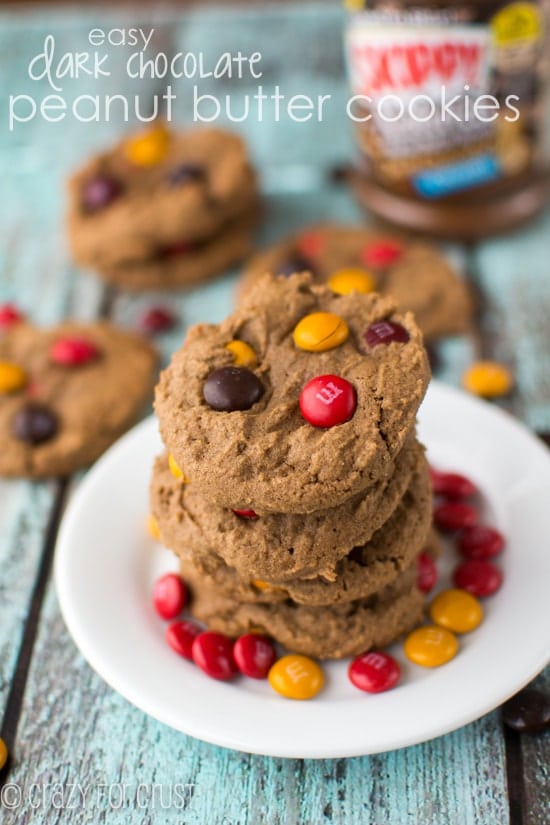 You may have figured out by now that I loooooooooooove peanut butter treats. I specify "treats" because I'm not a huge fan of just peanut butter – you won't find me sneaking a spoonful for a random snack. I won't choose a peanut butter sandwich if there are other options. But peanut butter cookie? Cake? Cheesecake? Yes, I'll choose those first – always.
And, not only do I love peanut butter treats, but so do all of you. At least, whenever I post one on Facebook, y'all go crazy. (Hopefully, I didn't just jinx myself!)
One of my favorite peanut butter cookie recipes is the easy one. I posted it recently, as Jordan's Reese's Overload Cookies. You know all about the easy peanut butter cookies, right? Peanut butter, egg, and sugar, sometimes leavening, and add-ins. Period. The end. They are gluten-free and super peanut buttery because there is no flour.
Recently I was grocery shopping and discovered Skippy Natural's new BFF: Dark Chocolate Peanut Butter Spread.
Have you seen this yet? I found mine at Walmart, but I've also seen it at regular grocery stores. It's so good – peanut butter with a chocolate twist.
Now, I want to say: this is not a sponsored post. We just really, really love Skippy in our house. It's been my peanut butter my entire life. I think, with peanut butter, like some other brands, we are firmly in one camp. I am firmly entrenched in the Skippy camp. And I love the Naturals they make – it's just peanuts but it's no stir. In fact, ALL of the recipes I show you are made with Skippy Naturals, except the few low-fat ones. Those use Reduced Fat Skippy.
See? I'm a Skippy addict. 🙂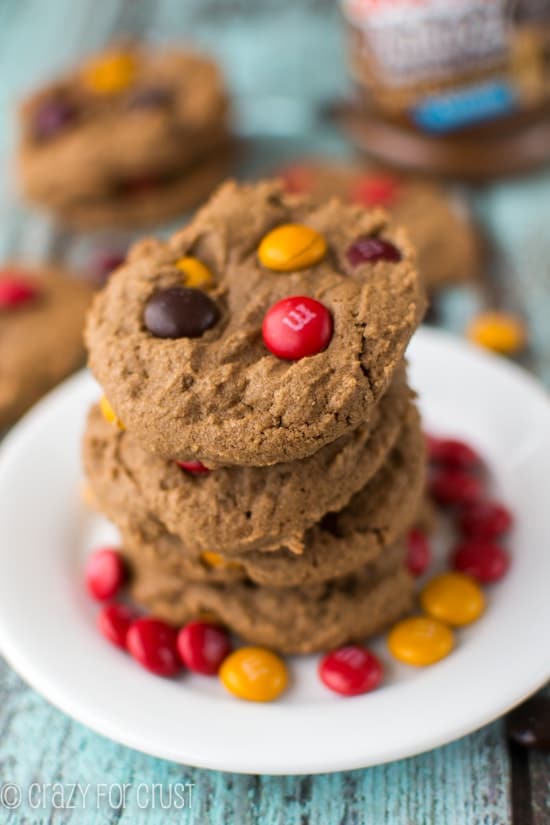 Anyway, so Dark Chocolate Peanut Butter Spread. It was in my cabinet for awhile. I was fully afraid of it. As in, if I opened it, I'd attack it with a spoon. Finally I had a hankering for the easy peanut butter cookie recipe, and figured, why not try it with the new peanut butter?
And OMG – these are my new favorite easy peanut butter cookie. Or, my new favorite peanut butter cookie. Hands down!
I added some M&Ms as a mix in. You don't need any mix-ins, but I like to add some. Between the rich dark chocolate peanut butter flavor (remember, the flour doesn't muddle the peanut butter – these are straight up in your face smack you across the cheek peanut butter) and the M&Ms, these taste like a peanut butter cup in cookie form.
I'm not exaggerating either. I took a bite and was chewing and looked at the cookie like it was magical. I think it *may* have started to glow. Or I might have just been reading too much Harry Potter. Whatever.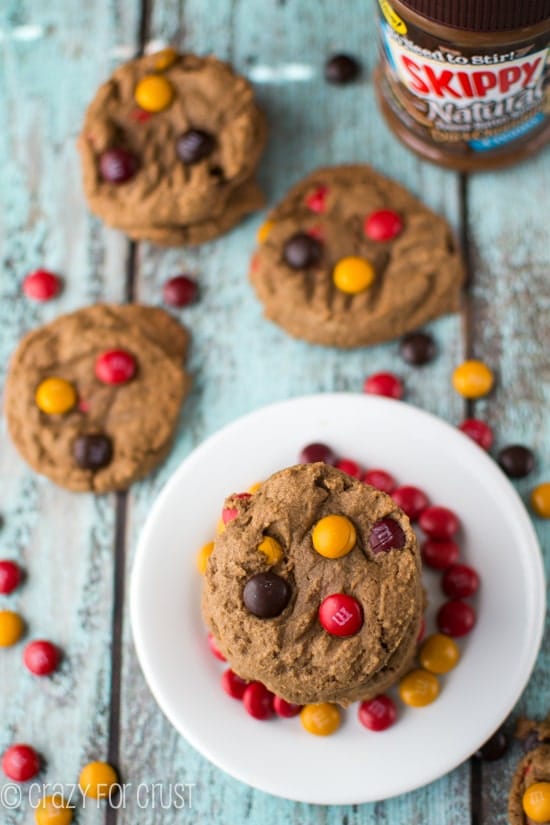 You must find this peanut butter. And you MUST MAKE THESE COOKIES. Your family will thank you.
If you stop eating them long enough to share, that is. 😉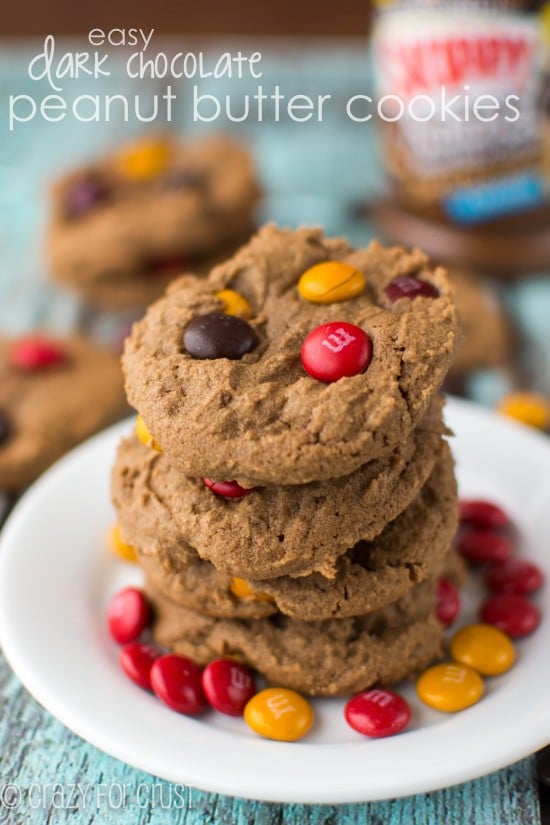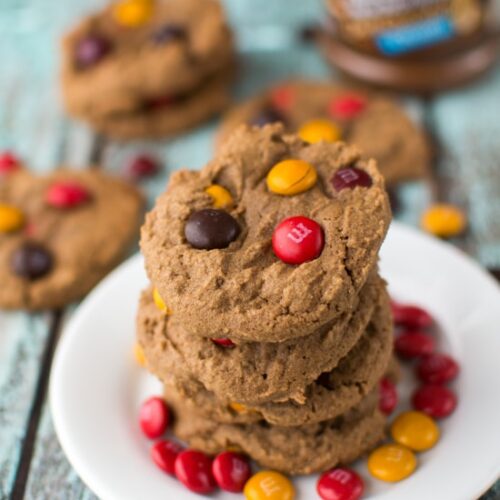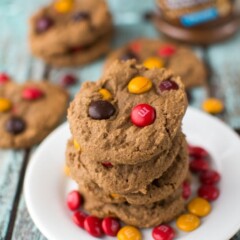 Easy Dark Chocolate Peanut Butter Cookies
Ingredients
1

cup

Skippy Naturals Dark Chocolate Peanut Butter

or any kind of chocolate peanut butter

1

egg

1/2

cup

granulated sugar

1/2

cup

brown sugar

1/2

teaspoon

baking soda

3/4

cup

plain or mini M&M's

divided
Instructions
Preheat oven to 350 degrees. Line two baking sheets with silpat/silicone liners or parchment paper.

Stir together peanut butter, sugars, egg, and baking soda. Stir in 1/2 cup M&Ms.

Scoop cookies onto cookie sheets. I used a 2" cookie scoop for this step. Lightly wet the back of a fork with water and gently press each cookie down slightly with a criss-cross pattern. (Re-wet your fork after every few cookies.) Press remaining M&Ms on top of the cookies.

Bake for about 8 minutes or until they start to brown. Cool before removing from cookies sheets. Know that these cookies can be crumbly, so be careful when packaging them.
Nutritional information not guaranteed to be accurate
Click here to see more PEANUT BUTTER recipes!
You love Pinterest, right? I mean, it's totally the bees knees. You probably already follow me (right??) but I'm part of a new board and even if you follow me on all of my boards, you won't be following this board yet. It's called The PINspiration Place, and YOU are invited to follow along!
If you head to Pinterest find inspiration for all things food, DIY, party, home decor, holiday, photography, and printables, then this board is perfect for you. I've teamed up with a fabulous group of inspirational bloggers to bring you a Pinterest board filled with all of that goodness!
I'd LOVE for you to get all this greatness in your home feed on Pinterest. To do so, simply click below to FOLLOW THIS BOARD!
Now, for some more peanut butter goodness:
Jordan's Reese's Overload Cookies
Almond Joy Peanut Butter Cookie Bars
Toffee Pretzel Peanut Butter Cookies
Sweets from friends:
Chocolate White Chocolate Chip Cookies by Bless this Mess
Brown Butter Salted Caramel Mocha Cookies by Kevin & Amanda
Reese's Monster Cookies by Something Swanky
Last Updated on May 31, 2020