This post may contain affiliate links. For more information, read my disclosure policy.
If you need an easy and sweet breakfast, this is it! These Easy Chocolate Chip Orange Sweet Rolls come together in minutes and will satisfy your sweet roll craving!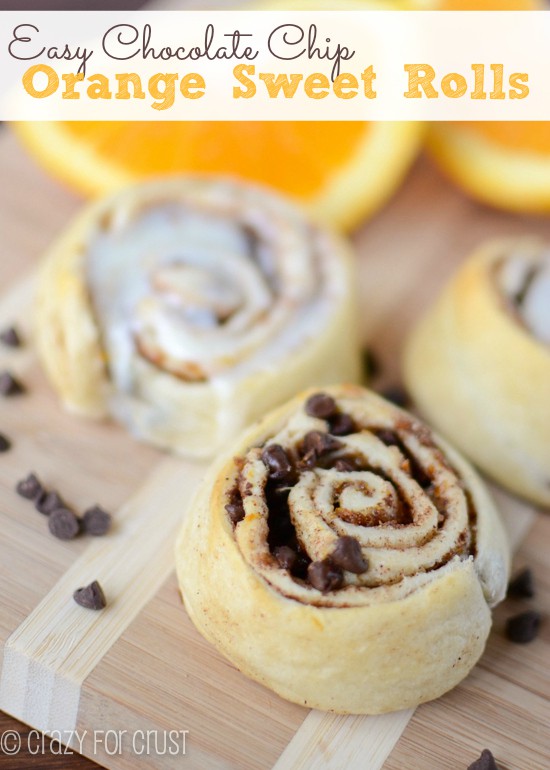 Happy Mother's Day everyone! I hope that you're getting totally pampered today!
Me? I plan to do nothing on Mother's Day, which is why I'm writing this post on Saturday. In fact, at dinner tonight it was stressed that Jordan should not disturb me before 6:30am. (That's a big feat for her if she accomplishes it.)
We try to have a 6:30am rule on weekends. As in, don't bother us before 6:30, unless it's an emergency. Problem is, Jordan can't quite seem to understand that "being awake" is not an emergency.
I told her that an emergency would be if her arm got chopped off during the night and she needed a ride to the hospital. She replied, "But that's not going to happen."
"Exactly," I told her.
She didn't find me funny. Thank goodness I have all of you for that.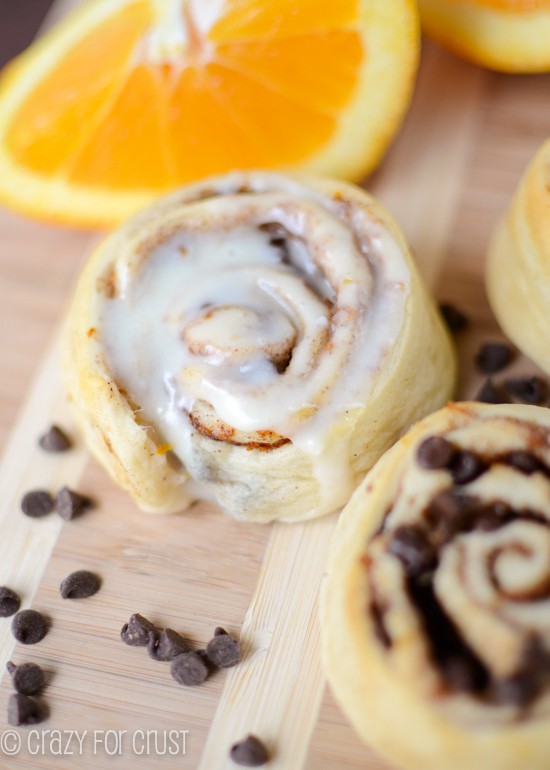 When I was growing up, canned cinnamon rolls were a huge thing in my house. We ate them all. the. time. The little icing packet would sit on the stovetop, getting all warm while the rolls baked in the oven. We didn't even fight over the center roll, because I knew it belonged to my mom.
We never had citrus flavored sweet rolls when I was a kid. I probably wouldn't have touched one with a ten-foot pole. But now, as an adult, I appreciate the lemon or orange in dessert. Especially with chocolate.
And, because of that, my mom has another reason to say "I told you so" because for years she told me my "tastes would change" and I'd like more things. I always laughed at her.
Turns out, she was right. Hear that mom? I'm admitting you were right. Happy Mother's Day! 😉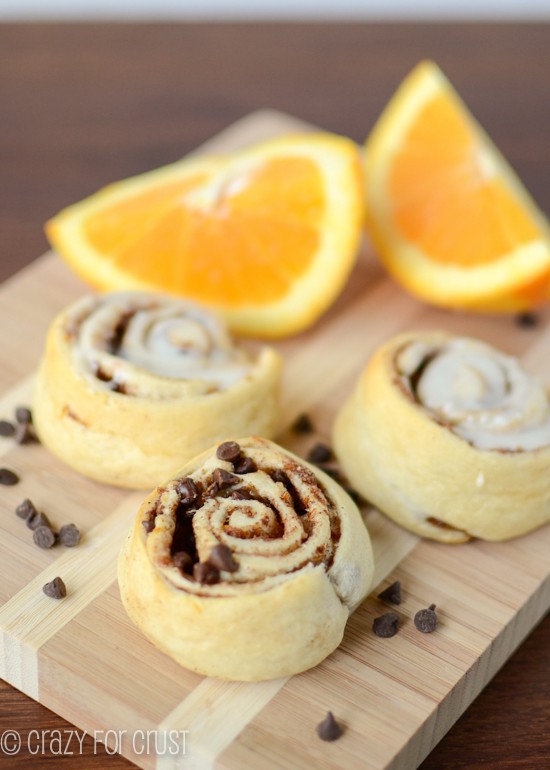 A few months ago (how is it May already?) I posted Easy Lemon Sweet Rolls, and y'all loved them. Then, last month, when I discovered that orange and chocolate together is, in fact, a gift from the God's, I thought hmmmm. Orange + Chocolate Chips + Sweet Rolls.
It's been done before. My friend Sally has made a homemade version. Mr. Google has countless other recipes. But I wanted to make my own.
And I made mine easy. So easy in fact, these can be in your belly in less than 20 minutes, start to finish.
And they have chocolate. So, yeah. GOOD.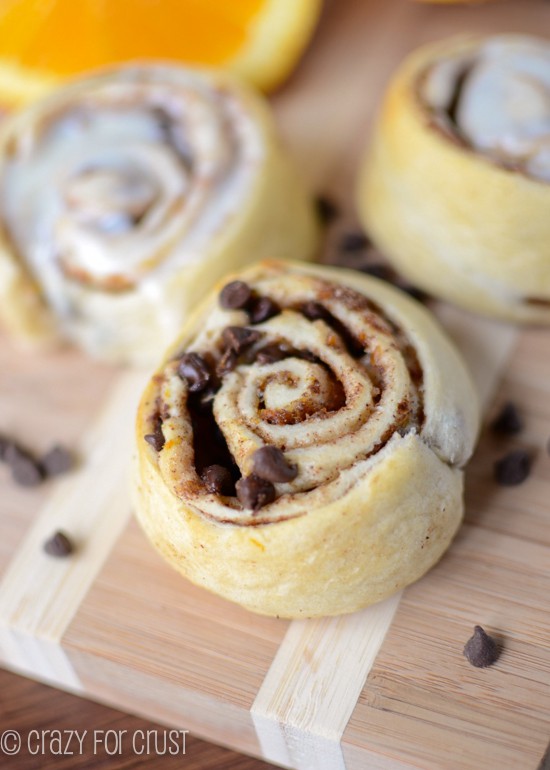 These rolls start with Crescent Rolls. If you can find the cans with the crescent sheets, you can buy those. I can never find them, so I started with a standard pack of 8. You unroll the crescent rolls onto a cutting board and press all the seams together.
Spread it with butter, just a light coating.
Mix some cinnamon, sugar, and orange zest and sprinkle it over the top. Top with chocolate chips. Then re-roll the crescents. Slice, and bake.
DONE.
Oh, but wait. The icing. Don't forget the icing! While they're baking, mix butter, powdered sugar, and orange juice. Spread on freshly baked sweet rolls.
Eat. Repeat.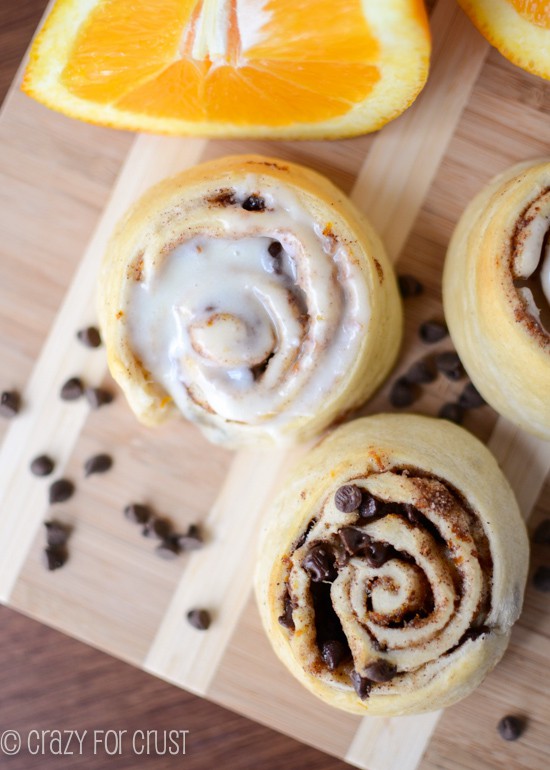 Sometimes it's so nice when Mom proves us wrong, am I right?
Happy Mother's Day to all you moms out there. And especially to mine. I heart you!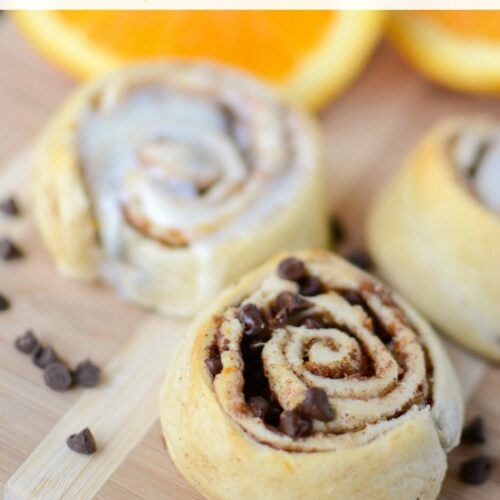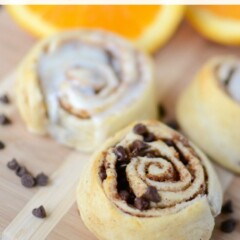 Easy Chocolate Chip Orange Sweet Rolls
These Easy Chocolate Chip Orange Sweet Rolls will be on your breakfast table in under 30 minutes!
Ingredients
1

tube Crescent Rolls

8 rolls

1

tablespoon

orange zest

2

tablespoons

granulated sugar

1

teaspoon

cinnamon

Butter for spreading

1/4

cup

mini chocolate chips

1

tablespoon

melted butter

2/3

cup

powdered sugar

2

tablespoons

fresh orange juice
Instructions
Preheat oven to 350 degrees. Line a cookie sheet with parchment paper.

Carefully unroll the crescent rolls, being sure to keep them in a rectangle. Do not separate them; press together the seams of all 8 rolls to form a large rectangle.

Spread with a small amount of butter (light butter spread is fine too).

Mix granulated sugar, cinnamon and orange zest in a small bowl. Sprinkle evenly over the rectangle of dough, being sure to go right up to the edges. Sprinkle with the chocolate chips.

Starting at the short end, tightly roll the crescent rolls back into a roll, pressing together seams as needed. Slice into 8 equal sized pieces and place on prepared cookie sheet.

Bake for about 10 minutes, until browned.

Prepare glaze while they are baking. Whisk melted butter, powdered sugar and orange juice in a small bowl. Drizzle onto hot rolls when the come out of the oven. Rolls are best warm.
Recipe Nutrition
Serving:
1
serving
|
Calories:
212
kcal
Nutritional information not guaranteed to be accurate
Other breakfasts you might like:
Sweets from friends:
Heirloom Apple Rolls by Oh Sweet Basil
Mocha Chip Cinnamon Rolls by Inside BruCrew Life
Chocolate Chess Bread Pudding by Something Swanky
Last Updated on May 13, 2020