This post may contain affiliate links. For more information, read my disclosure policy.
This is possibly the easiest breakfast recipe ever!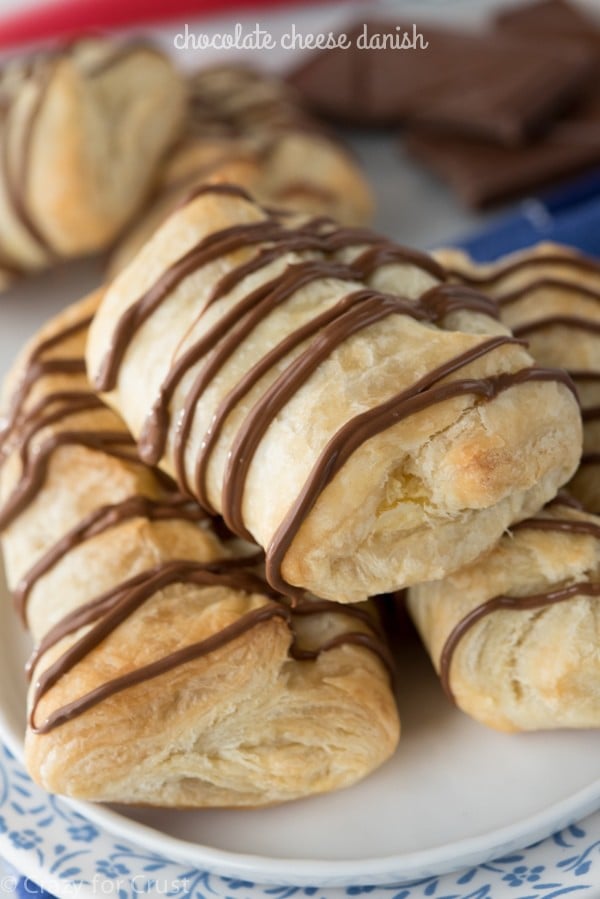 Want to hear something I never thought I'd say I did? I washed a cookie dough bowl out on my lawn using the garden hose. Ginger followed after me and cleaned up the mess on the lawn.
What did people do without garbage disposals? Or ice makers? I had to make my own ice the other day…and wait for it to be frozen. I know, I know, #firstworldproblems, but these are things you totally take for granted until you don't have them.
Like…having a window. Or a stove. Or being able to find the cereal in the morning.
Speaking of breakfast, if your kids are like mine, you're finishing your first week of school. That goes for a celebratory weekend breakfast, don't you think? Surprise them with these easy Chocolate Cheese Danish and they'll be happy to do their homework.
Or…something like that anyway.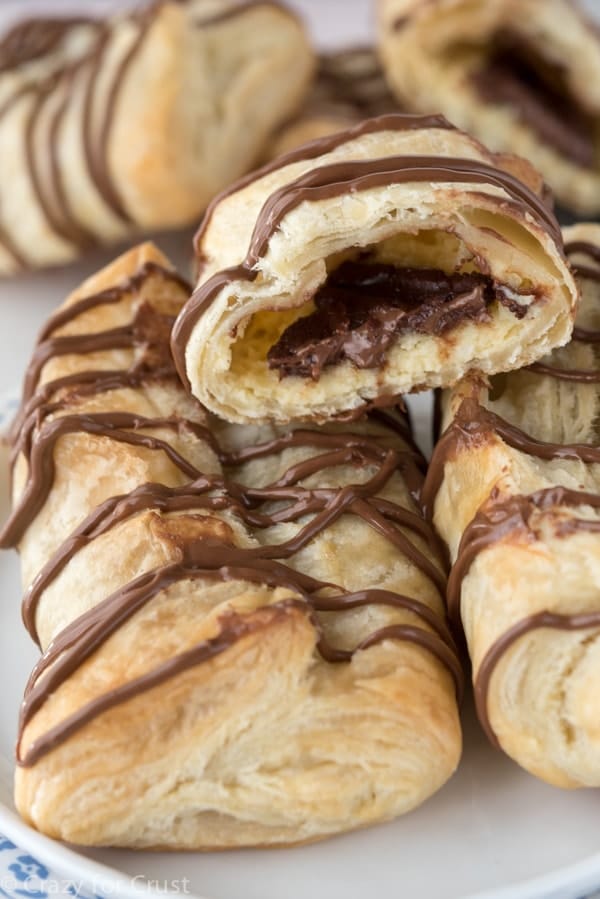 These danish are certainly easy enough to do without a kitchen. All you need is a toaster oven, but a real oven works too. Since, you know, y'all have real ovens.
Whenever I grab Starbucks for breakfast I always have a fight with myself. Chocolate croissant or cheese danish? It's like a non-verbal internal back and forth all of the time. Sometimes I'm tempted to order both but then I'd need to pretend someone was with me. I'd be all, "One chocolate croissant for me and a cheese danish…for my friend."
I decided to make my own combo Chocolate Cheese Danish at home and then I could enjoy two in peace.

This is a super simple recipe. I used puff pastry sheets that I'd thawed and sliced into 6 rectangles. The filling is part cheesecake and part chocolate. Together? It's all good.
Once they're baked you drizzle them with more chocolate. Because chocolate is good and necessary, especially for breakfast!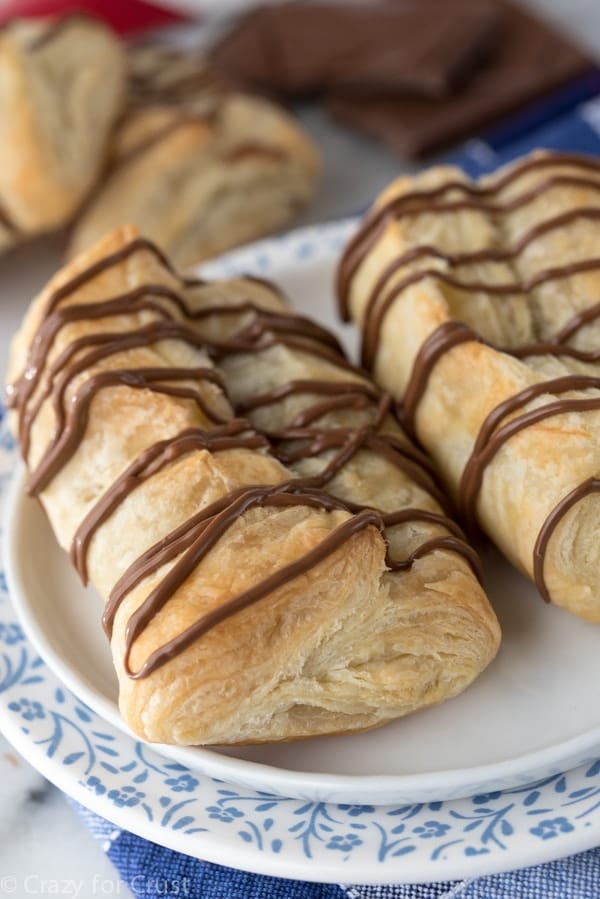 Am I right or am I right? Hello Saturday morning breakfast!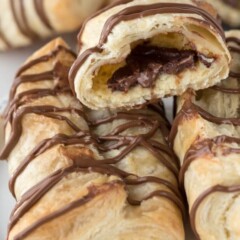 Chocolate Cheese Danish
These Chocolate Cheese Danish come together in minutes for a mashup of your two favorite breakfast pastries!
Ingredients
1

puff pastry sheet

4

ounces

cream cheese

softened

1

large egg yolk

reserve the white

1/2

teaspoon

vanilla extract

2

tablespoons

granulated sugar

1 1/2

ounces

baking chocolate

or 6 tablespoons chocolate chips

1/3

cup

chocolate chips

1/4

teaspoon

vegetable oil or shortening
Instructions
If your puff pastry is frozen, let it sit at room temperature until it's soft enough to handle, about 40 minutes. If it's defrosted, unwrap it and let it sit for about 5 minutes.

Preheat oven to 400°F. Line a baking sheet with parchment paper or a silpat baking mat.

Mix cream cheese, egg yolk, vanilla, and sugar in a medium sized bowl using a hand mixer. Mix until mostly smooth (some lumps may remain).

Cut your pastry sheet into 6 equal rectangles. Place about 1-1 1/2 tablespoons of cream cheese mixture in the center of each rectangle. Top with a piece of chocolate (about 1/4 ounce or 1 tablespoon chocolate chips). Roll up each rectangle, pinching the seams. Brush with a little of the reserved egg white with the tip of your finger.

Place equally spaced on prepared cookie sheet. Bake for 15-16 minutes until golden brown. Cool at least 10 minutes before eating.

To make topping (optional) melt the 1/3 cup chocolate chips and oil in a microwave safe bowl in 30 second increments, stirring between each. Place chocolate in a ziploc bag, cut off one tip, and drizzle over the top of each danish.

Best served the day they are made. Store in an airtight container.
Nutritional information not guaranteed to be accurate
Baked Chocolate Croissant French Toast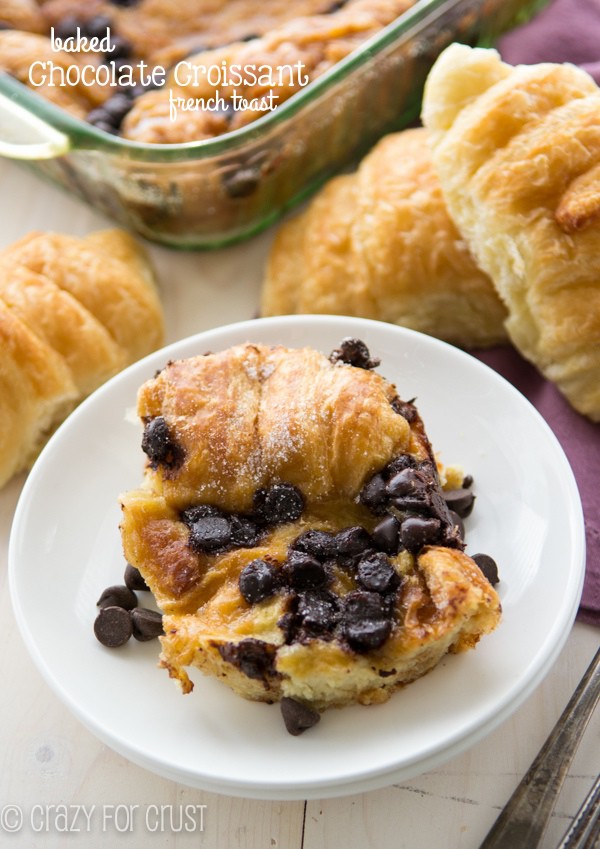 Giant Strawberry Cinnamon Roll Cake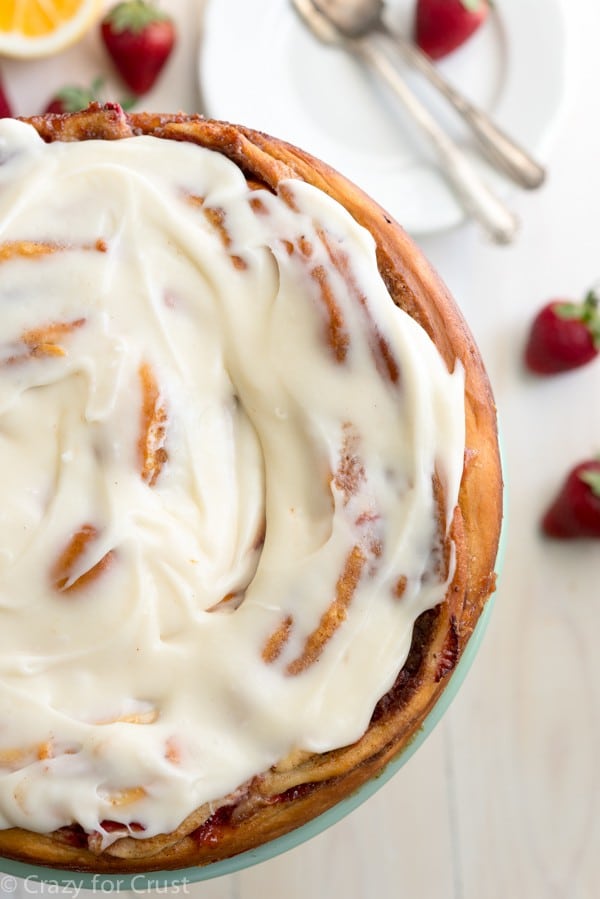 Sweets from friends:
French Silk Puffs by Julie's Eats and Treats
Apricot Cheese Pinwheels by Yellow Bliss Road
Candy Bar Puffs by The Reluctant Entertainer
Last Updated on April 1, 2023