This post may contain affiliate links. For more information, read my disclosure policy.
Last year, I posted Baby Peeps.
Obviously, my creative apple doesn't fall far from the tree.
Because this year I made Baby Chicks.
I was particularly proud of the Baby Peeps recipe last year, because it was the first recipe to ever get featured by any party. Allison, from Alli 'n Sons featured it after a Sweet Tooth Friday linky. She stumbled it and got so many hits. I was smiling for days.
I knew I wanted to stuff eggs with something again. I was going to do a filling. But then I thought about those Mini Nutter Butters I still had in my pantry from making this and this.
And I thought, hmmm. Those kinda look like baby chicks. (If baby chicks are small, round, and filled with peanut butter.)
Then I asked myself, what should I do with baby chicks?
Well, stuff them in eggs, of course.
First, you need to make your baby chicks. Dip your Nutters (or mini Oreos) in yellow candy melts. Let them harden, then melt some orange candy melts and pipe on beaks.
Then pipe some feet and stand your chick up on them.
Then you need to make your eggs. I use a mold I bought at An Occasional Chocolate, but I saw some silicone ones at Target last week.
Spread around your chocolate and let it harden.
Once you have all your shells, put your chicks inside.
Add some more candy around the edges.
And seal them up. (I wonder if they feel like they're in a coffin? That's kinda cruel. Must go liberate the ones in the fridge…)
So now I guess that stuffing food animals in eggs at Easter is my thing.
I hope you don't mind.
Maybe next year I'll stuff a cat in there. You know, to throw you off course.
Baby Chicks
by Crazy for Crust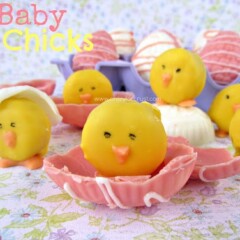 Baby Chicks
Ingredients
Mini Nutter Butters or Mini Oreos

Yellow mandy melts

Orange candy melts

White and/or pink candy melts

Black food writer
Instructions
To Make the Chicks
Melt the yellow candy melts according to package directions. (If the candy is too thick, stir in a little shortening or vegetable oil to thin.) Dip the mini cookies into the candy and tap off the excess. Lay on a wax-paper lined cookie sheet and chill to harden.

Melt a small amount of orange candy melts and place them in a small squeeze bottle or pastry bag. (I fitted my squeeze bottle with a #2 tip for this step.) Make triangle beaks on each chick and let harden. To make the feet, pipe two triangles about 1/4" apart on waxed paper. Connect the fat ends of the triangles with a line of orange candy. Place the cookie chick standing up on top of the piped feet and let harden. Draw dots for eyes.
To make the Eggs
Melt your white (or pink or whatever color eggs you want) candy melts. Place a spoonful in each mold and use the spoon to swipe the candy up the sides of the mold so the egg is covered. Chill to harden. Place the extra melted candy in a squeeze bottle or pastry bag fitted with a #1 or a #2 tip.

Pop the egg shells out of your mold (careful now!). Place a chick in the bottom half of the mold. Pipe melted candy around the edge of the shell and place the top half on top. Fill in any holes with melted candy and let harden. Decorate tops as desired.
Nutritional information not guaranteed to be accurate
Enjoy!
Last Updated on February 2, 2023