Amaretto Coffee Creamer No Bake Cookies #whatsyourid
{This post is sponsored by International Delight.}
Amaretto Coffee Creamer No Bake Cookies are perfect when you're craving cookies on a hot day. These No Bake Cookies are filled with almond flavor and Amaretto Coffee Creamer!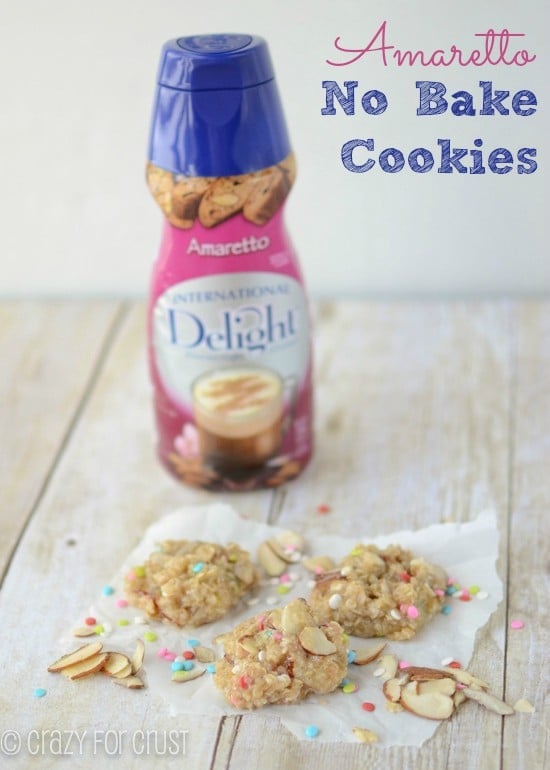 If you could only choose one flavor to put in your cookies and sweets for the rest of your life, what would it be? Vanilla? Hazelnut? Coconut? Lemon?
Mine would be almond. Almond extract is totally intoxicating to me. Sometimes I go to the pantry just to sniff the bottle. That's not weird…right?
I remember the first time I made my favorite sugar cookie recipe, it called for almond extract. I scoffed and was all, "pffft. I'm using vanilla." I did that for years until one day, I tried almond extract. And I was hooked. Addicted!
I love putting almond flavoring in just about everything, which is why I wonder why it took me so long to discover Amaretto liqueur. I know I've had it in things before but a few months ago I finally bought myself a bottle and promptly made fudge with it.
The problem with using actual Amaretto in desserts is that the treats become adults-only. This is something that my daughter is NOT happy about. If I make treats, she expects to have one or seven.
When I saw that International Delight made Amaretto Coffee creamer, I was instantly hooked. I could have amaretto for breakfast and no one would be the wiser? That's pretty genius, if you ask me.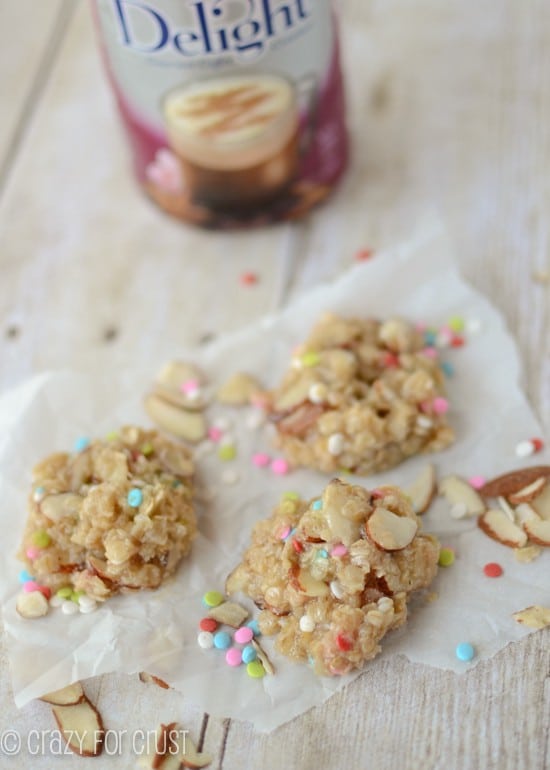 In typical Dorothy Recipe Creation fashion, I decided to make 100 actual things before I made even one. Cake! Cheesecake! Cookies! Pie! Candy! Cookies!
My mind was All. Over. The. Place. trying to decide what to make with the Amaretto Coffee Creamer. I had plans to make some sort of elaborate baked concoction and then it decided to become summer in May in Sacramento. It's been in the 90s for what seems like weeks now. I did NOT want to turn on my oven.
The obvious decision was to make no bake cookies. Obviously!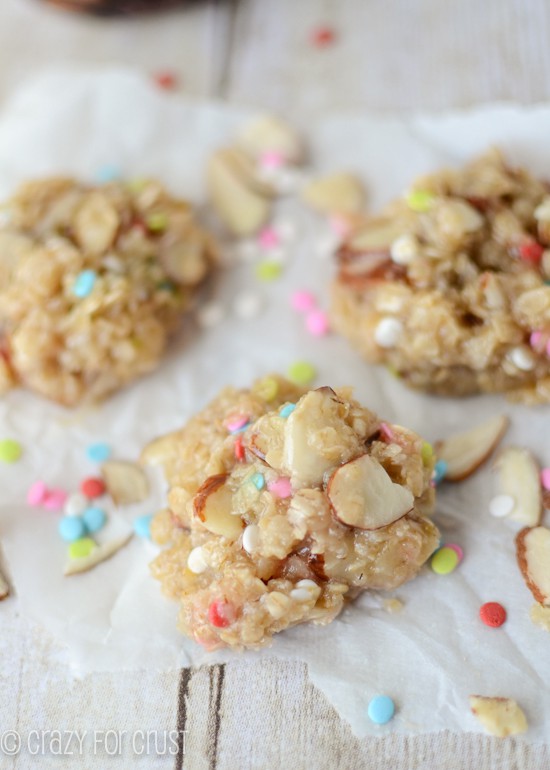 I've never made no bakes before. I've eaten them plenty and seen them around the internet. (Most recently, my BFF Aimee made some peanut butter ones…OMG!)
All of the no bake cookie recipes I saw use milk as one of the ingredients. So…why not substitute your favorite flavor of coffee creamer instead?
Is anyone else smacking their forehead right now and saying, "Oh the possibilities!!???" Because I am!
To make the cookies, you cook together butter, sugar, creamer and flavorings, and then add in some quick cook oatmeal. That's the binder that gives the cookies their oomph. Make sure it's quick cook oatmeal – or it will be raw and probably somewhat unappetizing!
I also added almonds to mine (duh, amaretto!) and some sprinkles. The sprinkles give the cookies some color. Otherwise they're just a little…brown. And besides…sprinkles= happy!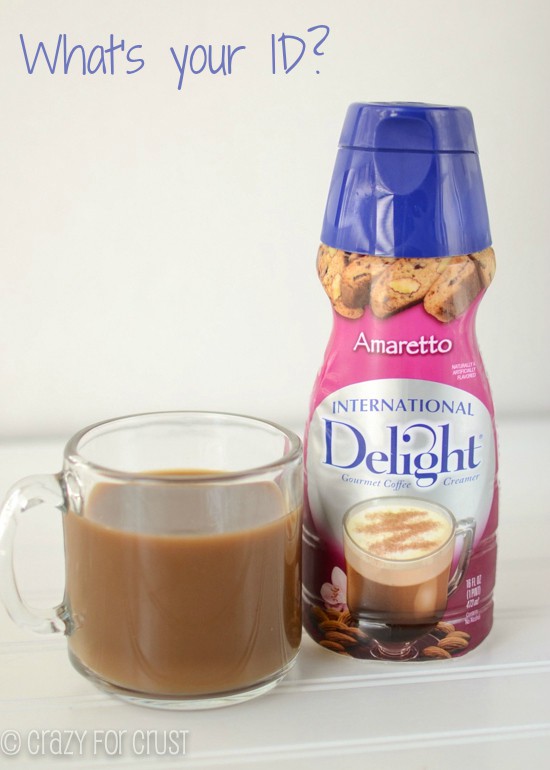 What would your favorite International Delight flavor be? What would you use in your no bake cookies?
If you love International Delight as much as I do, you should go fill out a flavor profile and enter to win some fabulous prizes in their What's Your ID? game going on now. You would win a Visa Gift Card, a coffee prize pack, or ID for a year! What are you waiting for?
If you're as in love with almond as I am, these will be right up your alley.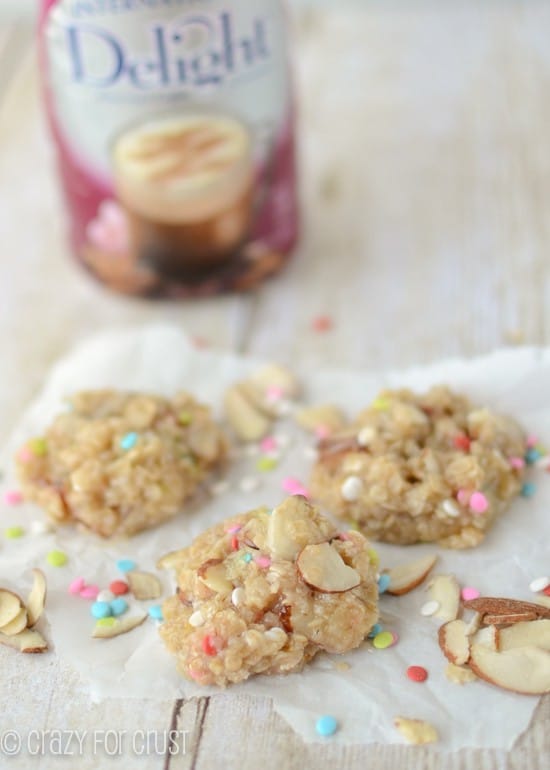 Amaretto makes me happy. Wait…that sounds bad… 😉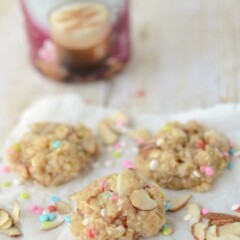 Amaretto Coffee Creamer No-Bake Cookies
These No Bake Cookies are filled with almond flavor and Amaretto Coffee Creamer! A great cookie for a hot day, or whenever you're craving almond!
Ingredients:
1/2 cup (1 stick) butter
2 cups sugar
2/3 cup International Delight Amaretto Coffee Creamer
1/2 teaspoon vanilla
1/2 teaspoon almond extract
1/2 cup sliced almonds
3 cups quick cooking oats
1/4 cup sprinkles, optional
Directions:
Line two cookie sheets with parchment paper.
Melt butter in a medium sized saucepan over medium heat. Add sugar and creamer, stir, and cook until it just begins to bubble. Boil for 1 minute.
Add extracts, almonds, and oats and cook for 1 more minute. Remove from heat and stir in sprinkles.
Use two spoons to scoop mounds of the oat mixture onto the cookie sheet. Let sit until they completely cool. Store in an airtight container.
All images and text ©
. Please do not use my images without prior permission. If you want to republish this recipe, please re-write the recipe in your own words, or link back to this post for the recipe.
This is a sponsored conversation written by me on behalf of International Delight. The opinions and text are all mine.
SaveSave
SaveSave