This post may contain affiliate links. For more information, read my disclosure policy.
KICMount – By now you know all about the KICMount, right? It's that magical case for your iPad that makes it magnetic. All you do is snap your iPad into your KICMount and poof! It becomes magnetic! You can hang it anywhere magnets will stick and it won't budge. The case is a durable plastic and is made with Rare Earth Magnets. The magnets are super strong and will keep your iPad stuck where you put it.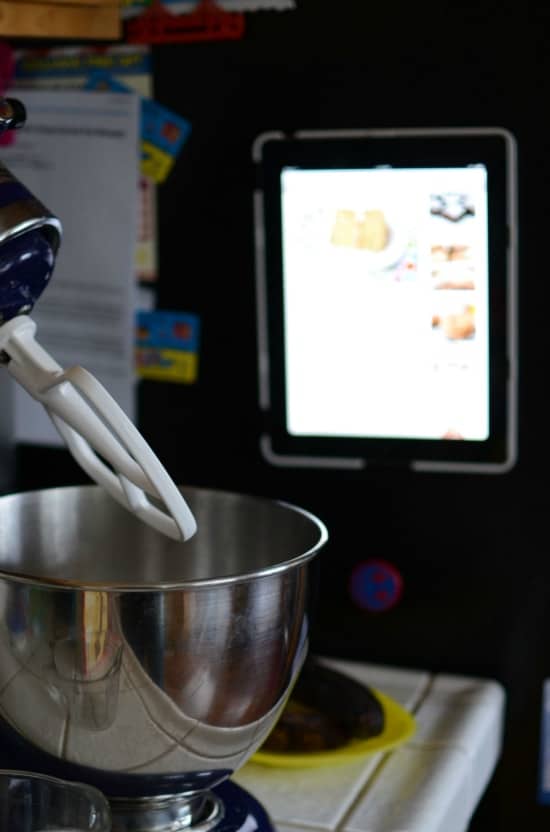 My absolute, hands down, favorite place to use my KICMount is in the kitchen.
I love to stick it to the side of my fridge while I'm cooking. It's great for looking up recipes or last-minute tablespoon to teaspoon conversions. The KICMount has even helped me get organized: I can pull up recipes online while I'm cooking so I don't need to print and print and print like I used too. And the best part is that I don't have to worry about spilling on the iPad while I'm baking. I'm the most messiest baker ever – and if I'm using flour or powdered sugar I can assure you it's going everywhere. If the iPad is hanging on the fridge, it's safe from my baking tornado!
Recently, however, I've found another good use for my KICMount: a telephone case.
One of my favorite features of an iPad is FaceTime. Well, let's be clear. I'm not huge on using FaceTime – but my daughter is. She uses it all the time. One of her cousins has it and they talk and pick out clothes and and do whatever tweens do on the phone – but on video chat.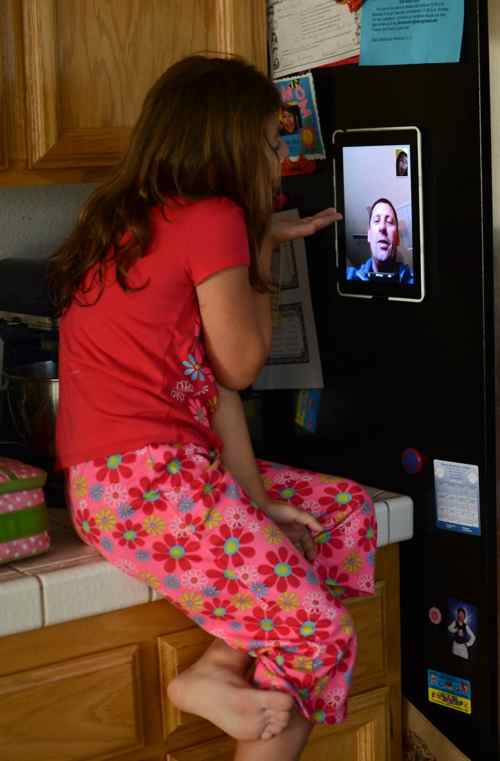 My husband travels a lot, and since he got an iPhone, one our favorite things to do is FaceTime with Daddy when he's out of town. It's almost as good as a goodnight kiss, when the real thing can't happen. Because of his travel schedule, we can't always know when he's going to call. Sometimes it's during dinner or homework time. And that's when the KICMount comes in handy! We can give him kisses goodnight while I'm making dinner or she's doing her homework, no hands needed!
So, let's rundown the uses for the KICMount:
Recipe holder

TV holder
Sanity saver (keep those kids busy while you're cooking and they're underfoot!)
iPad saver (no more spills!)
Goodnight Kiss holder
That last one is my favorite. 🙂
What are you waiting for? Go check out the KICMount. You won't know how you lived without it once you have one!
Connect with KICMount
Pinterest // Facebook // Twitter // Website
Thanks for reading!
Subscribe via email and have sugar delivered straight to your inbox!
This post may be linked to: Chef in Training, Lil' Luna, Buns In My Oven, Chic-and-Crafty, I'm Lovin' it Fridays, Strut your Stuff Saturday, Weekend Potluck, Weekend Wrap Up Party, Sundae Scoop Link Party, and all of these too!
Last Updated on August 18, 2022