This post may contain affiliate links. For more information, read my disclosure policy.
Thanks to the sponsorship of Collective Bias and their client, I made these Spiced Cinnamon Chip Scones that taste better than anything you can get at a coffee house!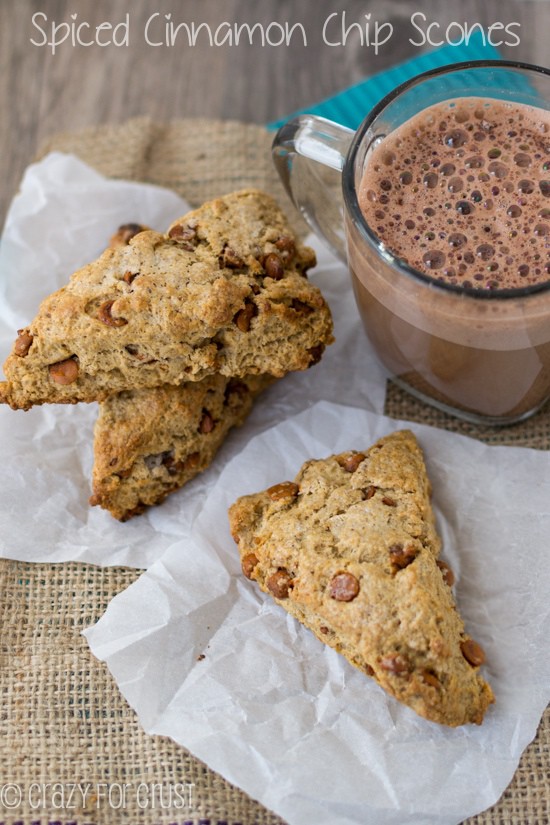 When I was 15 my family went to visit my Uncle and his family. We stayed with them for a few days and during that time my cousin, who was then 17, took me all over the city to sightsee, and pretty much rescue me from my parents. I mean, I was 15 and on a two week RV trip with my parents. Torture would be another word for it.
My mom would beg to differ. I think her word is unmentionable here.
Anyway.
On our travels around the big city, my cousin introduced me to the wonder that is the Mocha. I think I had no less than three iced mochas in a two day time period. I'd never even had coffee before, and I can remember that first sip: I really thought it tasted weird. But by the end of our adventures, I was hooked. Mochas became by go-to coffee drink for years, until I had to cut down on paying for expensive coffee.
That was a sad, sad day.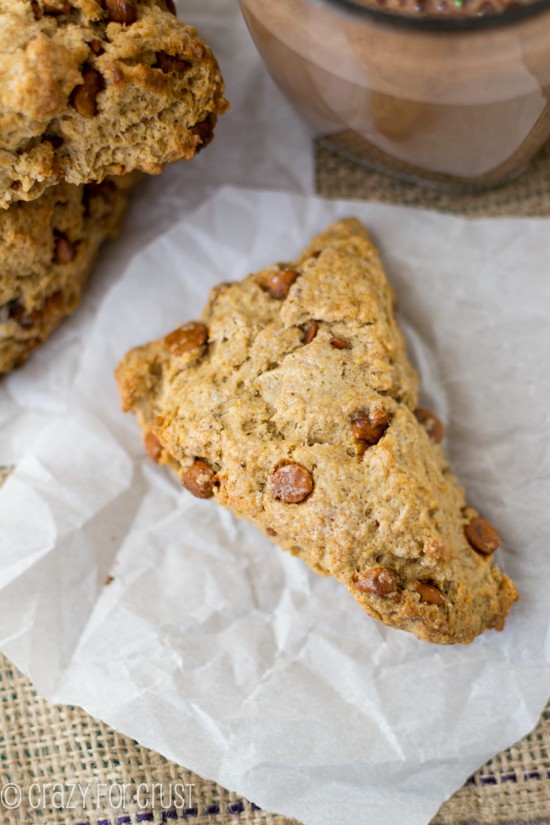 Now, I don't know about you, but I have a really hard time just ordering a cup of coffee. I always, always want a scone or a muffin or a cookie. But ordering a mocha and a scone is not really budget friendly, now is it?
I've told you before, several times, about how I love second breakfast. It's the hour I spend in my quiet house, after drop off, after my workout. I'm hungry and I want another cup of coffee and a snack. It's times like those I most long for my mocha and scone days!
But guess what? If you have a Keurig and an oven, you can now bring those mochas and scones home for your second breakfast indulgence. Yes it's true – you can now make mochas at home…IN YOUR KEURIG!
Introducting: Gevalia's new line of K-Cups, the Cafe-Style K-Cup!
The box of Gevalia Cafe-Style Mocha Latte K-Cups comes with froth packets to make your mocha latte and the k-cup to brew the espresso. All you have to do is add the contents of the froth packet to a mug and run an 8 oz. cycle with the k-cup and boom! You have a mocha at home. For a fraction of the cost!
Then, with your handy dandy oven and this recipe, you can make some scones to go with it. It's an indulgence that can be come an everyday indulgence: second breakfast!
I must say, I adore these scones. I have to toot my own horn a bit – they're awesome. Better than those you get at the coffee house, I promise. They're moist (which, I'm sorry, needs to be a word associated with scones) and super flavorful.
The scone is infused with spice cake flavors: cinnamon, nutmeg, allspice, cloves, and molasses. It's perfect for this time of year! Then I added a healthy dose of cinnamon chips. I am so in love with those chips! You can find them for sure at Walmart, but I know they'll be other places this time of year.
I think the key to making the perfect scone is using really cold butter and not skimping on the heavy cream. Normally I substitute lower-fat equivalents but not in scones! I'm not willing to sacrifice calories for sawdust.
I have a great tip for working in the cold butter. Using a pastry cutter is work (and I hate it!) but it's necessary. When I started to make these scones, the butter was frozen (I forgot to take it out to thaw). So, instead of risking microwaving it, I grated it with a box grater because I'd just read this awesome post by Rachel. Because it was frozen it stayed super cold even when I held it to grate it and it was easier and much faster to work it into the dry ingredients with my pastry cutter!
A spiced cinnamon chip scone and a mocha latte at home. That's a pretty darn near perfect breakfast for me!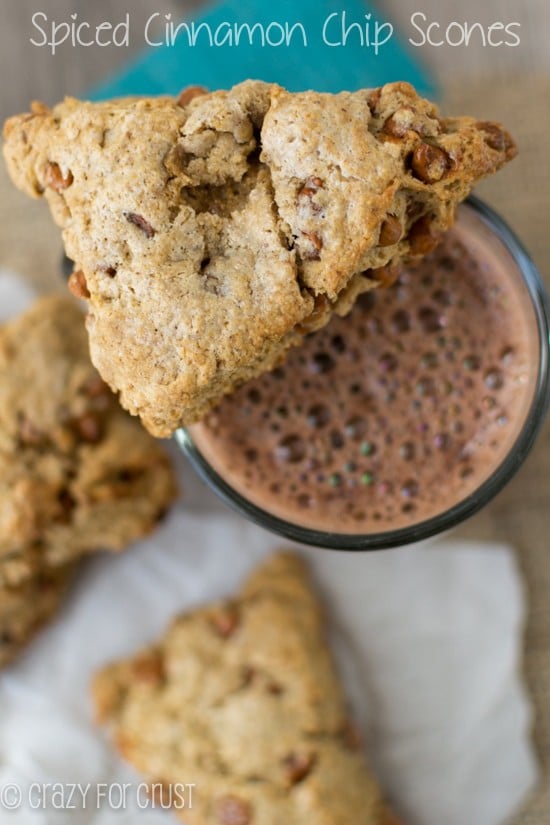 And it will be for you too!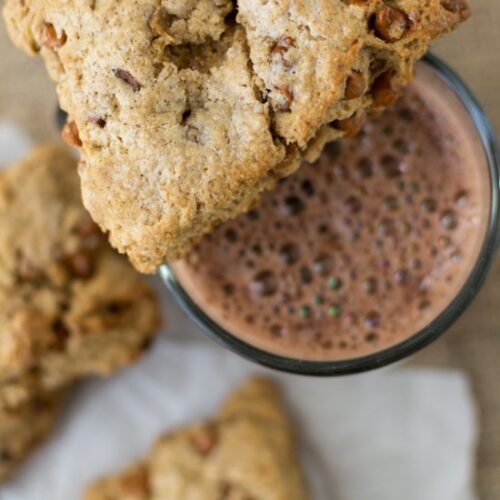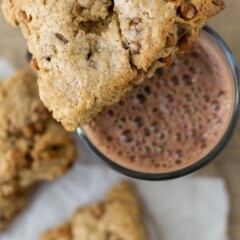 Spiced Cinnamon Chip Scones
Ingredients
2

cups

all-purpose flour

2

tablespoons

brown sugar

1

tablespoon

baking powder

1

teaspoon

cinnamon

1/2

teaspoon

cloves

1/2

teaspoon

allspice

1/2

teaspoon

nutmeg

1/2

teaspoon

kosher salt

6

tablespoons

cold unsalted butter

diced

1

teaspoon

vanilla extract

1

tablespoon

molasses

1

large egg

1/2

cup

plus 1 tablespoon heavy cream

1

cup

cinnamon chips
Instructions
Preheat oven to 425 degrees. Line a baking sheet with parchment paper or a silpat.

Whisk together the flour, sugar, baking powder, spices, and salt in a large bowl. Add cold butter and cut it in using a pastry blender or two butter knives until it forms small crumbs. (Note: my butter started out frozen, so I grated it (frozen) with a box grater instead of using it diced. It was so much easier to work it into the flour mixture this way!)

Make a well in the center of the mixture and add the vanilla, egg, molasses and 1/2 cup heavy cream. Stir gently with a fork until just incorporated. Add the cinnamon chips and then finish bringing the dough together with your hands.

Turn out dough onto a lightly floured surface or a non-stick baking mat. Form into an round that is approximately 8" in diameter. Cut the round into 8 triangles and place each on the prepared baking sheet. (Note: the cinnamon chips that are touching the baking sheet might burn. Be sure to push all the ones touching the cookie sheet into the scone.) Brush each triangle with a little heavy cream and sprinkle each with a pinch of sugar. Bake for about12 minutes until just golden. Serve warm or room temperature.
Nutritional information not guaranteed to be accurate
Get $1.50 off one box of Gevalia Cafe-Style K-Cups by printing the coupon on the Walmart site!
Connect with Gevalia on Facebook.
Funfetti Chocolate Chip Scones
Sweets from friends:
White Chocolate Raspberry Scones by Wine & Glue
Red Velvet Scones by Something Swanky
Banana Bread Scones by A Kitchen Addiction
I am a member of the Collective Bias® Social Fabric® Community. This shop has been compensated as part of a social shopper insights study for Collective Bias and their client. All opinions are my own.
Last Updated on May 31, 2020