This post may contain affiliate links. For more information, read my disclosure policy.
Rolo Stuffed Chocolate Snowballs combine my favorite snowball recipe (CHOCOLATE!) with chopped pecans and Rolo candy. These are like turtle snowballs and they're perfect for anyone who loves caramel and chocolate!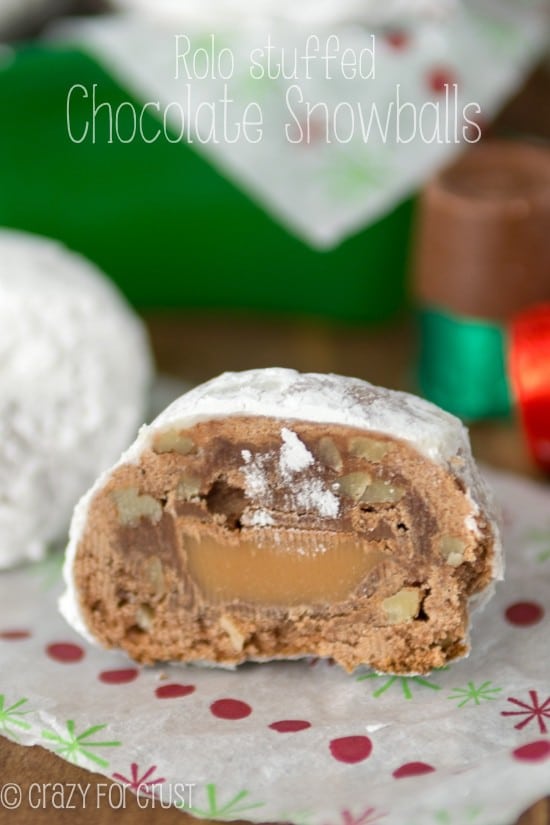 It was only a matter of time before I stuffed more candy into Snowballs. The Reese's ones were such a huge hit, that I knew I had to do it again. (Update: now I have a ton of snowball recipes on this blog!) And this time? I used Rolos.
You all love your Rolo stuffed cookies, am I right? Well, I hope you love these too!
But, instead of just stuffing a Rolo into my Mom's Russian Teacakes, I wanted to change them up a bit.
So I made them chocolate.
You're welcome.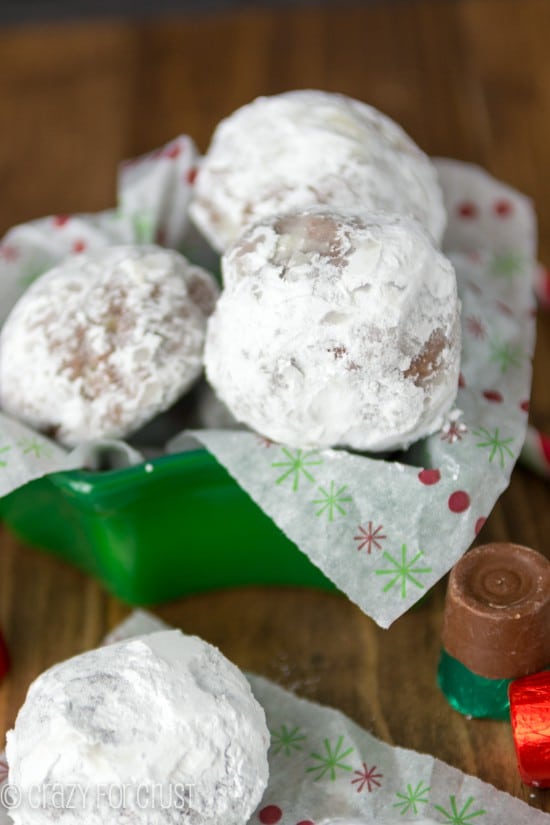 Now, I tried making them chocolate last year. That's actually the first time I tried making these cookies. And, it turns out, when you add cocoa powder to cookies, it does not replace the flour. They spread way too much, and looked like a flat cookie with a bump in the middle.
This year, I decided to try again. It's a hard job, but someone has to do it.
When I added the cocoa, I just added the normal amount of flour. And they worked! They stayed balls, like they're supposed too.
Stuffing the Rolo inside is just the icing on the cake. Or the caramel on the turtle, as it were. These are like Turtle Snowballs: chocolate pecan cookies stuffed with caramel.
A few notes about the cookies:
They're

big

. I mean, they're a cookie stuffed with a Rolo, so they have to be big.
If you want a visual on how to do the stuffing, check out my Reese's Stuffed Snowballs post. Basically, you make 1 tablespoon balls of dough and wrap two of them around a Rolo.
Careful baking them – it's hard to tell when chocolate cookies are done. Be sure to rotate the pans halfway through baking and take them out once they lose their sheen. Otherwise the bottoms will cook too much.
The

Double Roll

in powdered sugar is why they are so white. I always double roll them!

You can freeze these

. Place them in a ziploc bag (or a Tupperware). Place paper towels between the layers. When you take them out to defrost, leave the paper towels between to absorb moisture.
Serve these room temperature. The Rolo isn't gooey, so you for sure don't want them cold or the caramel will be too tough. Another option: make them with

Caramel Hershey's Kisses

for a softer caramel!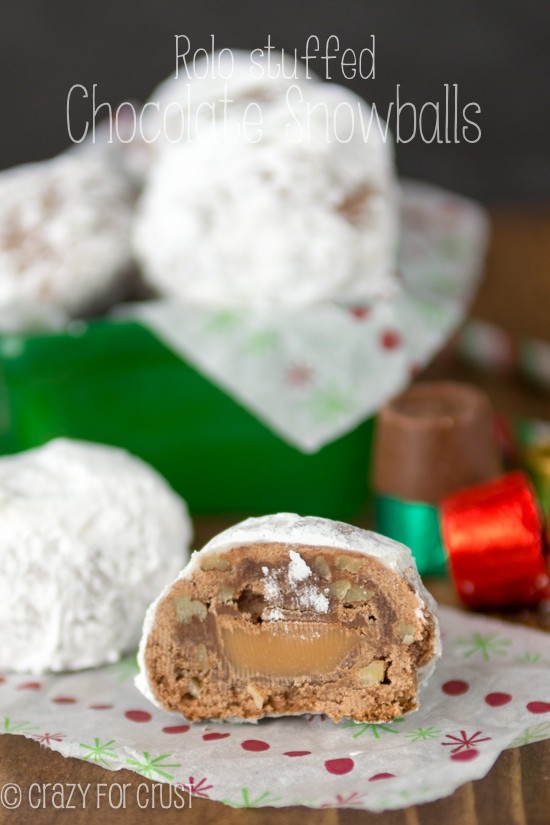 And yes, Mom. These are in the freezer – for YOU! 🙂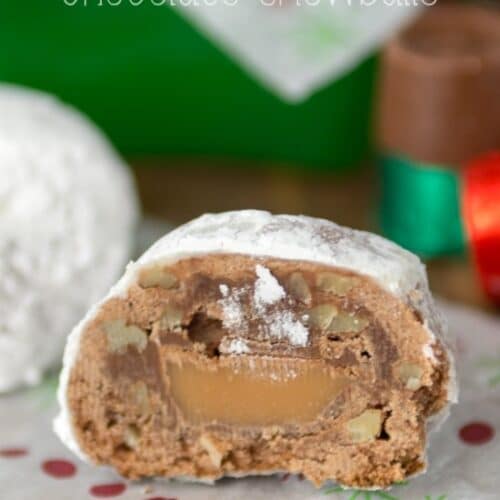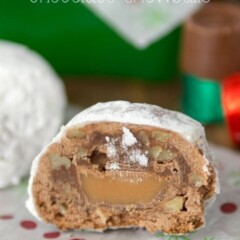 Rolo Stuffed Chocolate Snowballs
Ingredients
1

cup

soft butter

1/2

cup

powdered sugar

1/4

cup

cocoa

1

tsp

vanilla

2 1/4

cups

flour

1/4

teaspoon

salt

3/4

cups

finely chopped pecans

24

Rolos

unwrapped

Powdered sugar for rolling

about 1 - 1 1/2 cups
Instructions
Preaheat oven to 375°. Line two cookie sheets with parchment paper.

Mix butter, ½ cup powdered sugar, cocoa powder and vanilla with an electric mixer until fluffy. Add flour and salt and mix until the dough comes together. Stir in the nuts. If dough is too soft, chill it until you can work it easily with your hands.

Scoop 1 tablespoon of dough and flatten with your hands. Place 1 Rolo on top. Take another tablespoon of dough, flatten it, and lay it on top the Rolo. Press the sides together and roll to form a sealed ball of dough. Place on prepared cookie sheet.

Bake cookies for 9-11 minutes until bottoms are just slightly brown. Remove from oven and cool for just a minute, until you can handle them. Fill a small bowl with additional powdered sugar and roll each cookie in the sugar until coated.

Place on a rack to cool. (Once cookies are cooled, you may want to re-roll them in more powdered sugar.)
Nutritional information not guaranteed to be accurate
See more of my snowball recipes here!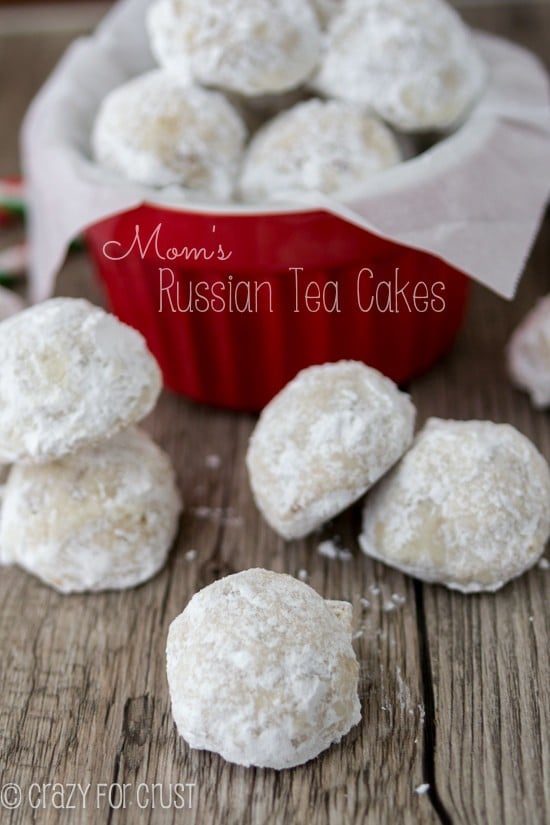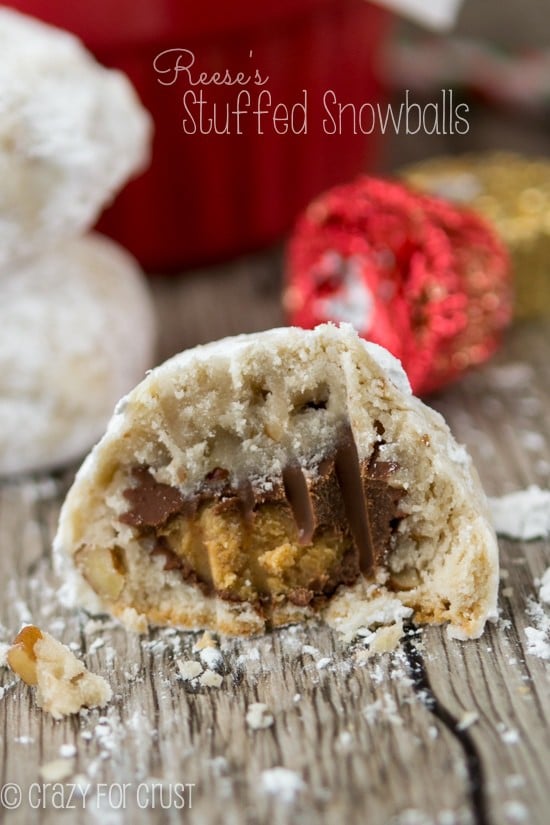 Easy Dark Chocolate PB Cookies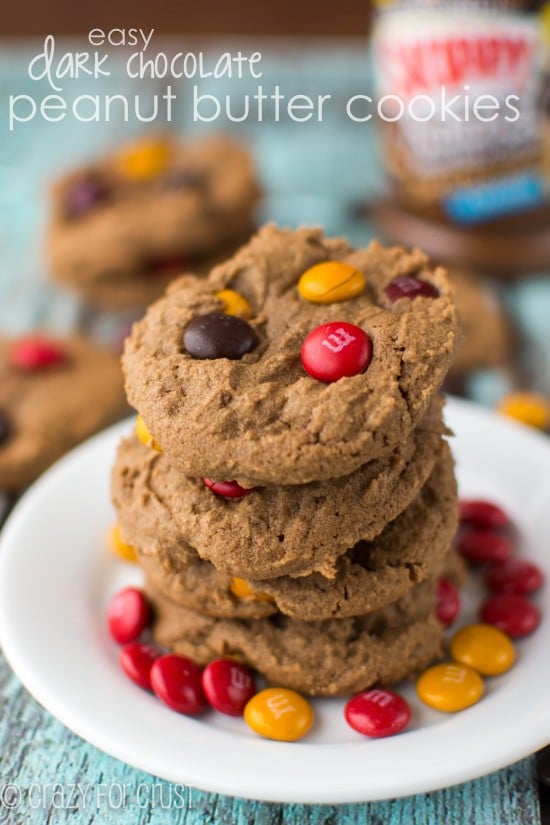 Sweets from friends:
Brownie Bites stuffed with Rolos by Cooking on the Front Burner
Rolo Stuffed Monkey Bread by Something Swanky
Rolo Martini by Wine and Glue
Last Updated on May 20, 2022