This post may contain affiliate links. For more information, read my disclosure policy.
Wouldn't it be cool if there really was a pot of gold at the end of a rainbow? And you could hunt it down, like with geotracking or whatever it's called?
A pot of gold. I wonder how much it would be worth? I mean, gold must be worth tons these days. Otherwise why would all those people be having those parties where you rifle through your jewlery box and come away with money, like pirates or something?
If I had a pot of gold, I'd buy a new car. Or pay off my house. Or buy a unicorn.
Because a unicorn is way more stylish than a Jetta Sportwagon. In silver. Preferably with a sunroof. It's definitely way more stylish than a Toyota Hylander.
Anyway.
I never used to think leprechauns were real. I always just figured they were made up, the stuff of stories and legends. Then I started reading books like Twilight and Sookie Stackhouse. And I learned that not only do vampires exist (although there is some debate over whether they explode in the sunlight or that's just the glare from their sparkle) but so do werewolves. And dragons. And fairies.
And leprechauns.
So if leprechauns exist, then so must pots o' gold, right? I really need to find me a leprechaun who can give me his gold. But that would probably necessitate me to go out in nature. Hmmm…
Maybe I'll just buy a lotto ticket instead? Probably better odds.
I know pot o' gold cupcakes aren't new. They've been all over the place, and they are so super cute. But the other day I had some cupcakes. And I had some leftover green buttercream. So what's a girl to do?
I dipped the cupcakes in chocolate, tops and bottoms. You have to let them dry on one side before doing the other.
Then I made gold. My own gold. But it won't buy me a unicorn.
It will, however, buy me more time at the gym. I used gold color mist and Hershey's Cookies 'n Creme drops. You can use any sort of candy, like Trish did. And yes, it smells like spray paint. But it's edible!
Then I flipped the cupcake upside down, frosted it, and topped it with gold.
Way easier than winning the lotto. Or catching a leprechaun.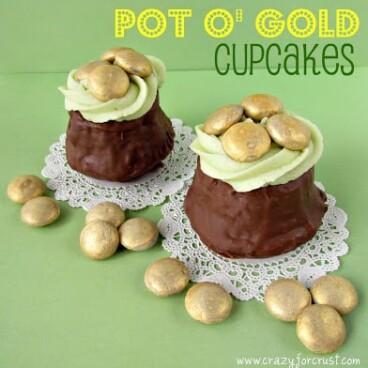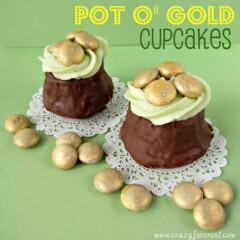 Pot o' Gold Cupcakes
Ingredients
Cupcakes

, baked and cooled with the liners removed

Chocolate candy melts or almond bark

Hershey's Cookies 'n Creme Drops or other similar sized white round candy

Wilton Color Mist in Gold

, or other comparable spray

Buttercream frosting

, your favorite recipe or from a can (I tinted mine a light green)
Instructions
Melt chocolate according to package directions. I used about 1/2 cup for the two cupcakes. I also added some vegetable oil to thin the chocolate a bit.

Dip the bottom half of the unwrapped cupcake in the chocolate, using a spoon to bring it all the way up the sides of the cupcake. Tap off excess chocolate and place cupcake on a wax paper lined cookie sheet. Let harden (chilling helps speed this step).

Dip the top of the cupcake in the melted chocolate, again using the spoon to make sure it is completely covered, no cake showing. Place back on the cookie sheet and let harden.

Place as many of the Hershey's Drops on a paper plate as you need. Spray with the gold spray and chill until set. Turn over and repeat, so the entire candy is covered.

Turn the cupcake upside down, so the thinner part is on top. Frost with the buttercream (I used a 1M tip). Top with the gold coins.

Fool your kids into thinking you really found gold!
Nutritional information not guaranteed to be accurate
Last Updated on May 13, 2020