This post may contain affiliate links. For more information, read my disclosure policy.
These Orange Jello Shots taste like Creamsicle with a vodka twist! They're topped with whipped cream for a fun party treat. Plus, you can make them ahead! This is an easy dreamsicle jello shot recipe that everyone will love.
Orange Jello Shots with Vodka
You know those classic dreamsicle popsicles you loved as a kid? These orange dreamsicle jello shots are a fun grown-up twist! They're refreshing and fruity and perfect for summer parties.
They're spiked with vodka and not just any vodka – whipped cream flavored vodka!
If it's been a while since you've made jello shots (hello, college flashback!) I'm happy to remind you how easy they are to make. If you've ever made plain jello, you can make jello shots. It's just a matter of a few extra ingredients to give them a boozy twist and that classic dreamsicle flavor.
Maybe you're wondering, "can jello shots get you tipsy?" and the answer is yes. So, indulge responsibly, just like you would with a regular shot or cocktail.
These orange dreamsicle jello shots are great for parties because you can make a big batch ahead of time and keep them in the refrigerator. Everyone will want to try a dreamsicle jello shot when you bring them out!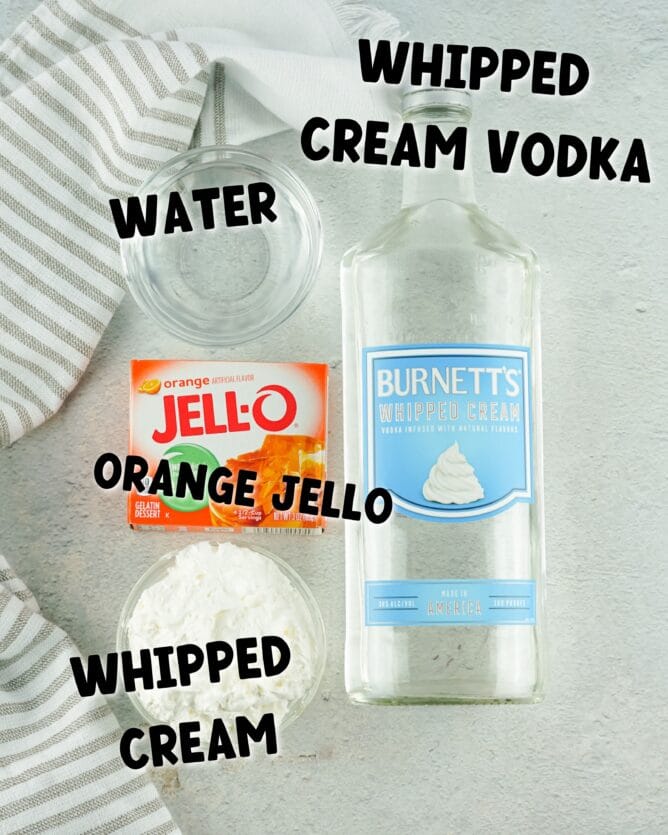 What do you need to make Jello Shots?
Orange Jell-O: Just a regular size box of jello
Water: You'll need boiling and cold water to make the jello
Vodka: You can use any kind or flavor, but Whipped Cream Vodka is perfect with the orange gelatin.
Whipped Cream: For garnish (optional)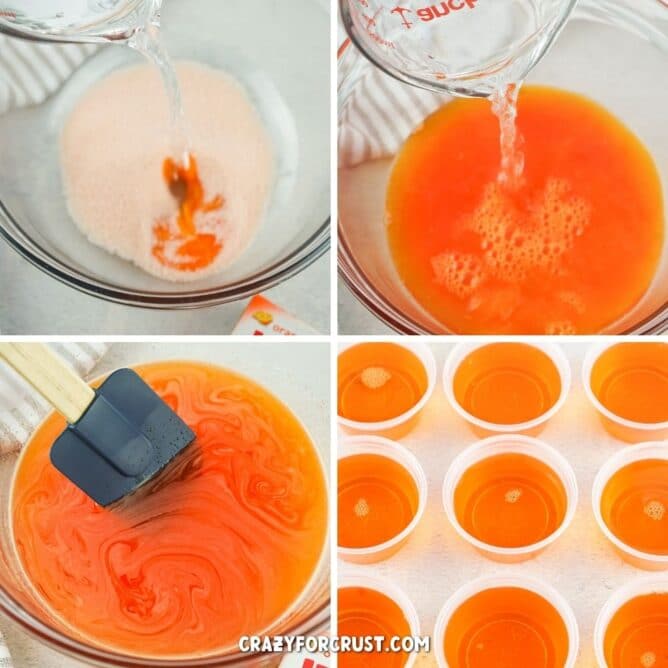 How to Make Orange Creamsicle Jello Shots
1. Combine the jello mix and boiling water in a mixing bowl.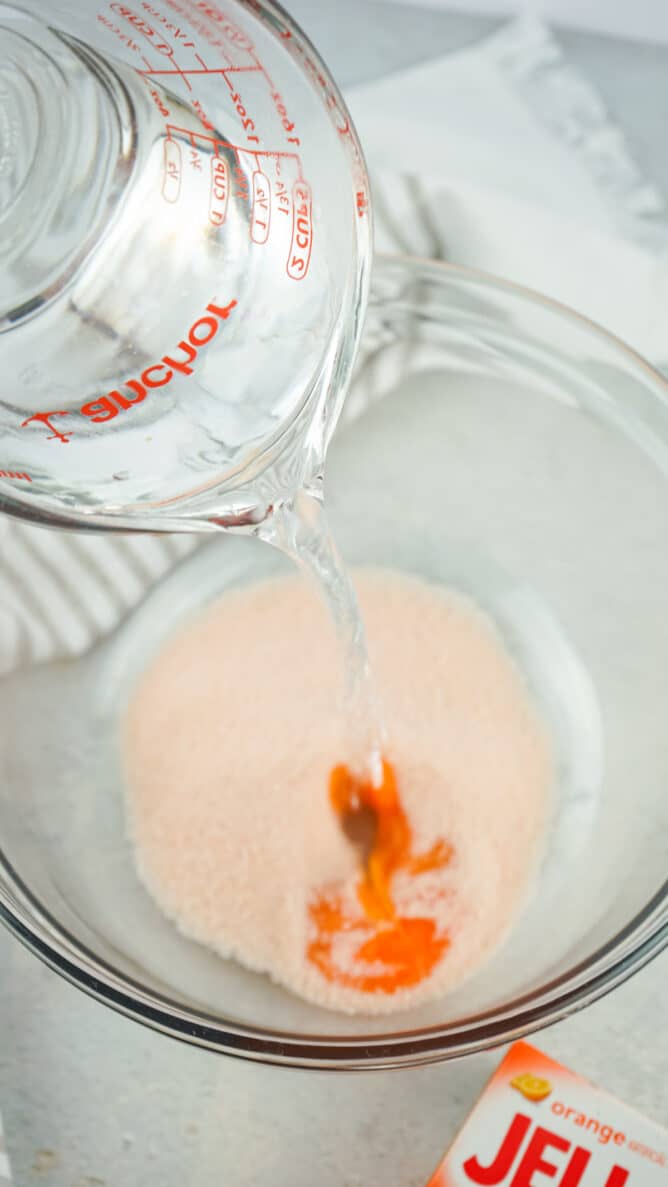 2. Once the jello has dissolved, mix in the cold water and vodka.
3. Fill each cup ¼ of the way with the mixture. Chill the jello cups for at least two hours or until set.
4. Fill a piping bag with whipped cream and pipe whipped cream on top of the jello shots. Decorate with sanding sugar or sprinkles, and they're ready to serve.
Tip From Dorothy
Vodka Tip
Be sure to measure out ½ cup of vodka, any more than that, and your jello shots won't set up.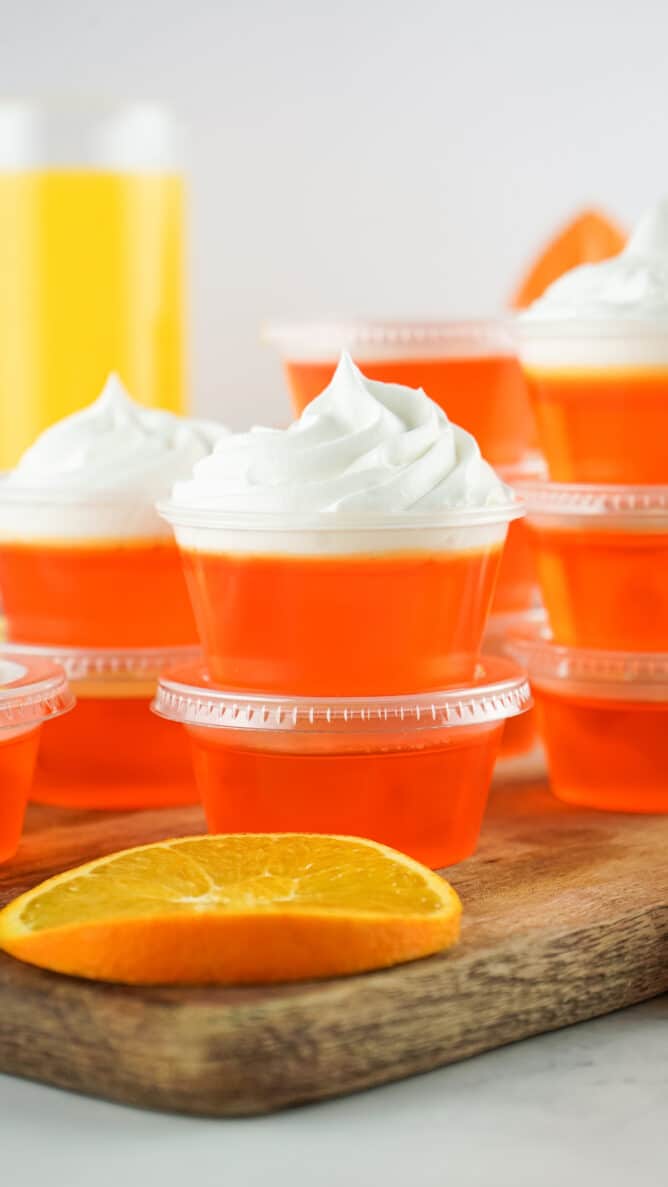 Variations
Vodka: Many different flavored vodkas will work in this recipe. I've made Creamsicle jello shots with vanilla vodka, which works great. Or try other fruit-flavored ones – anything that goes with orange will work.
Jello mix: Not into orange? Try another fruity jello mix to change them up. I think strawberry, cherry, and lime would work great.
Topping: Use homemade whipped cream or Cool Whip to make it even easier.
Creamy jello: If you want to make the jello creamy, add ½ cup of whipped cream after the jello mix has dissolved in the hot water.
Kid-Friendly: If you want to make non-alcoholic jello shots, replace the vodka with the same amount of cold water.
Lemon Cake Jello Shots
Lemon Cake Jello Shots taste like cake! This classic Jello shot recipe gets a twist with cake vodka and sprinkles for the perfect party shot! Can you believe that, until I made these Lemon Cake Jello Shots, I'd never had a jello shot before? (I know, right? Like, did I even go to college?) I…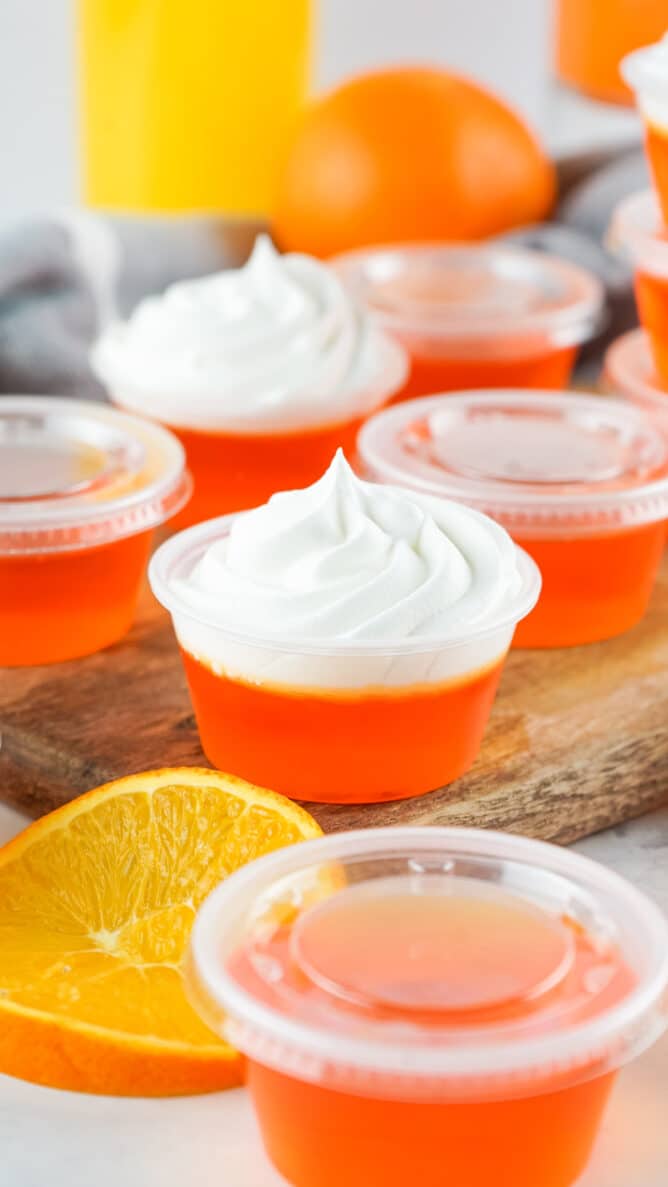 More Fun Drinks for Adults
Have you made this recipe?
Tag @crazyforcrust on Instagram or hashtag it #crazyforcrust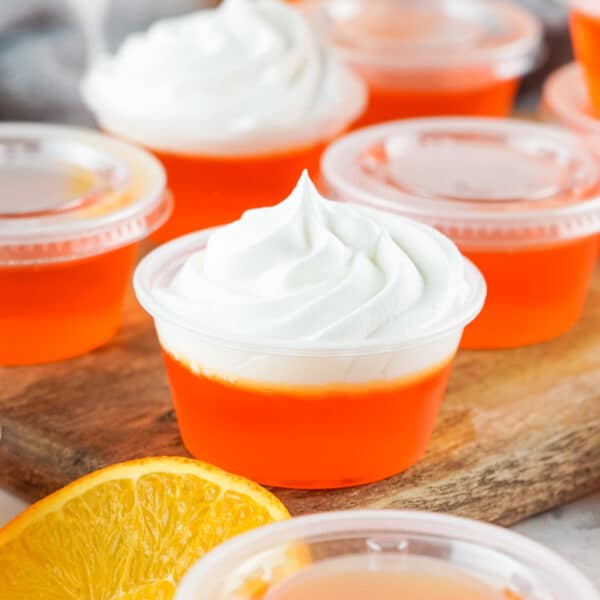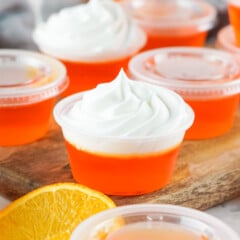 Orange Creamsicle Jello Shots Recipe
If you love a classic dreamsicle, you'll love these Dreamsicle Jello Shots! These shots are bursting with orange and creamy flavors. Perfect for a summer get together!
Total Time
2
hours
5
minutes
Ingredients
1

3 ounce box

Orange Jello

1

cup

(237ml) Boiling Water

½

cup

(118ml) Cold Water

½

cup

(118ml) Whipped Cream Vodka

Orange Sanding Sugar or Orange Sprinkles

optional
Instructions
Add the jello and boiling water to a medium mixing bowl and stir until the jello has dissolved.

Add the cold water and vodka, stir again.

Line your cups up on a baking sheet or another moveable, flat surface, without the lids.

Using the injector or pourable measuring cup, fill each container about ¾ of the way full.

Place in the fridge for 2 hours or until the jello has set.

Place the whipped cream in a frosting bag fitted with a frosting tip and pipe some cute swirls on top of the jello shots.

If desired, you can grab some orange sanding sugar or orange sprinkles and throw those on the top as well. Enjoy!
Recipe Notes
Do not add the whipped cream or sprinkles (if you're using them) until you're ready to serve the jello shots. The whipped cream gets a strange texture and thickness when left in the fridge, on top of the shots for too long.
If you want to go even creamier with your jello shots, add ½ a cup of whipped cream to the jello and whisk lightly until dissolved. Do this during the hot water stage, after the jello has dissolved.
I don't tend to use the sprinkles or sanding sugar with these super often. I like them better without, but it's a preference. I think they look adorable with them added though!
These can be stored in the fridge for up to 2 weeks. Just be sure to store them with their lids on. They do their best if they are served within a week of being made though. Do not freeze.
Be careful going over half a cup of alcohol. It can cause the jello to not thicken.
Want to make these virgin for the kiddos? Replace the vodka with cold water. You can also use the tip about adding whipped cream directly to the jello mixture.
Recipe Nutrition
Serving:
1
serving
|
Calories:
26
kcal
|
Carbohydrates:
1
g
|
Protein:
1
g
|
Sodium:
2
mg
|
Potassium:
1
mg
|
Sugar:
1
g
|
Calcium:
1
mg
|
Iron:
1
mg
Nutritional information not guaranteed to be accurate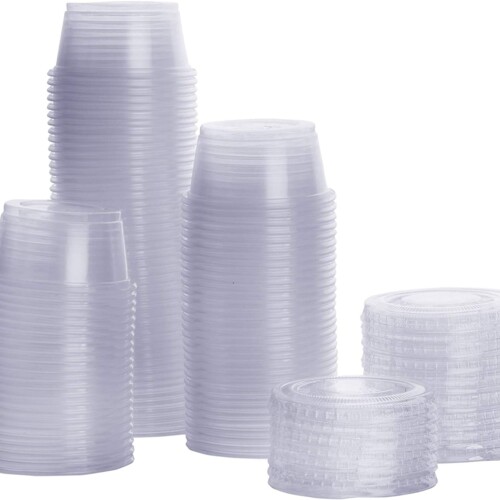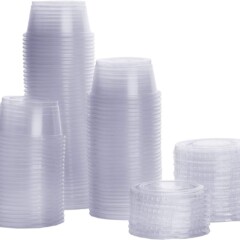 Cups for Jell-O Shots
These little cups with lids are perfect to make, serve and transport jello shots.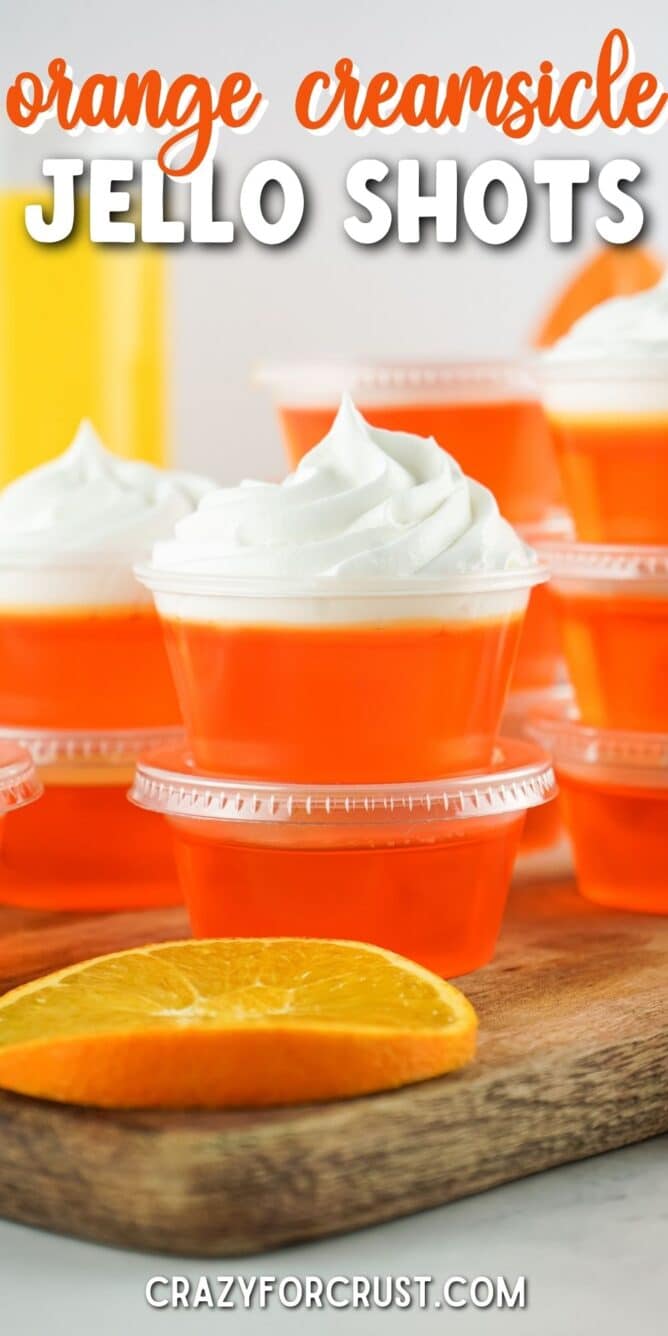 These Orange Jello Shots taste like Creamsicle with a vodka twist! They're topped with whipped cream for a fun party treat.