This post may contain affiliate links. For more information, read my disclosure policy.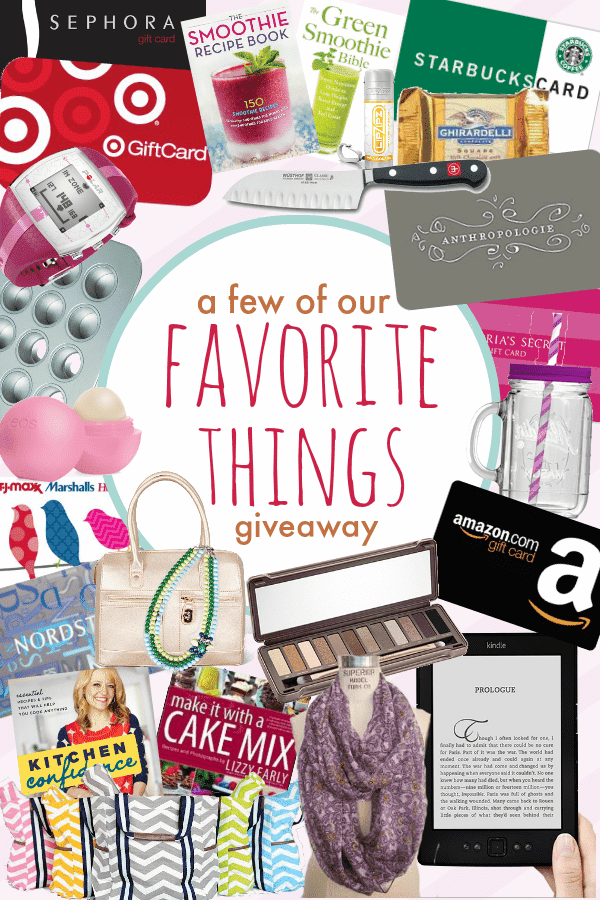 Remember when Oprah did those "favorite things" shows? And everyone would get a car or a fabulous trip or 6 new cell phones or a house?
Well, today you're in luck. It's my favorite things post! And I'm giving away a prize! (And so are a bunch of my friends! Scroll down to click to those giveaways!)
But it's not a car or a house so….sorry. But it is a pretty cool gift. It's one of my favorite things in the whole world.
When I first started thinking about what I would include on my favorite things list, I had so many ideas. It's a very broad concept, isn't it? My favorite kitchen items would be my Kitchen Aid and my Food Processor. Food? Probably vanilla bean paste and rainbow sprinkles. My favorite appendage? My iPhone.
In all my wonders of what I should give away as my "favorite thing" I kept coming back to one thing: my kindle.
I pink puffy heart my kindle.
If I'm not on my phone, you can bet I've got my kindle. I read at the gym, in the car, at dance practice, in the bathtub. I sneak reading moments during the day as often as I can.
My kindle is my favorite thing.
So many amazon books are under $4.99 and there are 100s that are free. And did you know that your local library most likely has an e-book lending system? It's so awesome and it's how I read 90% of my books. You "check" the books out through your library site, then it takes you to amazon to download them (free). After a week to 21 days (depending on the your preferences) the book just disappears from your kindle. It's my favorite way to read kindle books.
And, in case you're looking for some new books to read, here are some of my favorites:
The City of Ember series
Lightning (or anything by Dean Koontz – he's my all time favorite author)
The Twilight series
Harry Potter (all of them)
Hunger Games (trilogy)
Divergent (trilogy)
Matched (trilogy)
Passage (trilogy – only the first two are out)
A Discovery of Witches
When I Found You
Odd Thomas series (again, Dean Koontz)
Gone Girl
Something Borrowed & Something Blue (all of Emily Giffin's books are good)
Shopaholic series (any of Sophie Kinsella's books are great reads!)
And there are just too many more to list. I love so many books! What do you love to read?
This post contains amazon affiliate links which do not affect the prices in any way. If you use my link to purchase the item, I get a small percentage (like a referral fee). Thanks so much!
SaveSave
Last Updated on August 18, 2022