This post may contain affiliate links. For more information, read my disclosure policy.
Do you watch Ace of Cakes? I love that show. Recently I started watching Cake Boss and I like it too. It's amazing what they can do with cake. I think it's so cool how they start with a regular sheet cake and end up with the state of Alaska or something. It's the same reason I devour my Family Fun magazine each month. There are usually at least a couple of recipes where food looks like something else. This "grilled cheese sandwich" idea came from Family Fun magazine. It's another great food "fake bake" for April Fool's Day. A grilled cheese sandwich that's actually cake and icing. Brilliant!
The other part of this post, besides the great fake-out, is the pound cake. You can start with any kind of pound or loaf cake you want for the fake sandwich. You can even buy the frozen kind (I won't tell!) I wanted to bake something from scratch, but with all the baking that's been going on around here I did not want tons more dessert laying around where
I can binge eat it all
it will go stale and get thrown out. So instead of making an entire pound cake I made a mini one.
One regular loaf pan will make three mini loaves, so if you're getting a mini loaf pan you'll want three. I have three separate ones that I like, but one of these days I'm going to get one like
this
so they are easier to manage (little pans like to fall through the spaces in my oven rack). The recipe below is for one mini loaf. In my readings recently I've come across recipes that make smaller versions of yummy foods. I'm trying to teach myself how to cut the recipes down so sometimes I can make less. It's a good thing I majored in math. Whew! Lots of fractions and dividing went on here while I was doing this recipe! The amounts look funny (like 1/4 cup + 2 tablespoons, etc.) but it worked. My first fractional recipe worked!
Making the faux grilled cheese was easy once I had the cake. Color some white frosting orange (your
favorite recipe
or canned), cut two slices of "bread", and make a sandwich. I used a brown food writer marker (you can get them at craft stores and even some grocery stores) to draw the lines on it to simulate grill marks from a panini maker. I'm sending one in my daughter's snack box for April Fool's Day. I think she'll like it. A lot.
The pound cake is really good. It has a hint of lemon. If you don't use it for the grilled cheese, it would be yummy with whipped or ice cream. Or, make a simple lemon or vanilla glaze for the top (I put recipes below). I'm happy there is only about half the mini loaf left, and if I eat it all, I won't feel as bad as if I ate half a regular sized loaf (and believe me, I would have).
Enjoy!
Mini Pound Cake (and a Faux Grilled Cheese)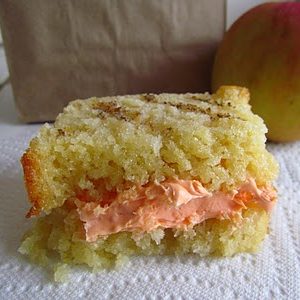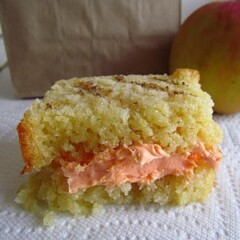 Faux Grilled Cheese (Mini Pound Cake)
Fake grilled cheese using frosting and pound cake!
Ingredients
½

cup

+ 2 tablespoons + 2 teaspoons cake flour

1/8

teaspoon

baking powder

Pinch of salt

1/3

cup

unsalted butter

, softened

¼

cup

+ 3 tablespoons sugar

1

egg

1

egg white

½

teaspoon

lemon zest

3/8

teaspoon

vanilla

2

tablespoons

milk or heavy cream
Instructions
Preheat oven to 325°. Grease and flour a mini loaf pan (approximately 5 ¾ x 3 ¼ inches). You can buy disposable ones at the grocery store or invest in good ones. (Tip: when buying a mini loaf pan, buy 3. One regular loaf = 3 mini loaves. Lately I've seen a large pan that has 3 mini loaf pans in it like a cupcake tin. This would be much easier to use than 3 little pans.)

Mix flour, baking powder, and salt in a small bowl. Whisk well and set aside.

Cream butter in a large bowl with hand-held mixer for 1 minute. Add the sugar and beat on medium speed until fluffy, about 2 minutes. Add the egg and egg white separately, mixing well in between each addition. Scrape down the sides of the bowl as needed. Beat in the lemon zest and vanilla and mix until combined.

Add 1 tablespoon of the milk or heavy cream and half of the flour mixture to your batter. Mix on medium speed until just combined. Repeat with the rest of the milk and flour mixture. Beat until just combined. Scrape the sides and stir into batter.

Pour into mini loaf pan. If your loaf pan is a loose pan (not joined with two others as a muffin tin is), place it on a baking sheet before placing in the center of your oven. Bake for about 25-30 minutes, until a toothpick comes out clean. Let cool completely before removing from pan.

To make the Faux Grilled Cheese: Mix your favorite white icing with food coloring to turn it light orange (the color of cheddar or American cheese). Cut two slices of your mini loaf and make a sandwich with the orange tinted icing. Use a brown food writer to draw lines on the sides to simulate grill marks.

To serve as a dessert for two: Slice and serve with whipped cream or ice cream and fresh berries. Or, make a simple glaze to drizzle on the top. Lemon Glaze: 1/3 cup powdered sugar, 4 teaspoons heavy cream or milk, 1/8 teaspoon lemon juice and 1/8 teaspoon lemon zest. Mix together and pour over cake. To make a Vanilla Glaze, omit lemon zest and replace 1/8 teaspoon vanilla extract for the lemon juice.
Recipe Nutrition
Serving:
1
serving
|
Calories:
300
kcal
Nutritional information not guaranteed to be accurate
Source: Adapted from The Cake Book by Tish Boyle, grilled cheese idea from Family Fun Magazine
Last Updated on August 18, 2022