This post may contain affiliate links. For more information, read my disclosure policy.
It's softball season. Jordan is playing for the first time this year.
After getting the game schedule and putting two games per week through May into my calendar, it became painfully obvious that I do not like softball.
We all know that I am not a sporty person, right? That I'm not much for the outdoors? That the hour a day I spend exercising is inside a gym?
That, given the choice between spending the day playing at the park or spending the day with a fat novel and watching The Real Housewives, the ladies of the O.C. would win, hands down?
There are two games per week. Two practices per week, which may (or may not) overlap with games. That is three or four days per week that I will be sitting in a field. Which is three or four days per week too long to be communing with nature, if you ask me.
Getting myself prepared for practice is a whole event in itself. Even if it's 70 degrees during the day, do you know how cold it gets when it hits 5:00 and the sun starts to go down?
After I'm finished putting on my turtleneck, sweater, jacket, scarf, gloves, head wrap, and Uggs, I often get confused about whether I'm heading to practice or up the hill to hit the slopes.
And games start at 5:30 on school nights. Um, when am I supposed to feed my kid dinner? 4:00? Because there's no way I'm waiting until after the game. That's when they get their "snack," which is probably either a token to the snack bar where she'll undoubtedly go for a pack of M&Ms, or that crazy dessert blogger lady* will bring cookies shaped like baseballs made in a whoopie pie pan with brownie bats attached. That might be my choice for dinner, but not one I can really (acceptably) give Jordan.
Ah, well. At least she likes softball. Now that she knows where first base is and that you have to run to it when you hit, it's going pretty well for her. (Did I mention this is her first time playing? And she missed a whole week of practice when she was sick? Watching her first scrimage was…interesting.)
I'll just have to make sure that I have plenty of these types of easy, 2-ingredient treats at the ready when I get home from all that practice. Because sitting in the field is exhausting.
When I say 2-ingredient, I mean it. These cookies are probably the easiest things ever to make.
Cookie dough and Thin Mints. Or, gifts from the Gods.
I found a whoopie pie pan on clearance at Sur la Table. When does that happen? It was a sign from above. If you don't have a whoopie pie pan, you can make this big using a pizza pan or a jelly-roll pan and then cut it into slices.
Wish me luck over the next few months. In order to survive it I may need to buy a flask.
*Um, that would be me.
These cookies were featured at Parent Map in their 15 Mother's Day Treats! Go check out the list of great ideas.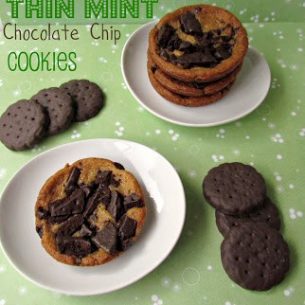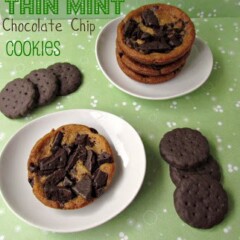 Deep Dish Thin Mint Chocolate Chip Cookies
Easy cookies topped with thin mints!
Ingredients
1

tube refrigerated chocolate chip cookie dough

12

Thin Mints

coarsely chopped

Whoopie Pie pan

Wilton or a pizza pan or jelly roll pan
Instructions
Heat oven to 350 degrees. Spray a Whoopie Pie Pan with nonstick cooking spray.

Cut slices of cookie dough, about 1/2" thick. Press into each whoopie pie cavity of your pan.

Press the coarsely chopped Thin Mint cookies on top of the cookie dough.

Bake for about 8-10 minutes, until edges of cookies are slightly browned. Let cool completely before removing from pan.

Note: if you do not have a whoopie pie pan, you can use a pizza pan or a jelly roll pan. Press the entire tube of cookie dough into the large pan, then sprinkle with the chopped Thin Mints and press them into the dough. It will take longer to bake this way. Cool, then cut into slices.
Recipe Nutrition
Serving:
1
serving
|
Calories:
56
kcal
|
Carbohydrates:
9
g
|
Protein:
1
g
|
Fat:
2
g
|
Saturated Fat:
1
g
|
Polyunsaturated Fat:
0.4
g
|
Monounsaturated Fat:
1
g
|
Trans Fat:
0.01
g
|
Cholesterol:
0.01
mg
|
Sodium:
47
mg
|
Potassium:
28
mg
|
Fiber:
0.3
g
|
Sugar:
5
g
|
Vitamin A:
0.3
IU
|
Calcium:
3
mg
|
Iron:
1
mg
Nutritional information not guaranteed to be accurate
adapted from Rachael Ray magazine
Last Updated on September 14, 2022