This post may contain affiliate links. For more information, read my disclosure policy.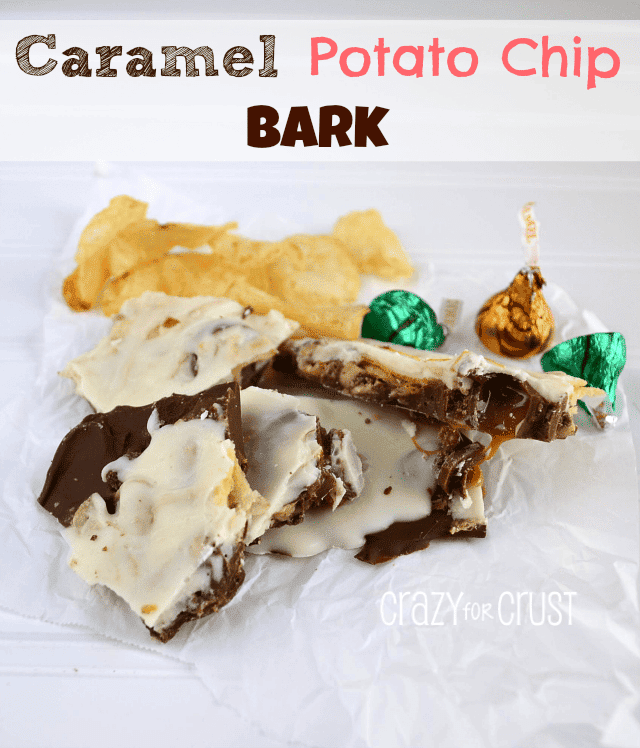 Jordan thinks that her doll, Jenny, is her daughter. That's how she refers to her, as "her daughter." Deep down, I think she knows that Jenny is just a doll…but don't you dare let her hear you say that out loud.
She's never really been SO attached to any one thing before. We got lucky when she was a baby – all those loads of beautiful baby blankets we got for her sat, unused, in her closet while she sucked her thumb and clutched her beloved baba (pronounced "bubba") which was, in reality, a cloth diaper I had bought several packs of during her first year of life when my clothes, my hair, and my couch was covered in spit-up.
The biggest problem we had with the babas was when Gerber changed the weave of the cloth diaper, around age 2. From then on, we had a dozen babas and we treated them like precious gold. Only a few remain.
But…back to the doll, er, my granddaughter. She goes everywhere with us. And I mean everywhere. Mel sometimes takes Jordan to dance class and holds Jenny on his lap. At her recital last week, my husband took a certain amount of heckling from the other dads…asking how his doll is, and did he have his doll with him.
At this point, Jenny is looking a bit rough. We are planning to stop at the American Girl store when we are in Southern California next summer, because she needs her ears pierced, to match Jordan. (Seriously. I am not kidding.) And, I have a feeling Jenny is also going to need a beauty shop consult as well. Her hair is becoming…unruly.
I can only assume that the next thing Jordan will want to do with her daughter is bake.
Because chocolate and butter go so well with synthetic hair and body stuffing.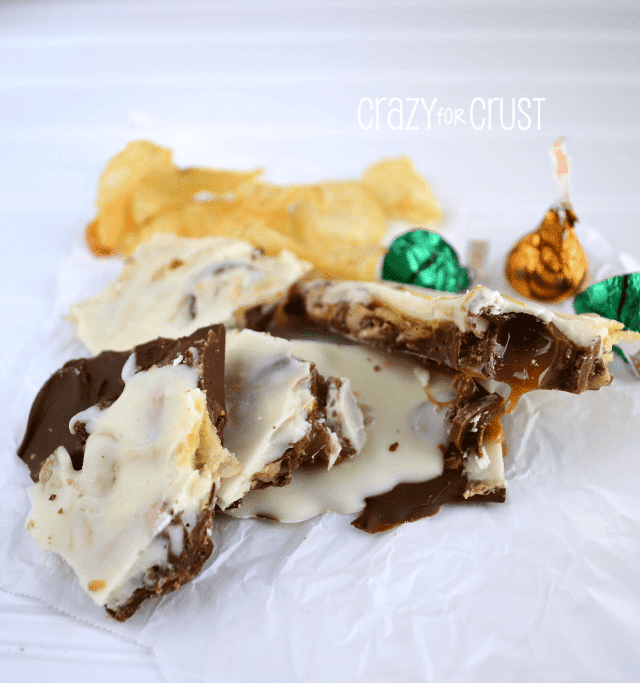 Have you ever made dessert with potato chips? No? You need to start. NOW. I've been wanting to make the leap forever, especially since seeing my friends Sally and Hayley make cookies. Ashton made fudge with caramel and chocolate and potato chips…and I'm figuring that's where this came to my brain from. Because it's her fudge…in bark form.
I love making bark. LOVE. It's so easy and fast and it's delicious. Potato chips and chocolate and caramel make this totally addicting. Like…I'm so addicted to chips and chocolate that I can NEVER buy chips again ever. Because, you know me. The next thing I'll be doing is melting chocolate chips and dunking the chips in it.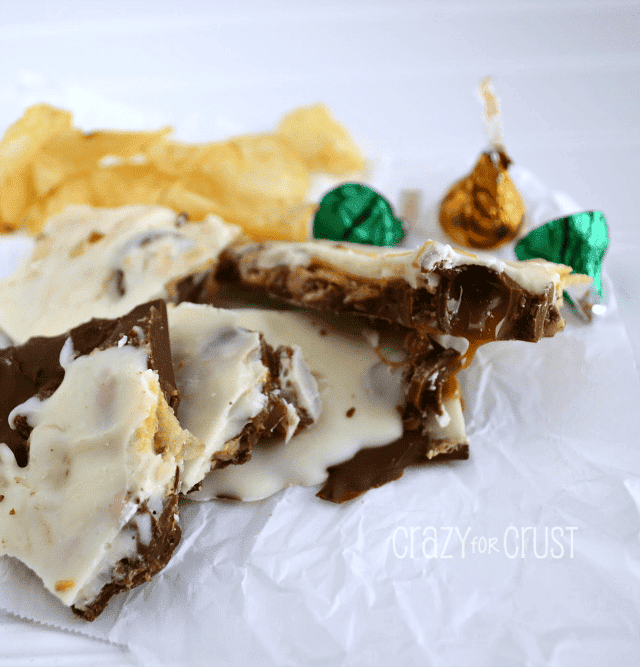 Or maybe that's okay? Like Jordan calling me grandma on a daily basis?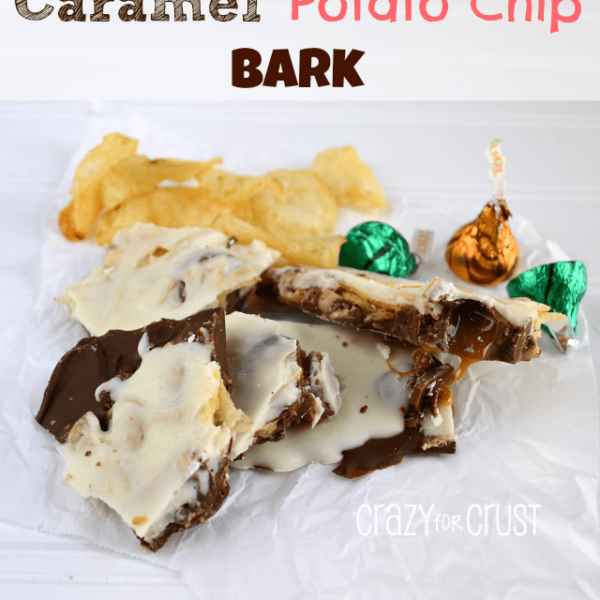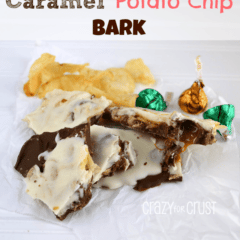 Caramel Potato Chip Bark
A white and milk chocolate candy filled with caramel and potato chips!
Ingredients
30

Caramel Kisses

chopped

1

bag milk chocolate chips

1

bag white chocolate chips

1/2

cup

toffee bits

2

cups

potato chips

broken (but not too small)
Instructions
Assemble all your ingredients before starting. Line a large cookie sheet with wax paper.

Melt milk chocolate chips in a microwave safe bowl on 50% power for about 2 minutes, stirring every 30 seconds.

Spread in a thin layer on your cookie sheet. Sprinkle with Caramel Kisses, toffee bits, and potato chips.

Melt white chocolate chips in a microwave safe bowl on 50% power for about 2 minutes, stirring every 30 seconds. Spread on top of chips. Place in refrigerator to harden. Break into pieces and serve.
Recipe Nutrition
Serving:
1
serving
|
Calories:
165
kcal
Nutritional information not guaranteed to be accurate
Last Updated on May 12, 2020