This post may contain affiliate links. For more information, read my disclosure policy.
This list of the best baking tools that every kitchen needs is a great starting point! Broken down into must-haves and wants, this list will prepare you to bake any recipe!
If you're just starting out building your kitchen tools, you may be wondering where to start, or maybe you're shopping for a Christmas gift or wedding gift. I've compiled this list of items and grouped them in order of importance to help you know what your kitchen needs!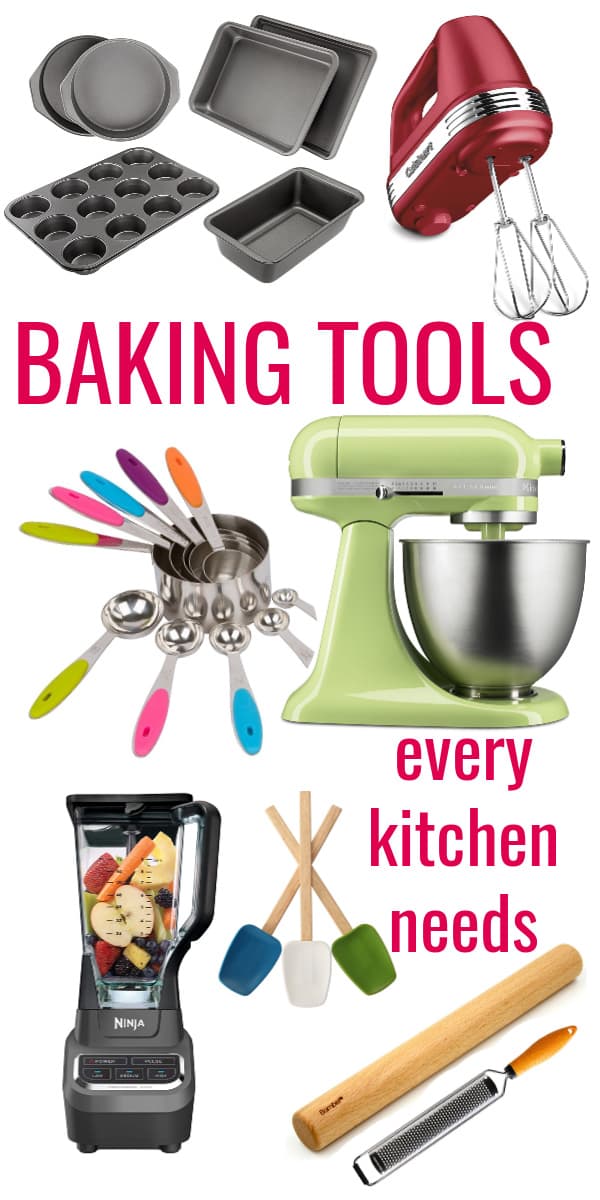 Best Baking Tools every kitchen needs:
Pans
In order to start your baking off right, you need to at least have a few basic pans: cake pans, muffin tins, rectangular pans. The basics will allow you to make a majority of the items on my site. If you have extra room or budget, work off the second list of extras too.
Must-Haves:
Good-to-haves:
Small Appliances
While you can do everything by hand, some small appliances will come in handy when making most recipes. A hand mixer is the #1 most important tool in my kitchen!
Must-Haves:
Good-to-haves:
Basic Tools
There are some basic tools you need to have for baking, like measuring spoons or cups. There are also some optional yet amazing products, like spatulas and peanut butter measuring cups, if you have the extra budget and room.
Must-Haves:
Good-to-haves:
Have questions about baking? Check out my Baking FAQ!
This post contains affiliate links and if you go through them to make a purchase I will earn a commission. Keep in mind that I link these companies and their products because of their quality and not because of the commission I receive from your purchases. The decision is yours, and whether or not you decide to buy something is completely up to you.
Last Updated on March 4, 2023