This post may contain affiliate links. For more information, read my disclosure policy.
Last week my daughter started first grade. First. Grade.
Sigh.
Wait a minute. I'm having a flashback to my post about when she ended Kindergarten. I think I said the same thing. I guess I'm nothing if not predictable.
I mean, in first grade she's with big kids. On the playground. When I dropped her off on the second day she went out to play on the yard first. With, seemingly, every other kid in the school. I lost sight of her after about 10 seconds and about had an anxiety attack right there on the blacktop. Usually on playgrounds I can see her whenever I bother to look (just kidding, of course).
So, now that she's in first grade, the first thing people like to say to me is "What are you going to do with all that free time???"
(Let me preface this by saying I worship you working moms. I mean, I know my mental capacity and it doesn't include that. You ladies are amazing.)
Here is a list of things I plan to do with my free time:
1. Clean my house. Like, really clean it. Not shove things under the bed and in the closet because I'm rushing since my daughter is on her seventh iCarly of the day.
2. Grocery shop, go to Target, run to the mall to find the exact pair of Sporty Shorty Light UP! sneakers that they show in commercials on iCarly, then run back to Target again because they called about a prescription after I'd already left.
3. Bake, photograph, photo edit, and blog. While I'm alone. So that my daughter knows what I look like from the eyes down (all that she can see of me while I spend endless hours behind the computer screen). Oh, and so that I don't have to listen to the 19th iCarly of the day. Because my daughter can impersonate Sam to the T, and that scares me a little.
4. Eat bon bons and watch trashy reality TV. Otherwise known in the business world as a "lunch break."
5. Continue making a bulletin board at school because no one else stepped up to volunteer and when I asked the principal who was taking over he said (chuckling)…"Um…you?"
6. Make wonderful treats like these Apple Oreo Cookies for the teachers because I am now the Hospitality Chair on the PTC Committee. (Yes, I am a sucker. Let's paint a big PTC bullseye on my forehead, shall we?)
These Oreos are a great way to say hello or thank you to a teacher. Or, make them for your kids. They'll love them. And, if you're not making 75 of them, they are super easy.
First, you have to make your apples. I used red and green candy melts (Wilton). I found the mold online at Custom Chocolate Shop. You can also find them at Country Kitchen Sweet Art.
Then you need to cover your Oreos with a nice warm coat of chocolate. I like using a mold I got at An Occasional Chocolate, but if you don't have a mold you can just dip them.
Now, you have this:
Just attach the apples to the Oreos with a dab of melted chocolate.
Wrap them up pretty and you have a wonderful teacher gift!
To all you teachers out there: thank you for what you do. You deserve so much more than you get and I hope your year is full of good students and good treats.
Apple Oreos
Recipe by Crazy for Crust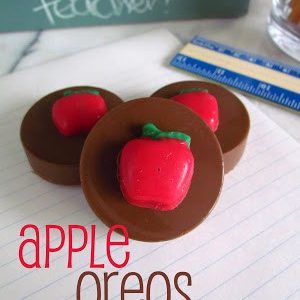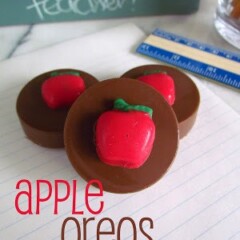 Apple Oreos
Ingredients
Red candy melts

(Wilton or other)

Green candy melts

Chocolate candy melts

, chips, or almond bark

Oreo Cookies
Instructions
To make the apples: melt the red and green candy melts and place them in a squeeze bottle (can be found at stores like Michaels). I find that working with a squeeze bottle is cleaner and easier. Squeeze some red into the apple mold for the apple, green for the stem. Tap it on the counter a few times to settle the candy and then freeze until hardened (about 3-5 minutes). They should easily release.

To make the chocolate dipped Oreos: melt your chocolate in a large microwave safe bowl. You can dip the Oreos directly in the chocolate or you can use a mold. If you are using a mold, squeeze (from a bottle) or spoon some chocolate onto the base of the mold. Tap to level. Add the Oreo and cover with more chocolate. Tap to cover and freeze until hardened (about 5 minutes).

Attach the apples to the Oreos with a dab of melted chocolate.
Nutritional information not guaranteed to be accurate
Yield: One 14 ounce bag of chocolate melts will cover about half of a 16-ounce package of Oreos (that's about 20-25 cookies). One bag of red candy melts will make about 40-50 apples (you will only need about half a bag of green melts for this many).
Happy Back to School!
Last Updated on May 12, 2020