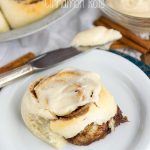 Print
Quick Cinnamon Rolls {small batch}
Cinnamon rolls in one hour, yes it can be done! And this recipe makes a perfect 6 rolls - great for when you need a small batch.
Filling
3

tablespoons

butter

very soft but not melted

1

tablespoon

all-purpose flour

3

tablespoons

brown sugar

2 1/2

teaspoons

cinnamon
Frosting
2

ounces

cream cheese

very soft

2

tablespoons

butter

melted

1 1/2

cups

powdered sugar

1

tablespoon

maple syrup

1

teaspoon

vanilla extract
Preheat oven to 400°F. Spray a small 7" pie plate (or other similar sized pan) with cooking spray.

Place the water, sugar, and yeast in the bowl of a stand mixer fitted with the paddle attachment. Let the mixture rest for 15 minutes. It will be very frothy when your timer rings!

While you wait, make the filling. Stir all ingredients for filling together in a small bowl with a fork. Set aside.

Mix in the salt and butter using the paddle, until the butter breaks up into the mixture. Switch to the dough hook and add the flour. Start on "Stir" for a few seconds, until the flour starts to incorporate. Switch to "2" for about 30 seconds and then kick it up to "3" until the dough completely comes together. You know it's done when all of the dough will join to form a ball and the sides of the bowl are almost clean (no dough left). If your dough is too wet, add an additional tablespoon or two of flour.

Roll out dough to a rectangle that's about 9x11" or so. Spread with the filling. I find it's easiest to drop little pieces of the filling all over the dough and then smooth with your hands. Spray your hands with cooking spray first so the butter mixture doesn't stick.

Roll up the dough into a tight roll. Cut into 6 equal slices with a serrated knife. Place in prepared pan.

Let rest for 5 more minutes.

Bake for about 13-15 minutes, until the tops start to get golden.

While baking, make the frosting. Place cream cheese and melted butter in a small bowl. The cream cheese needs to be soft enough to stir into the butter. You can microwave it for a few seconds if it's not soft enough. Whisk the cream cheese and butter together, then whisk in powdered sugar, maple syrup, and vanilla extract. Frost rolls, serve warm.

The rolls will last at room temperature for 2-3 days. The frosting can also stay on the counter for the same amount of time, or you can refrigerate it.