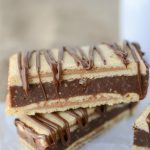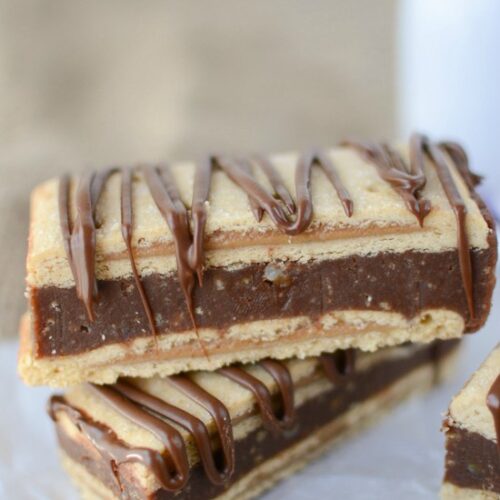 Print
Peanut Butter Poptart Bars
The perfect no bake summer treat! These Peanut Butter Poptart Bars are filled with a soft chocolate toffee filling and are totally addicting!
3/4

cup

butter

3/4

cup

sugar

1/4

cup

nonfat milk

1

egg

slightly beaten

1

cup

graham cracker crumbs

I used a box, grind if you have regular grahams

2

cups

1 package chocolate chips, divided (I used milk chocolate)

12

Peanut Butter Poptarts
Melt butter over medium heat in a medium saucepan. Add sugar, milk, and egg. Stir constantly so the egg doesn't scramble, for about 20 seconds (or until mixture is combined). Bring to a full boil, stirring occasionally, just a few minutes.

Remove from heat and stir in graham cracker crumbs and 1 cup of the chocolate chips. Let cool for 30 minutes.

While the mixture is cooling, line a cookie sheet or jelly roll pan with foil. Lay out 6 of your poptarts flat on the bottom of the cookie sheet, two rows of three poptarts. (I used 5 for each layer, not 6, because I ate one pack before starting. If you use 5 for each layer, as in the photo, do two rows of 2 1/2 poptarts each).

Once mixture is cooled, pour it over the layer of poptarts. Spread with an offset spatula to reach the ends of the rectangle. It will spill over, but that's okay. Try to keep the spilling over to a minimum, but it's okay if some spills over. I kept one finger pressing on the edge of the poptart layer as I spread the mixture, so they didn't move.

Top the chocolate mixture with the remaining poptarts, mirroring the bottom layer. Cover loosely with plastic wrap and chill until hardened, about 4 hours.

When ready to cut, remove from refrigerator. Remove plastic wrap and slice into bars, (about 12 columns and two rows).

Melt remaining 1 cup of chocolate chips in the microwave. Add to a sandwich bag and snip off the tip. Add swirls of chocolate to the top of the bars, for decoration.