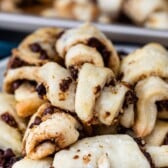 Print
Classic Rugelach Recipe
My Easy Rugelach Recipe are the best holiday cookies! This is a traditional recipe made two ways: classic raisin brown sugar and walnut filling and chocolate chip filling. These are some of the BEST cookies ever!
Make the Dough
Cut butter and cream cheese into small pieces.

In a large food processor, pulse the flour and salt, then add the butter and cream cheese and pulse until mixture is crumbly.

Divide dough into 4 sections and shape each into a disk. Wrap each disk in plastic wrap and chill for 2 hours.
Make the Filling
Note: I find it easiest to finely chop the nuts and raisins in the food processor, but you can also do it by hand.

Stir together the walnuts, brown sugar and cinnamon. Stir in either finely chopped raisins OR mini chocolate chips. (Tip: divide the mixture in half and add 1/4 cup finely chopped raisins to half 1/4 cup mini chocolate chips to the other half.)
Assemble & Bake
Roll each disk of dough into a 9-inch round, keeping each disk chilled until ready to roll and fill them. Sprinkle the round with the filling and press it lightly into the dough. Cut each round into 12 wedges (like you're cutting a pizza). Roll the wedges from wide to narrow, like you do a crescent rolls.

Place the cookies with points tucked under onto cookie sheets lined with parchment or silicone baking mats. Chill 30 minutes.

Preheat oven to 350°F.

Beat egg with milk to create an egg wash. Brush each cookie with the egg wash and sprinkle the outside with the granulated sugar.

Bake 15-20 minutes, or until lightly browned.

Cool at before removing from cookie sheets. Store in an airtight container for up to 4 days or freeze for up to a month.
Tips
Make sure to spoon and level the flour. If you aren't using a food processor to form the dough then it's going to take awhile to get it completely worked together. You want the dough cohesive like a cookie dough not like a done-by-hand pie dough.
Make sure you chill the dough as directed! It's a soft dough when it's out of the refrigerator so don't skip that step - and be sure to keep each disk chilled while you work on the others.
Easiest way to cut the dough is using a pizza cutter!
Variations
Spread the dough with your favorite flavor jam
Use lemon curd as the filling
Spread the dough with peanut butter and sprinkle with mini chocolate chips
Use other nuts, like pecans or almonds, instead of walnuts
Spread the dough with Nutella or any other chocolate spread
Skip the nuts and just fill them with cinnamon sugar (like pie crust cookies)
Serving:
1
cookie
|
Calories:
106
kcal
|
Carbohydrates:
10
g
|
Protein:
1
g
|
Fat:
7
g
|
Saturated Fat:
4
g
|
Cholesterol:
19
mg
|
Sodium:
30
mg
|
Potassium:
41
mg
|
Fiber:
1
g
|
Sugar:
4
g
|
Vitamin A:
187
IU
|
Vitamin C:
1
mg
|
Calcium:
14
mg
|
Iron:
1
mg