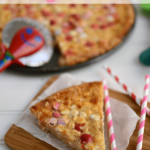 Print
White Chocolate Macadamia Nut Cookie Pizza
This easy cookie cake is made with a sugar cookie mix and topped like a magic bar with chocolate, coconut, and sweetened condensed milk! This is the best cookie pizza for any party.
Preheat oven to 350 degrees. Grease a 12" pizza pan with cooking spray. (You can also use a 9x13" pan, covered with foil and sprayed with cooking spray.)

Stir together cookie mix, butter, and egg in a large bowl. Press evenly into your prepared pan.

Sprinkle the coconut, white chocolate chips, macadamia nuts, and M&Ms over the sugar cookie mixture, in that order. (Just be sure your coconut is on the bottom so it does not burn).

Pour sweetened condensed milk evenly over the top of the candy.

Bake for 23-28 minutes until golden. (Mine took 25 minutes.) Cool completely before slicing.