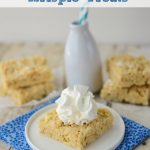 Print
Banana Cream Pie Rice Krispie Treats
These Banana Cream Pie Rice Krispie Treats taste just like banana cream pie and are even filled with crust!
Line a 9x13" pan with foil and spray with cooking spray.

Bake your frozen pie crust according to package directions. Cool, then break into pieces and place in a medium sized bowl. Add the Rice Krispies to the bowl with the pie crust.

Place marshmallows and butter in a large bowl. Microwave on HIGH for 1 1/2-2 minutes, stirring every 30 seconds. Once butter and marshmallows are fully melted, remove from microwave and quickly stir in the pudding mix. Pour cereal and pie crust mixture into the marshmallow mixture and stir carefully. T

ransfer to prepared baking dish. Spray your hands with cooking spray and carefully press the rice krispie treats into the pan to compact. Cool before cutting.