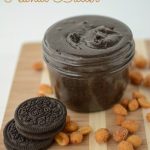 Print
Oreo Peanut Butter
Homemade peanut butter filled with Oreos. Cookie butter...only better!
1 1/2

cups

honey roasted peanuts

10

Oreos
Place peanuts and Oreos in a food processor and run continuously until butter forms. Time will vary depending on your food processors age and speed. Mine took about 4 minutes to reach a creamy, buttery consistency. If your processor is older, or starts to feel hot during processing, stop the machine and let it rest a few minutes before continuing.

Serve on toast, as a dip, or with a spoon.