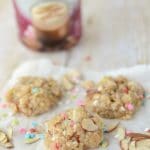 Print
Amaretto Coffee Creamer No-Bake Cookies
These No Bake Cookies are filled with almond flavor and Amaretto Coffee Creamer! A great cookie for a hot day, or whenever you're craving almond!
Line two cookie sheets with parchment paper.

Melt butter in a medium sized saucepan over medium heat. Add sugar and creamer, stir, and cook until it just begins to bubble. Boil for 1 minute.

Add extracts, almonds, and oats and cook for 1 more minute. Remove from heat and stir in sprinkles.

Use two spoons to scoop mounds of the oat mixture onto the cookie sheet. Let sit until they completely cool. Store in an airtight container.