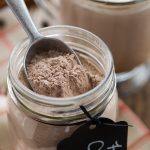 Print
Hot Chocolate Mix {Pumpkin Spice Hot Chocolate}
This homemade hot chocolate mix is dairy-free and inexpensive to make at home! Keep it in your pantry for whenever the urge for cocoa hits. Add some flavored coffee creamer for a flavor twist, like a pumpkin spice hot chocolate!
For each serving Hot Chocolate:
2

tablespoons

hot chocolate mix

1

cup

milk

regular, non-fat, almond, soy, or coconut

2

tablespoons

International Delight Coffee Creamer for flavor

optional

Whipped Cream or marshmallows

for garnish
To make the hot chocolate mix:
Freeze the chocolate chips for at least 10 minutes. Pulse the frozen chips in a food processor until they are small crumbles. (If you don't do this when they are frozen they'll melt in the processor!)

Whisk together crumbled chocolate chips, cocoa powder, powdered sugar, salt, cornstarch, and cinnamon (if using). Place in a plastic bag or airtight container. Makes 4 cups mix.
To make pumpkin spice or flavored hot chocolate: