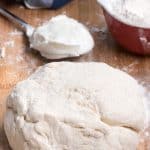 Print
Weight Watchers Pizza Dough
Weight Watchers Pizza Dough Recipe - just 2 ingredients in this pizza crust - no rising time! Plus, there's only 12 WW SP for the entire crust recipe, so if you want to eat the entire thing, you just need to save your weekly points. Even if you're NOT on Weight Watchers, this crust is delicious. It tastes JUST like a regular pizza crust without any of the wait time for rising!
Servings
1
(10") pizza crust
Preheat oven to 400°F.

Stir together yogurt and flour until a thick dough forms. Turn out dough onto a lightly floured surface and knead until it forms a dough ball.

Place ball on a sheet of parchment paper. Roll out to desired size (approximately 10-inches diameter). Place on a baking sheet or pizza pan/stone. Top with desired toppings.

Bake for 20-30 minutes, or until crust is browned and cooked through.
Serving:
1
serving
|
Calories:
260
kcal
|
Carbohydrates:
49
g
|
Protein:
17
g
|
Cholesterol:
5
mg
|
Sodium:
843
mg
|
Fiber:
2
g
|
Sugar:
3
g