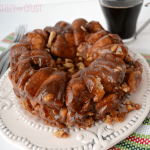 Print
Easy Monkey Bread
This monkey bread is the easiest recipe you'll ever make! There's no rising time and the bake time is super short because you're using hawaiian dinner rolls! Monkey bread in 30 minutes!
Preheat oven to 350 degrees. Spray a bundt pan with cooking spray.

Mix cinnamon and granulated sugar in a small bowl. Cut each dinner roll into 4-6 pieces. Place in a large bowl. Pour egg over the bread and toss with your hands. Pour cinnamon sugar over egg/bread mixture and toss with your hands. Place bread mixture in the prepared pan.

Sprinkle the chopped walnuts over the bread mixture.

Stir melted butter and brown sugar together and pour evenly over the mixture in the pan. Bake for 15 minutes. Cool slightly in pan. Run a knife around the edges and around the center of the pan to release the monkey bread. Place an upside down plate over the top of the pan and invert the pan to serve.