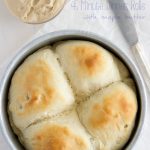 Print
Small Batch 45 Minute Dinner Rolls {with Maple Butter}
This easy dinner roll recipe makes a small batch - just 4 rolls that's perfect for  small family or one person. Add some maple butter and eat them for breakfast!
Maple Butter
1/4

cup

salted butter

very soft

2

tablespoons

pure maple syrup

1/8

teaspoon

maple extract

optional
Rolls
Preheat oven to 400°F. Spray a 6" round cake pan (or other similar sized pan) with cooking spray.

Place the water, olive oil, sugar, and yeast in the bowl of a stand mixer fitted with the dough hook. Let the mixture rest for 15 minutes. It will be very frothy when your timer rings! Mix in the salt and flour using the dough hook. Start on "Stir" for a few seconds, until the flour starts to incorporate. Switch to "2" for about 30 seconds and then kick it up to "3" until the dough completely comes together. You know it's done when all of the dough will join to form a ball and the sides of the bowl are almost clean (no dough left). If your dough is too wet, add an additional tablespoon or two of flour.

Place dough on a cutting board and section into 4 balls. Place the rolls prepared pan. Let rest for 5 more minutes.

Bake for about 11-15 minutes, until the tops start to get golden. Enjoy with dinner, or for breakfast with maple butter.