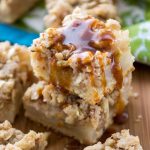 Print
Pear Pie Crumble Bars
These bars are a perfect way to use your pears! A shortbread almond crust is filled with partially cooked cinnamon sugar pears and topped with an almond crumble. Serve these with caramel sauce for a decadent twist on a crumble pie bar!
For the Crust:
1/2

cup

unsalted butter

softened

1 1/4

cups

all purpose flour

1/4

cup

granulated sugar

1/2

cup

sliced almonds

1/4

teaspoon

salt
Line a 9x9" pan with foil and spray with cooking spray (for easy removal and cutting of bars). Preheat oven to 350°F.

Prepare the crust by slowly mixing all the crust ingredients in a stand mixer fitted with the paddle attachment or in a large bowl using hand mixer. The mixture will be crumbly and if you are using a hand mixer you may need to use your hands to break up any large chunks of butter. Press the crust in the prepared pan and bake for 15 minutes.

Prepare the filling by placing the diced pears in a medium saucepan. Fill the pan with water so that half the pears are covered. Cook over medium heat, bringing to a boil then simmering for about 5 minutes until the pears just start to turn semi-translucent. Drain well.

Make the topping while the pears are cooking: you can use the same bowl you used for the crust. Use a stand or a hand mixer to cream the butter and sugar. Add the flour, almonds, and salt and mix slowly. The mixture will be somewhat crumbly.

Right before the crust comes out of the oven, drain the pears again, then sprinkle the pears with the cinnamon and sugar called for in the filling.

Remove the hot crust from the oven. Sprinkle the pears carefully on top (make sure they are well drained first - do not add any of the extra liquid!), then sprinkle with the topping. Bake for an additional 22-27 minutes until the crumble topping starts to brown. (Mine took 24 minutes.)

Cool completely in pan before slicing into bars and serving. Serve with caramel sauce and/or ice cream or whipped cream.

Store bars in the refrigerator in an airtight container for up to 3 days, or freeze them for up to one month.