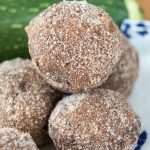 Print
Chocolate Zucchini Doughnut Muffins
This is a perfect EASY muffin recipe that tastes like a baked donut! Chocolate Zucchini Doughnut Muffins are a great way to use up all that summer squash.
Preheat oven to 350°F. Spray mini muffin pans with nonstick cooking spray.

Stir 3/4 cup sugar, oil, and apple sauce in a large bowl with a wooden spoon. Stir in eggs, sour milk, baking soda, cocoa, salt, and 1 teaspoon cinnamon. Stir in flour. Stir in zucchini.

Spoon into mini muffin pans (makes 48) and bake for 10-12 minutes until a toothpick comes out clean. Cool at least 5 minutes in pan before removing.

Right before serving: Stir remaining sugar and cinnamon in a small bowl. Roll muffins in melted butter than toss in cinnamon sugar.