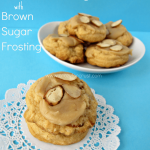 Print Recipe
Almond Pudding Cookies with Brown Sugar Frosting
(Cookie recipe adapted from Chef in Training, Frosting adapted from Eat's Well with Others)
Preheat oven to 350°. Line cookie sheets with parchment paper and set aside.

Whisk together baking soda and flour and set aside.

Cream together butter and sugars. Add the pudding package and beat until well blended. Add eggs and almond extract. Slowly add the flour and mix until just combined. Stir in almonds.

Roll into 1" balls and place on your cookie sheets. Bake for 10-12 minutes. Cool completely before frosting.

To make the frosting: combine the brown sugar, milk, and butter in a saucepan over low heat. Stir until the sugar is completely dissolved into the liquid, just a few minutes. Remove from heat and add almond extract and powdered sugar. Stir until no lumps remain. Frost cookies quickly; this frosting tends to harden fast. Top immediately with toasted almonds and let the frosting harden.