This post may contain affiliate links. For more information, read my disclosure policy.
This White Chocolate Cheesecake Dip was a total hit at  our tea party! Madeleines taste sooo good with this dip. You won't be able to resist it!
White Chocolate Cheesecake Dip & A Tea Party
Ever since I saw this post (which lead me to this book) I have wanted to host a tea party for Jordan and her doll, Jenny. After our lunch at the American Girl Store, I wanted to do it even more. Of course I also thought of making this chocolate cheesecake dip.
So, when Donsuemor contacted me about having a tea party with their madeleines, I immediately knew what I wanted to do.
Back in October, I was a part of Donsuemor's "Dessert a Day" campaign where I made these babies out of the chocolate madeleines. For the tea party, they sent me a variety of flavors to serve, along with some Davidson's Organic Tea.
Now I knew I was going to serve madeleines at the tea party. But this is me we're talking about, so I couldn't not make a dessert. But I wanted to make something that would highlight the flavor of the madeleines, not upstage them. What to make?
Thanks to Ashton, I always think about dip. (If you read her blog, you'll understand and should be nodding in agreement.)
In my yummy madeleine box I had the traditional flavor, plus chocolate dipped, chocolate, and lemon. I immediately thought of white chocolate, which lead me to cheesecake. White Chocolate Cheesecake Dip. It's irresistable. The madeleines tasted SO good dipped in it. So did a spoon. Seriously, I had to freeze the leftover because I was afraid to have it in my refrigerator.
And, let's talk for a minute. I'm a chocolate girl. I love chocolate. And vanilla. I most certainly do not love lemon. In fact, I'd never even had a lemon dessert until I was craving lemon pie last year and loved it. So, of course, I sampled all the madeleines and was expecting to love the chocolate one the most. Wrong. Guess which one is the best flavor ever?
Yup, the lemon.
While the kids had tea time, my friend and I did too. It had been really hot the weekend before our party, so I made iced tea. Vanilla Cream Spice and Bing Cherry Almond. My kitchen smelled wonderful during brewing and it tasted even better! Did you know it's super easy to make iced tea from tea bags? (I didn't.) You just use two tea bags for each cup of water, boil them for a minute, and then let it steep for at least 20 minutes. Serve over ice with lemon wedges and a simple syrup for sweeter tea.
Jordan invited a friend over for the tea. Turns out, her friend has the same doll she does. I decided to make some finger sandwiches and fruit for the girls; treats only go so far. But, of course, Jenny and Emily needed to have their own snacks.
When I cut up the kid sandwiches, I just cut one of the wedges in little tiny triangles. I cut little tiny carrot sticks from baby carrots, and broke off little squares of Wheat Thins. (Thanks to Family Fun Magazine for the ideas!)
There's Jenny, enjoying her madeleine.
That's Emily. She at all her sandwiches. She must've been hungry!
The kids had so much fun at the tea party, Jordan has been begging to do it again every day. She wants to have every single friend over for tea. So as I write this, tea party II has just ended. Alas, there were no madeleines left.
One guess where they went.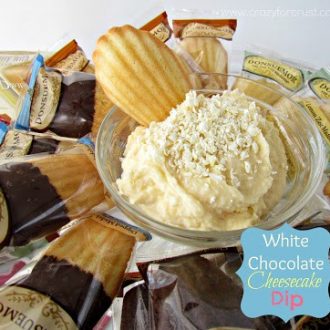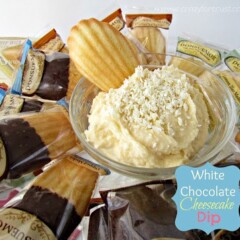 White Chocolate Cheesecake Dip
White Chocolate Cheesecake Dip - the easiest cheesecake dip full of white chocolate!
Instructions
Beat the cream cheese in a large bowl until fluffy. Add the pudding mix, powdered sugar, and white chocolate and beat until combined. Mix in vanilla and milk, 1 tablespoon at a time until you've reached your desired consistency.

Store in refrigerator, but serve at room temperature. If desired, you can grate more white chocolate on top before serving. Serving suggestions: cookies, fruit, madeleines or other small sweets.
Nutritional information not guaranteed to be accurate
SaveSave
Last Updated on May 12, 2020