This post may contain affiliate links. For more information, read my disclosure policy.
Recently I attended Social Media On The Sand, an influencer conference that's held at Beaches Resorts Turks and Caicos. The conference is for bloggers that write about motherhood, food, lifestyle and more. We pay a fee to attend the conference and receive a discounted rate on our stay, which is made so much more fun because it's all about family. We're encouraged to bring our families and experience the resort to the fullest.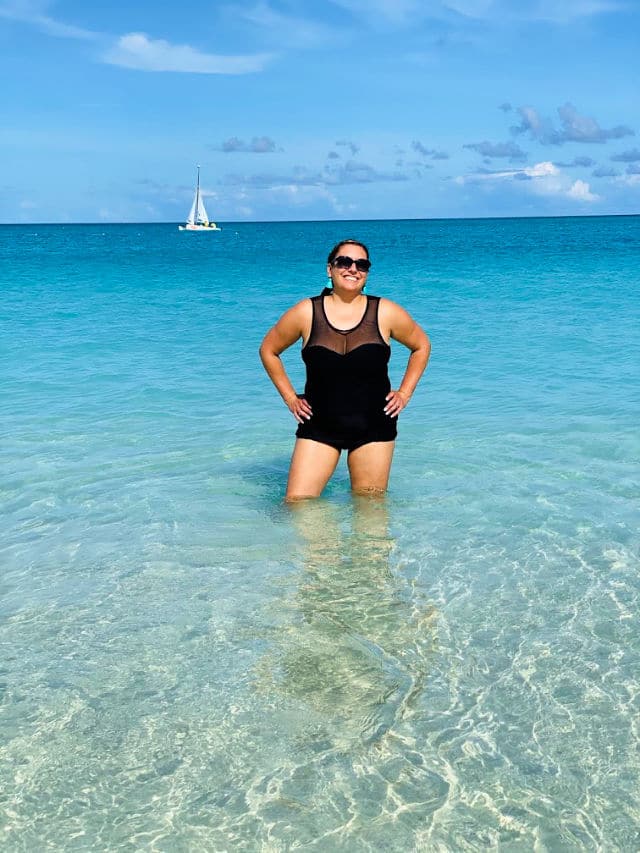 Beaches Resorts is the family-friendly branch of the Sandals Resorts brand. Families of all sizes are welcomed with open arms at Beaches; I like to say it's truly ALL inclusive because the resorts are Autism friendly (the resorts have passed IBCCES training) and they'll truly work with anyone with food allergies to make sure they are safe during their stay.
With 22 restaurants to choose from the resort is an all-inclusive with so many choices. That's why I'm writing this post: I'm going to tell you my favorite places to eat Beaches Resorts Turks and Caicos.
What does all-inclusive mean?
I've only recently discovered the wonderful thing that is the all-inclusive resort. Our normal trips to the beach in Hawaii are to a traditional resort, where you pay for your room and then pay for restaurants separately. Traveling all-inclusive is a game changer and one of my favorite ways to travel now.
An all-inclusive resort is one that, when you book your room, it comes with all your meals and drinks (or some, depending on the resort). The price of the food is built into the overall cost, so you're paying one lump sum for your entire stay instead of paying each time you eat.
There are many different kinds of all-inclusive resorts that range in size, offerings and quality. If you're going to go to a resort like this I highly recommend doing your research and seeing exactly what is covered and what's not. Be sure to also read reviews about food and drinks – if you're at an all inclusive you've going to want to eat there the entire trip so as not to spend extra.
Beaches Resorts are truly all-inclusive: they include all your food, every meal, no matter how many of them you eat. All of your alcohol is included, even top shelf. You can choose anything available at the bar when you order your drink. They only charge extra for some wines outside of the ones they offer (they have a partnership with Robert Mondavi).
I haven't eaten at every restaurant at the resort but we managed to try several, so the following are what we love about them.
Important things to note about the food at Beaches Resorts:
There is no room service at the resort. However, you're allowed to bring food to your room and there is a microwave and a refrigerator.
Be sure to note restaurant open and close times. Sometimes there is a dead period in the day where only one or two are available.
There isn't any formal pool service. Some of the pools have a drink server, but there is no food menu. You can, however, get to-go meals at any restaurant and take them to the pool.
Know the dress code! Most are resort casual – but that doesn't always means bathing suits are ok. Only a few require more dressy attire (slacks and collared shirts for men).
Only one restaurant requires reservations: Kimonos. Be sure to reserve this when you arrive by calling the culinary desk. You won't want to miss it.
Our favorite places to eat at Beaches Turks and Caicos: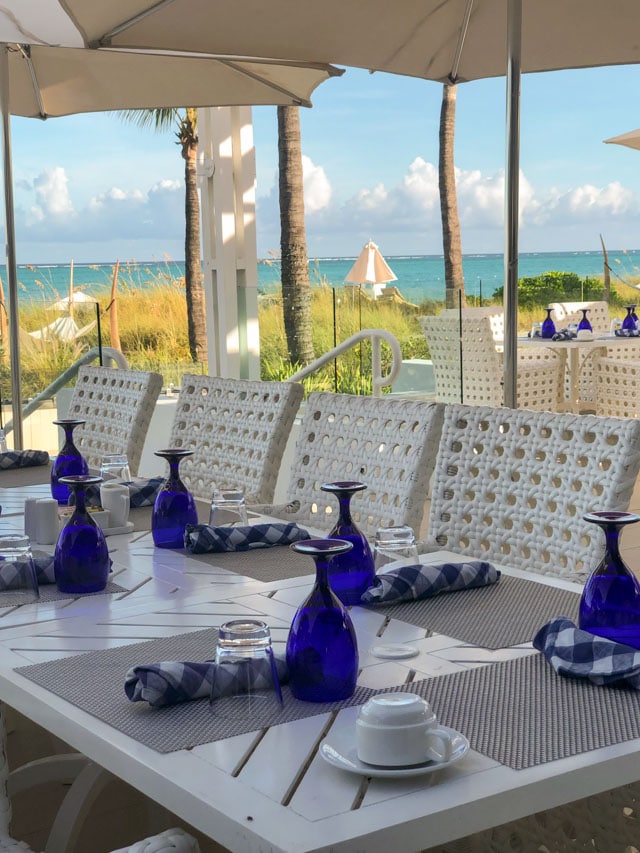 Bayside Restaurant
Breakfast, Lunch, Dinner
Resort Casual
Key West
This restaurant is buffet for breakfast, lunch, and dinner. Breakfast and lunch are buffet; dinner is ala carte.
The food here is fine, it's buffet food, but the view is why we love it. We come for breakfast every morning just to see the beach and the water. It's an open-air restaurant, wear your bathing suit with a coverup and head to the beach after you eat.
Favorites include: spicy pepper steak and the fruit bar. They also have cereal, oatmeal and all your traditional breakfast items. They'll make an omelette or specially cooked eggs to order.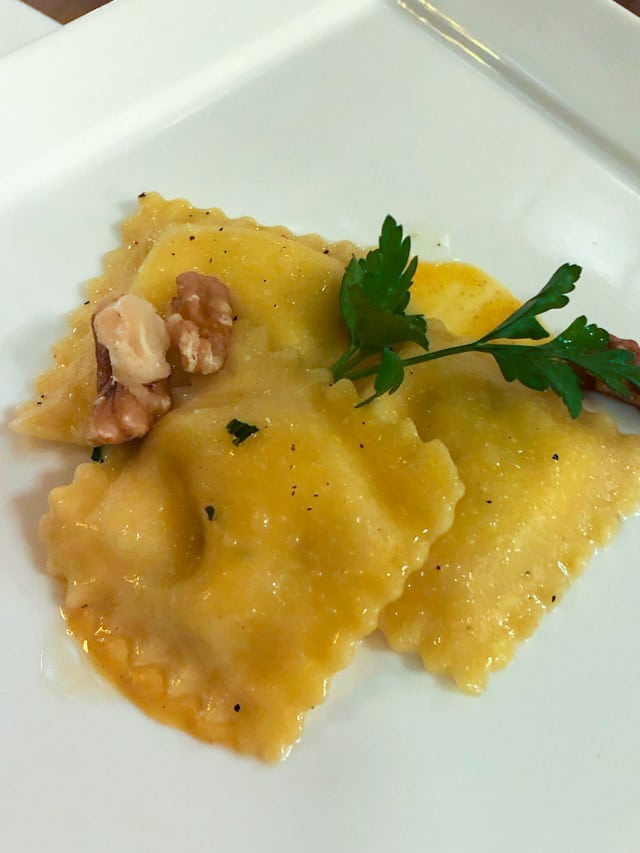 Marios
Breakfast, Lunch, Dinner
Resort Casual
Italian Village
The restaurant is open for breakfast, lunch, and dinner. We highly recommend going for dinner! (Except on the weekends: then it's just buffet.)
Food-wise, Marios is our favorite at the resort. There is an antipasti buffet for everyone to indulge in before they order, which includes an array of salad fixings, cheeses and charcuterie, and breads.
Their menu includes sections for risotto/pasta, mains, and dessert. The portions are small enough you can order a main with a few risottos or pastas to share. Our favorites are: the cheese ravioli and mushroom risotto, the lamb, and the shrimp main courses. Everything is fabulous
Leave room for dessert at Marios! It's some of the best at the resort: the chocolate tart is SO GOOD. They'll package it for you to go if you ask.
Barefoot By The Sea
Lunch and Dinner
Resort Casual
Italian Village
This is the first restaurant I ate at at Beaches Resort Turks and Caicos and we really enjoy it. Located practically on the beach at the Italian Village, Barefoot By The Sea is a sandy restaurant – literally. Ditch your shoes on arrival and eat overlooking the ocean.
It's open for lunch and dinner but I highly recommend the dinner menu: that's when they offer the coconut shrimp. Everyone talks about how good it is; this past weekend we ordered 11 orders of it with 12 people in our party.
Their menu is seafood centered but the kids menu is full of things kids actually like. This is also the place to try conch – the conch fritters are delish.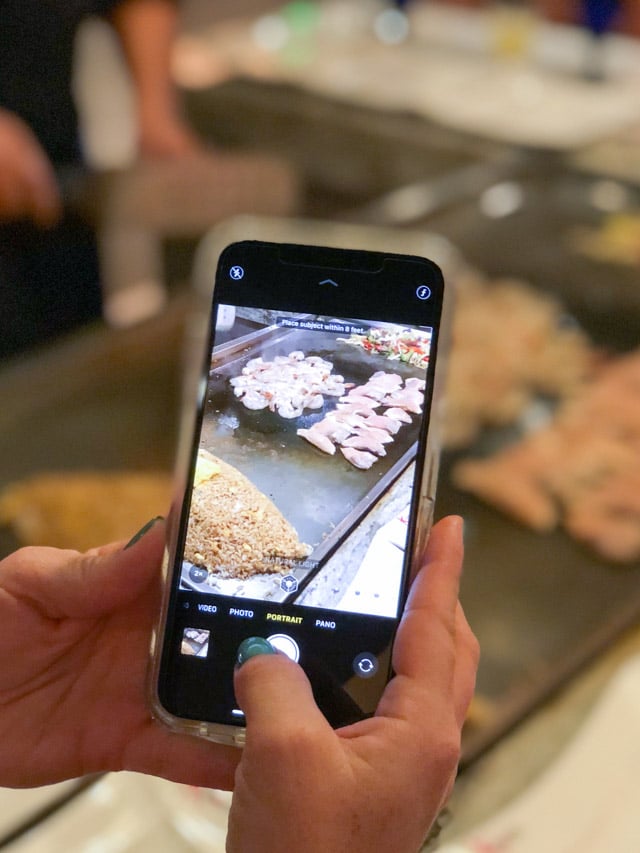 Kimonos
Dinner only
Resort Casual
Near French Village; across from Red Lane Spa
Reservations required!
This is the restaurant you need to reserve when you get to the resort. (During busy times I can see that it would sell out.)
Kimonos is a hibachi restaurant, where everyone sits around the grill and the chef cooks while you watch. It's a preset menu and you get a little bit of everything. Come hungry: it's a lot of food. You'll get shrimp, fish, chicken, steak, vegetables, soup, fried rice and dessert. (My advice: skip the dessert.) The soup was delicious, and I normally don't love soups at hibachi. I also loved the steak and shrimp the most.
Most of the appeal of the meal is the service: the chefs are amazing. Your dinner will be fun – be sure to show the chef how excited you are at the beginning for an even better experience. Our chef serenaded us the entire meal while we sang along. With a large group especially, this is a fabulous experience.
Cafe de Paris
All day dining
Resort Casual
French Village
This restaurant is open for breakfast and all day for coffee and pastries. Breakfast is ok, nothing special, they're best for coffee, but you NEED to come here for dessert. They're open late, so after a meal stop in and get one or two or eight of the small desserts to try. They'll fill a to-go box for you and you can take them back to your room or eat wherever you want around the resort.
I enjoyed everything I tried from Cafe de Paris. My favorites were the Banana Cake, Carrot Cake, and Chocolate Tart. But honestly, you can't go wrong here. They also have crepes in the morning and fondue and cookies at night.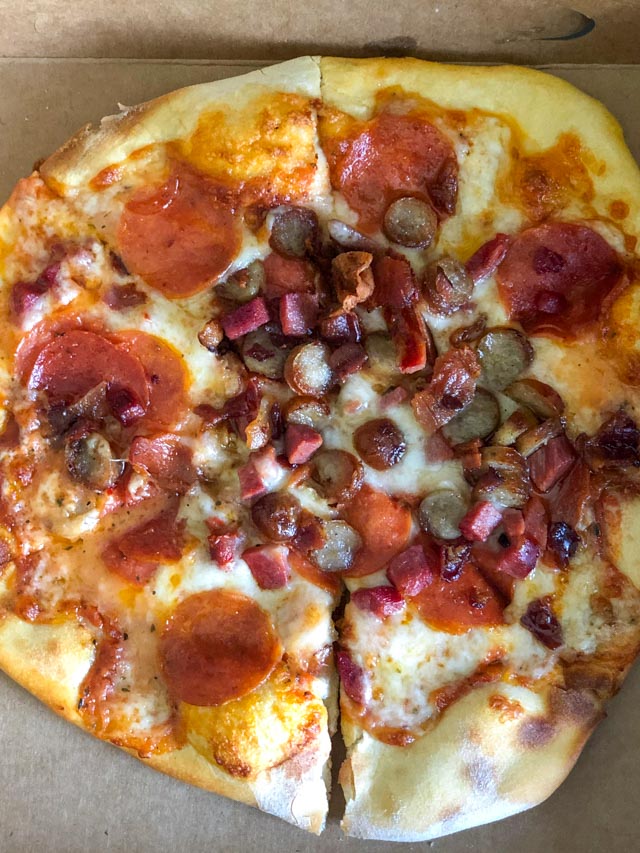 Dinos / Bella Napoli
Lunch through the afternoon (11am-5pm)
Resort Casual
Italian Village or Caribbean Village
Both of these are pizza places, located in different areas. I am pretty sure they use the same recipe and are just branded differently, ha! If you're in the Italian area, go to Dinos. In Caribbean, you'll be wanting to try Bella Napoli.
We hit up Dinos probably five times in four days. The pizzas are made hot to order and are really good. The thin crust is crunchy and chewy and the toppings are fresh.
My favorite is the three meat but you can't go wrong with any of their pizzas.
**They open at 11 and close at 5 so plan accordingly.**
Order a few for your room in case you need a morning carb sesh (easy to need at an all-inclusive where drinks are free flowing). Be sure to get there before 5pm!
If you want to get pizza before returning to the airport, take note of your departure time. They don't open until 11 and the line is CRAZY because everyone has the same idea. Buy them the evening before – cold pizza is just as good and better than anything at the airport.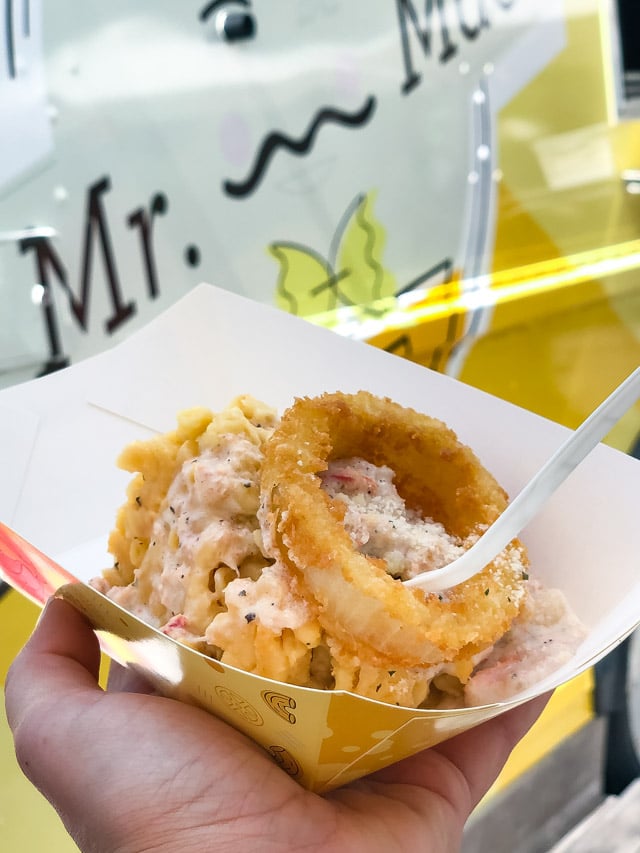 Mr. Mac and Cheese
Open 11am-5pm
Food truck near the kids play area
This truck is a true gem! Near the kid pool, this bright yellow food truck is the perfect midday lunch or (hangover) snack. Don't think you like macaroni and cheese? You haven't tried Mr. Mac and Cheese!
With more than eight gourmet mac 'n cheese options, you're going to have trouble finding one you want to order. (So go ahead, order them all!) I've tried all of them and my favorites are the Mac 'n Cheese Balls, Taco Mac, and Philly Cheesesteak. The taco mac is by far my favorite!
They also close early, so be sure to grab one during the day.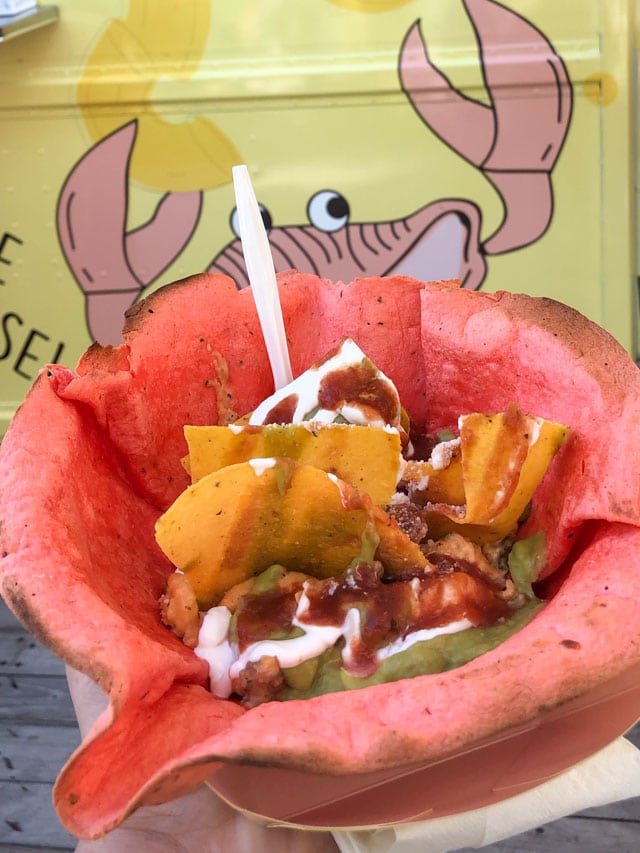 Bobby Dee's
Open all night! 11am-6am
Casual
By Kid Zone and the water park
While Bobby Dee's is in the kid area, it's not just for kids! The burgers and fries and chicken sandwiches are AMAZING. They don't open until 11 but they're open late for an early midnight snack. They also have popcorn and ice cream, cookies, and even slices of pizza available until they close.
Arizona's
Lunch (Buffet) and Dinner (ala carte)
Resort Casual
By the sea behind Caribbean Village
We came here for a quick lunch and it was actually really good. There's indoor and outdoor seating and lunch is a buffet. I wouldn't really call this southwestern food but more southwest inspired Caribbean food. They did have tacos but also gyro fixings, fries and so many other eclectic items.
I loved the gyro meat and the jerk pork was fabulous. The curly fries are a hot commodity so grab yours while you can. Margaritas were good to!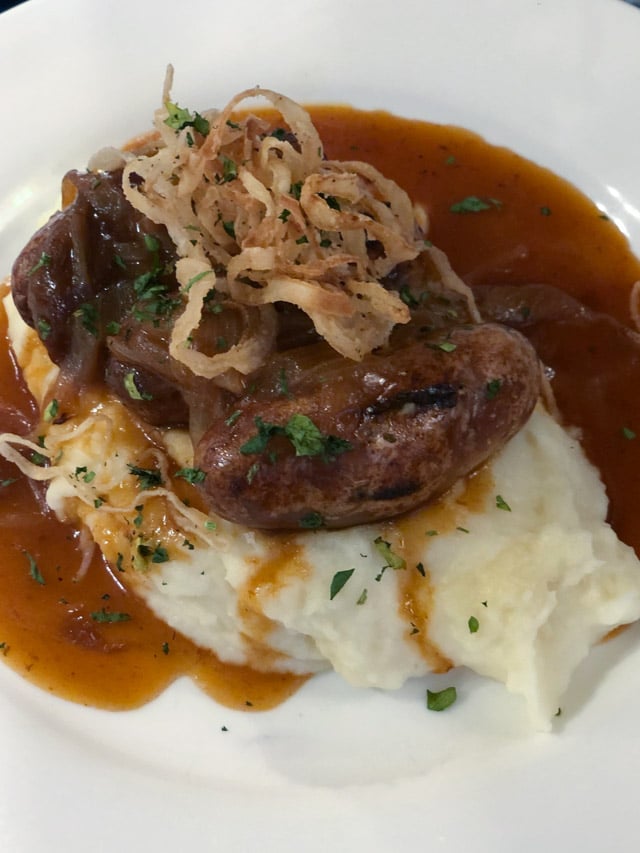 Cricketer's Pub
Open late: 12pm-2am
Resort Casual
Italian Village
This is a great place to grab a meal when you're hangry. English inspired pub food is great hangover food too. Mel liked the bangers and mash and the wedge salad was really good. Great beers on tap as well.
If you love karaoke, this is where it's held. Check the resort schedule for times!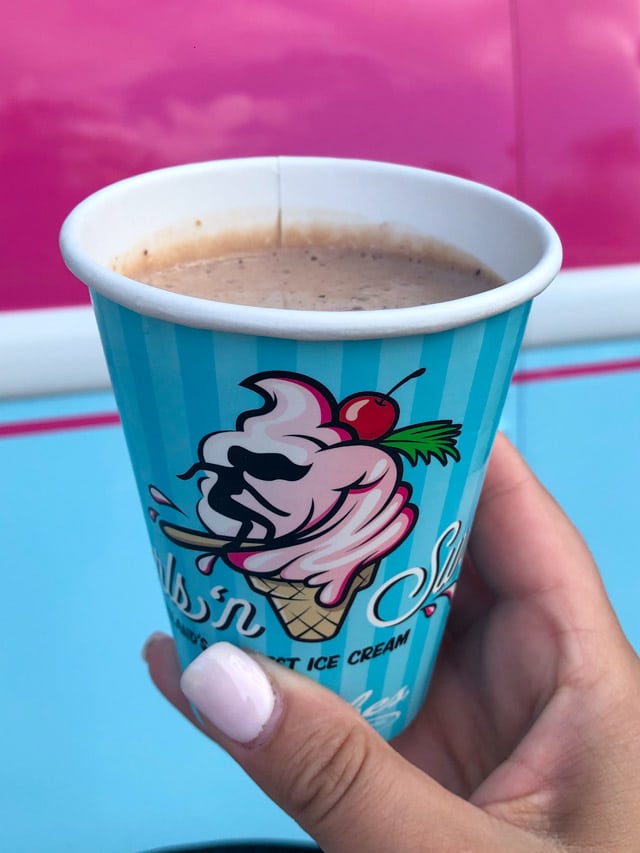 Curls 'n Swirls
Food Truck near kids area
Open during the day, 11am-5pm
This is a fun ice cream truck that makes milkshakes. They'll do basic flavors but the signature flavors are fantastic. The Key Lime is my favorite! This is a great place to grab something sweet while the kids play.
Beaches Resorts Turks and Caicos has so many restaurants to choose from – come hungry!

No counting calories at Beaches! Plus I love that they serve top shelf alcohol – you just have to ask. They'll give you anything you like if you ask!
Have you been to Beaches? What's your favorite restaurant?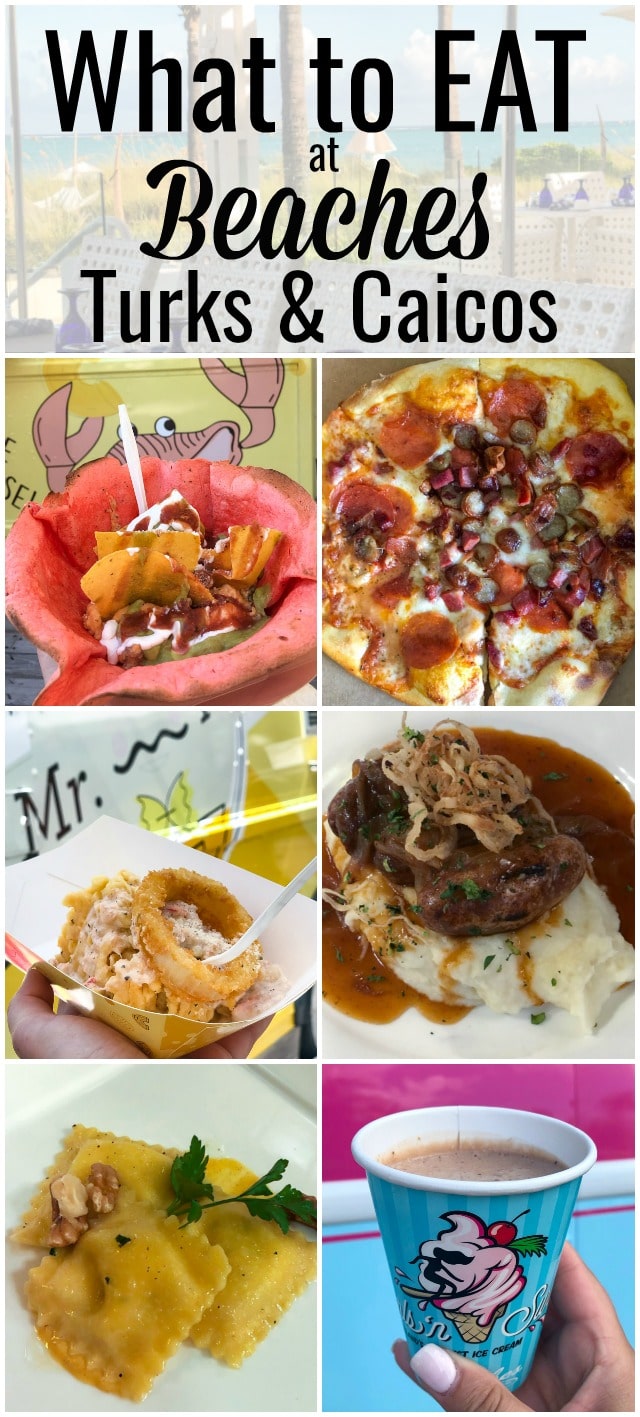 Last Updated on September 10, 2022