Coming Soon: the Pi Day Pie Party & Giveaway!
This post may contain affiliate links. For more information, read my disclosure policy.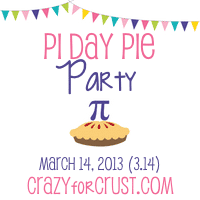 It's almost March, and you know what that means?
No, not St. Patrick's Day.
No, not Easter.
March means it's almost Pi Day!
March 14th (or 3.14) is Pi Day, the day us math geeks everywhere celebrate that wonderful number. We eat pie for breakfast, serve pizza pie for dinner and eat pie for dessert, all to celebrate Pi!
And you know what a celebration needs right? A party! With presents (for YOU!)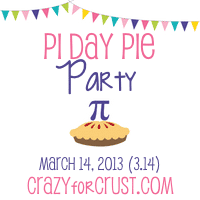 This year, on Pi Day, March 14th (3.14) I am hosting my first ever Pi Day Pie Party! And I need YOU to help me celebrate.
Here's how to party with me:
Bake a pie and post it on or before Pi Day (March 14, 2013). Then come here on 3/14 and share it at the link party! (Limit three links, please.)
Link back to me in your post. Please place the button and/or the following text link IN your post. You must have the link in the post to be considered for prizes."Join the Pi Day Pie Party with Crazy for Crust and enter to win some fabulous prizes!"
Your pie can be an old post, just make sure to add the link!
Don't have a blog? That's okay, you'll still be able to enter!
Spread the word about the party on Twitter, Instagram, and Pinterest using the hashtag #PiDayPieParty
Don't forget to come link up on March 14th. You'll be able to enter to win a Roul'Pat, a personalized pie plate, and more!
I can't wait to see what pies you'll bake up with me! I'll be doing a features round-up after the party, and pinning too!
See you on Pi Day!