This post may contain affiliate links. For more information, read my disclosure policy.
Garlic roasted green beans are a great side dish for holiday dinners or any time you need a quick side dish that's simple to make. You only need a handful of ingredients and a few minutes of prep time before you pop the green beans in the oven.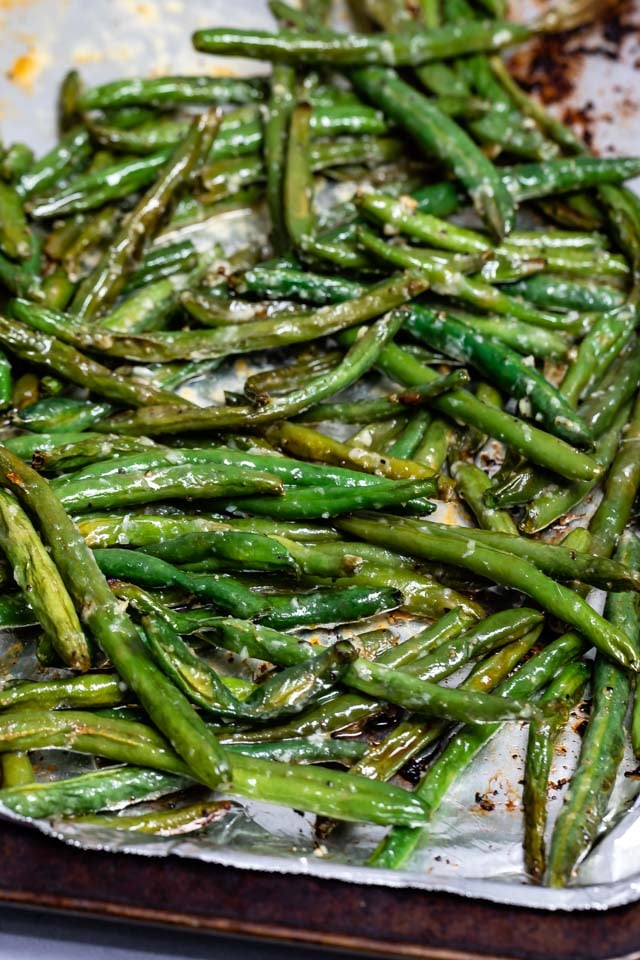 Green beans are great year-round, but I really love them for holiday dinners. Sometimes Thanksgiving dinner can look a little, um, brown – know what I mean? Roasted turkey, mashed potatoes, gravy, stuffing – all of those delicious, but not-so-colorful dishes need a little pop of color to go with them. So, hello, fresh green beans!
We're not mixing green beans with a creamy sauce to make a casserole but instead keeping it very simple and roasting them. Don't get me wrong, I love green bean casserole but sometimes it's nice to have a side dish that's a little lighter and fresher to balance out all of the other rich dishes.
It's also nice to have a side dish that doesn't have a million steps. Roasting green beans is an easy way to cook them, so I turn to this recipe a lot and not just for holiday dinners, but regular weeknight dinners, too. They're just so easy to make.
Roasting is the best way to cook green beans!
If you've never tried garlic roasted green beans, I'm pretty sure you're going to love them. You only need five ingredients and two of them are salt and pepper!
The green beans are roasted with olive oil and garlic which turns golden and caramelized giving the whole dish so much flavor. It also smells pretty amazing while it's cooking!
This dish is easy to prep in about ten minutes and it's one of my favorite easy side dishes to make for the holidays.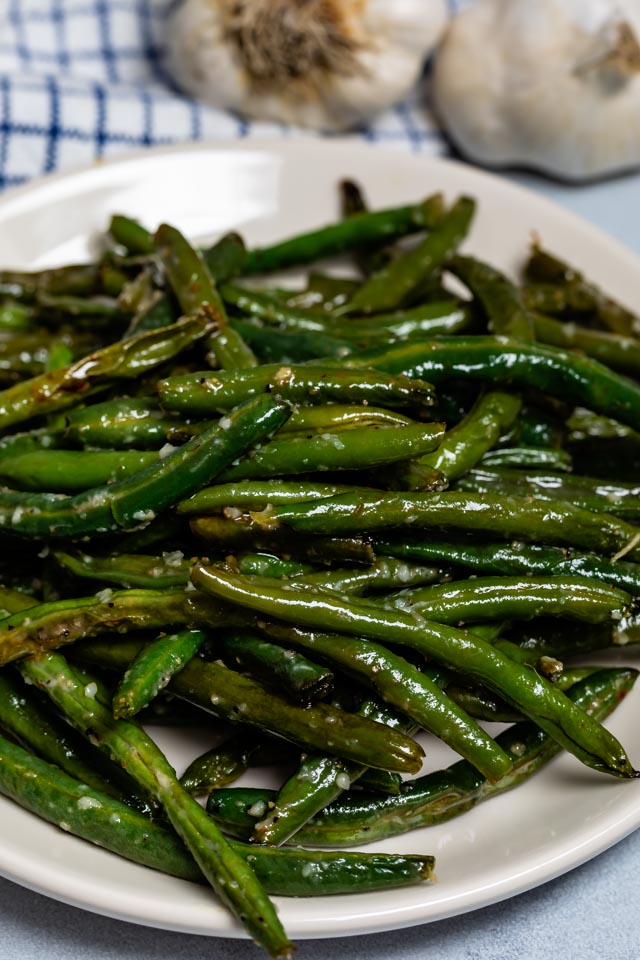 How do you trim green beans?
It's important to trim the beans before you roast them to get rid of the tough ends.
You can trim several at a time. Grab a few and turn them so the stems are all on one side.
Use your knife to slice off the ends with the stems.
The other ends of the green beans should be fine, but if you notice any that are a little shriveled or tough looking you can trim the other end, too.
Buy those bags of already trimmed beans for an even easier side dish!

PRO TIP
Do you need to blanche them before cooking?
Nope! It's another thing I love about this easy green bean side dish – you don't have to blanche green beans before you roast them.
Once you've trimmed them just toss them with the olive oil, pressed garlic, salt and pepper and they're ready to go in the oven.
How to Make Garlic Green Beans
Oven Temp: Preheat your oven to 400° F.
Prepare your beans: While it's heating up, trim 1 pound of green beans.
Seasoning: Grab four cloves of garlic and peel them. I like to use my garlic press to prep the garlic. It's easier and faster to press garlic than to mince it with a knife. Spread the green beans into an even layer on a baking sheet. Sprinkle the pressed garlic over the top along with some olive oil, salt and pepper. Toss the beans with the other ingredients to coat them evenly. 
Roast: Roast them for about 20 to 25 minutes or until they're tender.
If you want an easy holiday side dish this year you should definitely give these garlic roasted green beans a try. I'll be making them and they're always one of the first side dishes to disappear!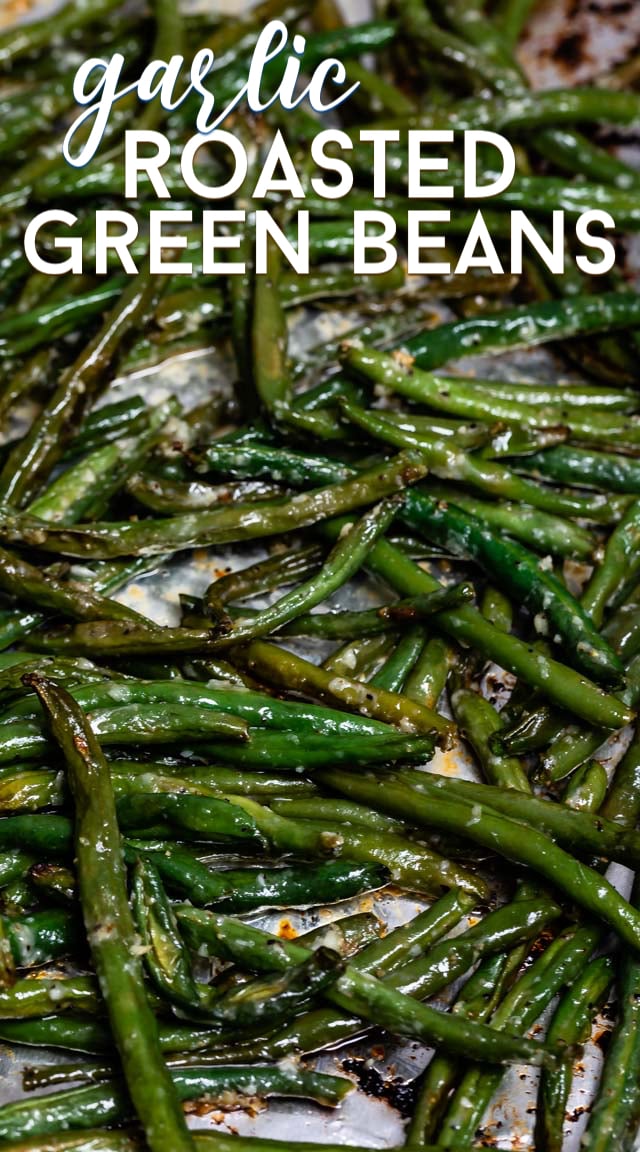 We also love making roasted green beans with bacon!
Other roasted vegetables that are the perfect side dish:
These go great as a side dish for:
Roasted Garlic Green Beans
This is the easiest side dish – Roasted Garlic Green Beans are a simple way to make green beans and so flavorful with lots of fresh garlic. It's the perfect holiday side dish but it goes great with any meal!
Ingredients
1

pound

green beans trimmed and washed

1

tablespoon

olive oil

4

cloves

garlic

pressed

1

teaspoon

salt or to taste

1/2

teaspoon

pepper or to taste
Instructions
Preheat oven to 400°F.

Place green beans in a large bowl. Add about oil and garlic, toss to coat.

Cover a cookie sheet with foil and spray with nonstick cooking spray. Spread green beans in single layer on cookie sheet.

Roast for 20-30 minutes, or until green beans are browned and cooked.
Recipe Nutrition
Serving:
1
serving
|
Calories:
71
kcal
|
Carbohydrates:
9
g
|
Protein:
2
g
|
Fat:
4
g
|
Saturated Fat:
1
g
|
Sodium:
7
mg
|
Potassium:
251
mg
|
Fiber:
3
g
|
Sugar:
4
g
|
Vitamin A:
782
IU
|
Vitamin C:
15
mg
|
Calcium:
47
mg
|
Iron:
1
mg
Nutritional information not guaranteed to be accurate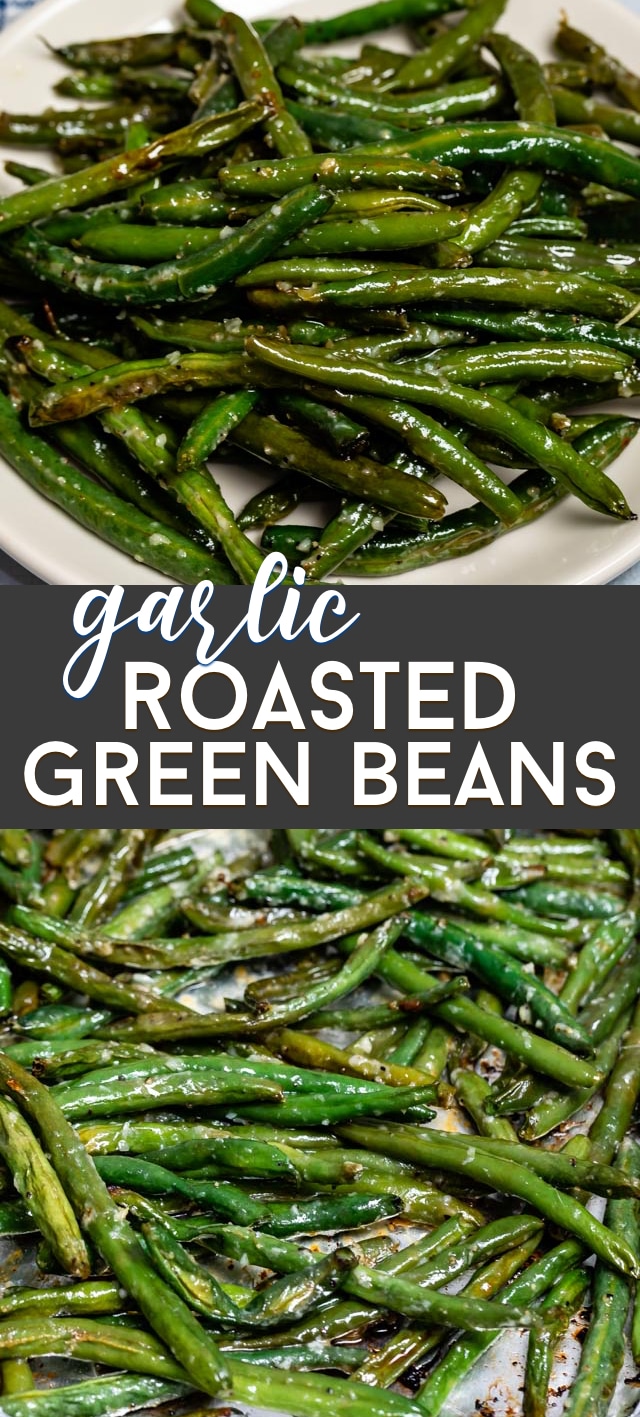 Roasted Garlic Green Beans is the perfect side dish for a holiday dinner or any meal. These are easy to make and healthier than green bean casserole – with even more flavor from all that garlic!
Last Updated on November 11, 2020