This post may contain affiliate links. For more information, read my disclosure policy.
Today I'm not sharing a recipe, but rather talking about something that is so important: starving children. Considering that I run a food blog full of decadent desserts, I think it's an appropriate thing to touch on.
My family is your typical middle-class family. We live in a suburb, own a home, we each own our own car. My husband and I both have jobs, we can afford to travel, and we can always put food on the table. It's hard in this constant go-go-go hamster wheel to stop and realize that not everyone has it as good as we do. I've been trying to find ways to show Jordan that our life is privileged; that having any food we desire and eating out and getting what we want when we want it is something that not all people have.
Last month a friend of mine sent me a link for a Feed My Starving Children (FMSC) MobilePack event here in our town. You spend two hours out of your day helping to pack meals for kids around the world who live in poverty. I signed myself and Jordan up, and a bunch of our friends all decided to go together. It hadn't even occurred to me to write a post about it until after our session, when I realized just how much the organization helps children in need all over the world.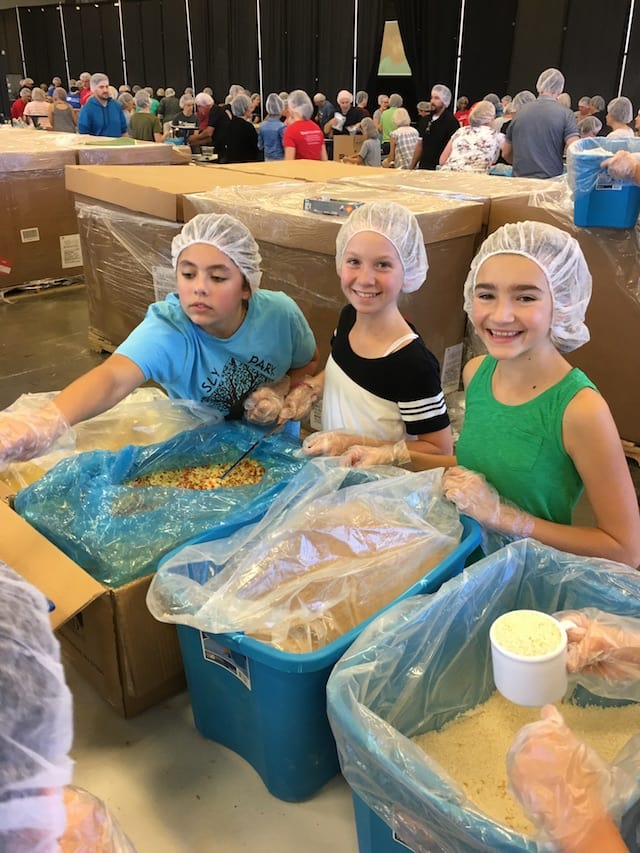 FMSC is a non-profit agency that purchases ingredients that are hand-packed into meal bags by volunteers. The meals are specially formulated for malnourished children and are sent to their partners across the world (hospitals, schools, orphanages, etc) to help stop the cycle of starving kids. They have stationary locations in Arizona, Illinois, and Minnesota, but they also host hundreds of MobilePacks around the country so that anyone can help volunteer to pack meals.
Here's how it works: during your volunteer session you hand-pack MannaPack meals full of vitamins, dried vegetables, soy, and rice into 13 ounce bags. It's a conveyor belt system, where everyone has a job, from pouring measured ingredients into bags, weighing, sealing, and packing the bags into boxes. Anyone over the age of 5 can help pack, and it's very easy.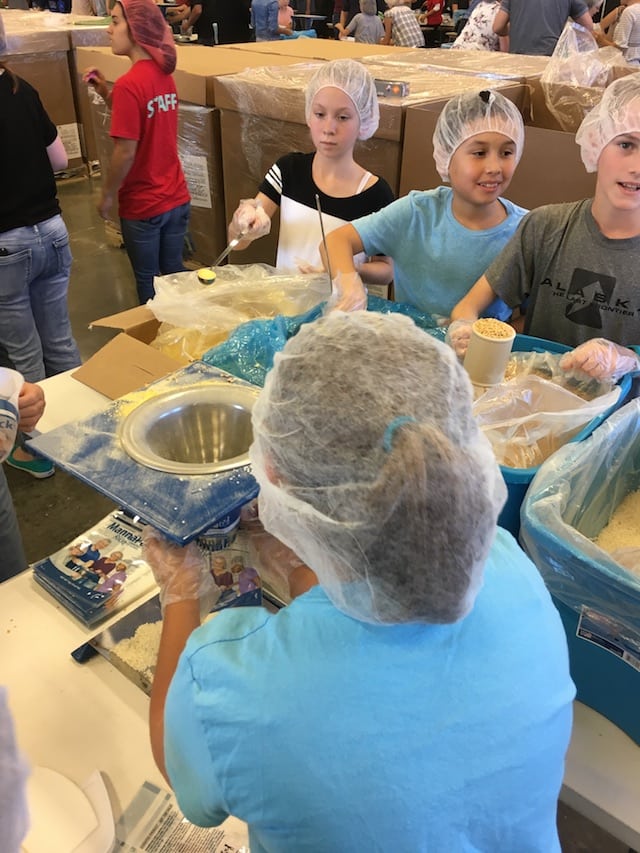 Here's where it really gets you in the gut:
Each 13 ounce bag of rice has 6 meals in it (prepared). They actually had samples for us to try, and if you've ever thought of eating "mush" or "gruel" that is what I'd liken it too. Basically, there are no spices or fluff – it's all about nourishment. The meals don't include a side of bread or dessert; just 6 servings of rice and soy.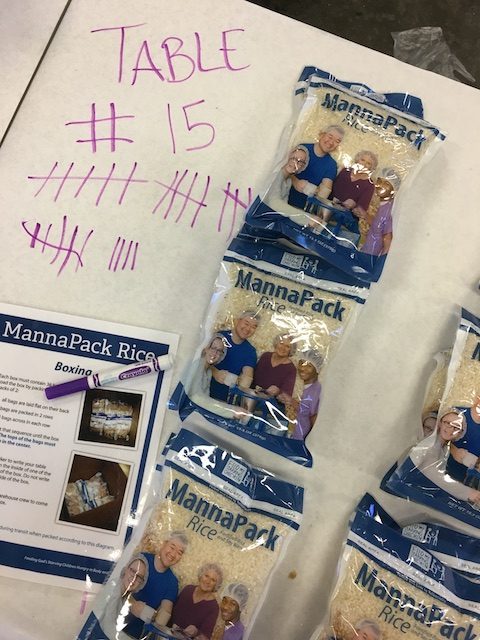 One of those bags wouldn't even feed my family of 3 for a day, the way we eat. But to the kids that get those meals, that's 2 days of food. Sobering, isn't it?
In our two hour volunteer session (which is only about an hour of actual packing) our table packed enough for 3,456 meals. That's enough to feed one child for over 3 years.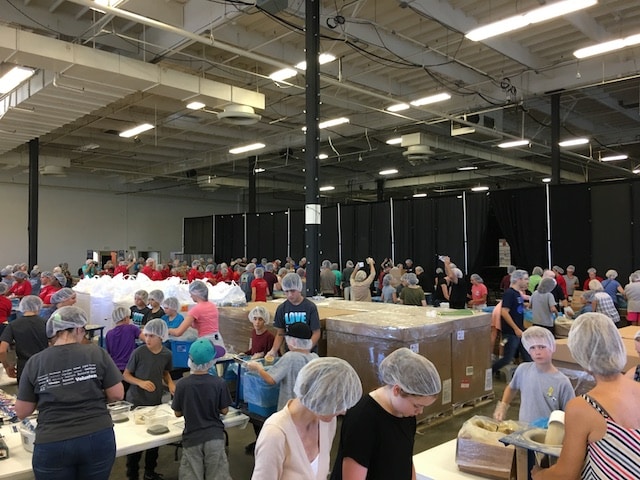 There were over 200 volunteers at our session; moms and kids and families and business groups. As a group we packed 85,536 meals, which is enough to feed 234 kids for a year. In one hour of packing we made a difference in over 230 lives.
Remember that "feeding" according to these meals is not what we would think of feeding. 234 kids can eat rice three times a day for a year…and that's it. But it will help them recover from malnourishment; it will help them live and thrive and grow up to be adults.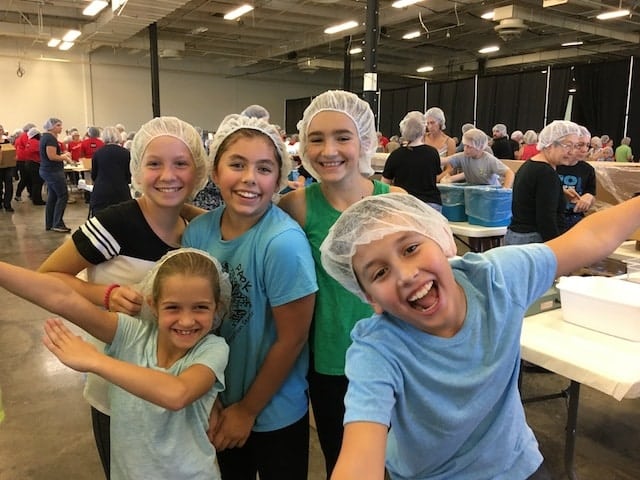 Our volunteer session was a huge eye opener to me, and to the kids. It makes you really think about how fortunate we are in this country; that we can have a choice of what we want to eat for breakfast, lunch, and dinner…and that our next meal is a given.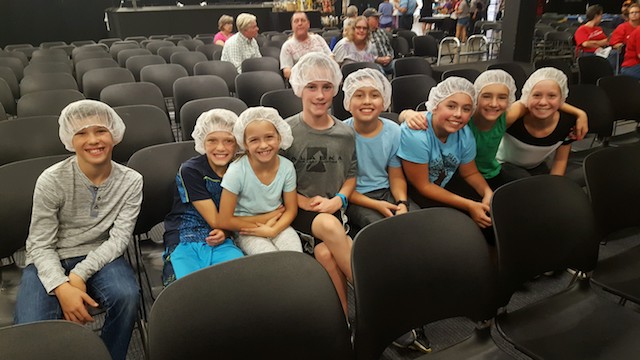 FMSC is a completely non-profit agency. They take monetary donations as well as volunteers; they pay for all the food components that are put in their meals. Companies don't donate the soy and rice and boxes; they buy them. With the recent hurricanes, they're more in need of volunteers and donations than ever. It's great for groups or just for yourself – and the kids had fun too.
You can donate on their website, or sign up to volunteer at one of their permanent locations or find a MobilePack event near you. Every dollar (or hour) can go to save a child. If you're looking for someplace to donate or volunteer, check them out. I hope we can do this every year!
Last Updated on August 18, 2022