This post may contain affiliate links. For more information, read my disclosure policy.
If you want to celebrate your pooch, make an Easy Homemade Dog Cake for them! This peanut butter dog cake is made with simple ingredients and frosted with whipped cream – your dog will LOVE every bite!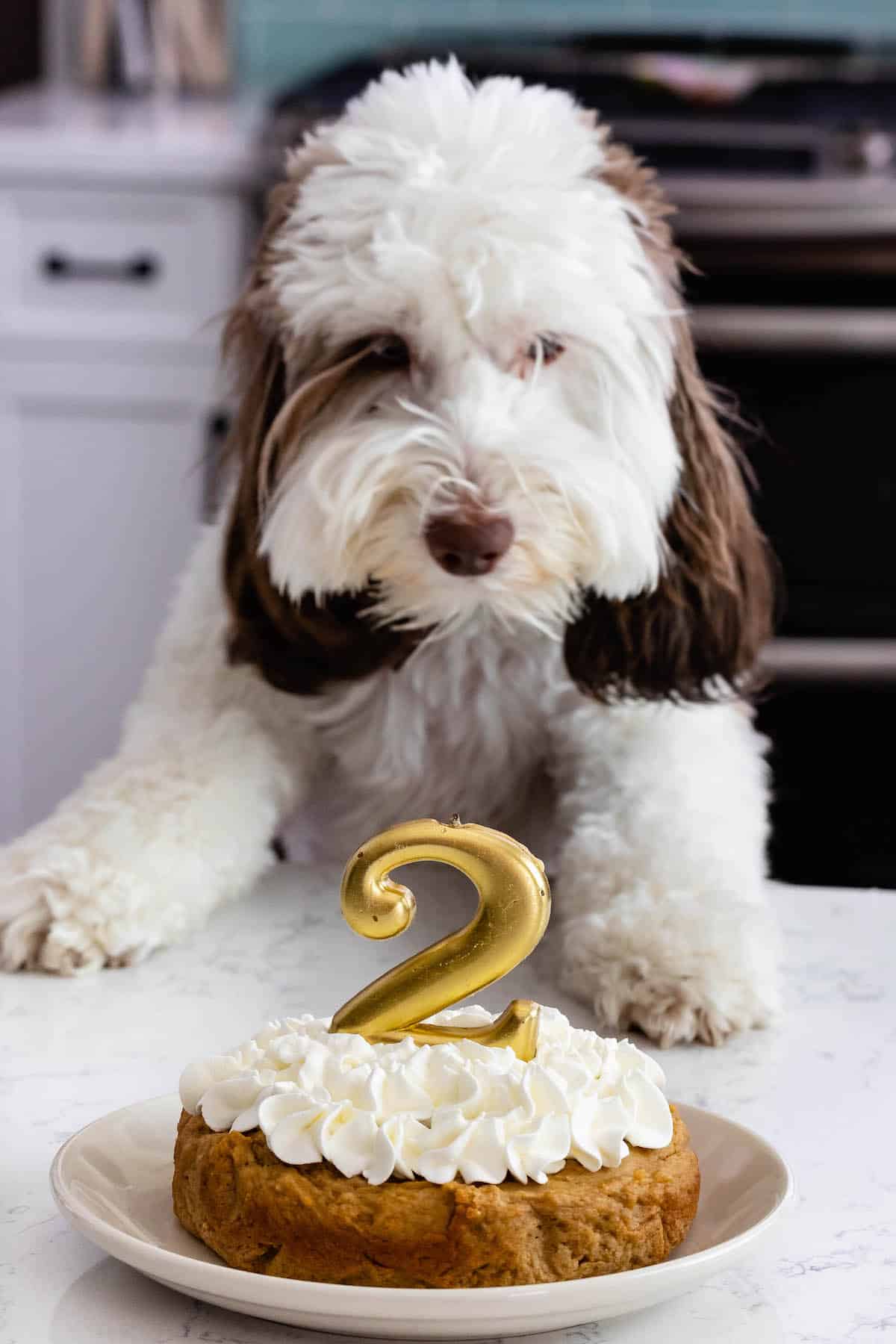 Perfect Dog Cake Recipe
We all know that birthdays are a big deal in my house, even if you're the dog. Last year I celebrated Abby's first birthday with Pupcakes and this year I made her a cake! It's her favorite kind of cake too, peanut butter made with applesauce and frosted with whipped cream. Abby loves whipped cream; it's like her favorite treat EVER.
I love celebrating dog birthdays. Maybe I'm a sucker or just a really good dog mom, but I love all the pomp and circumstance of making her a doggy treat. Homemade dog treats are so easy to make and it's fun too. Dogs somehow have a sixth sense about treats; they know when you're making them specially for them.
This easy dog cake makes a 6-inch layer. It's filled with peanut butter and applesauce and frosted with whipped cream – the perfect dog cake recipe for a puppy party!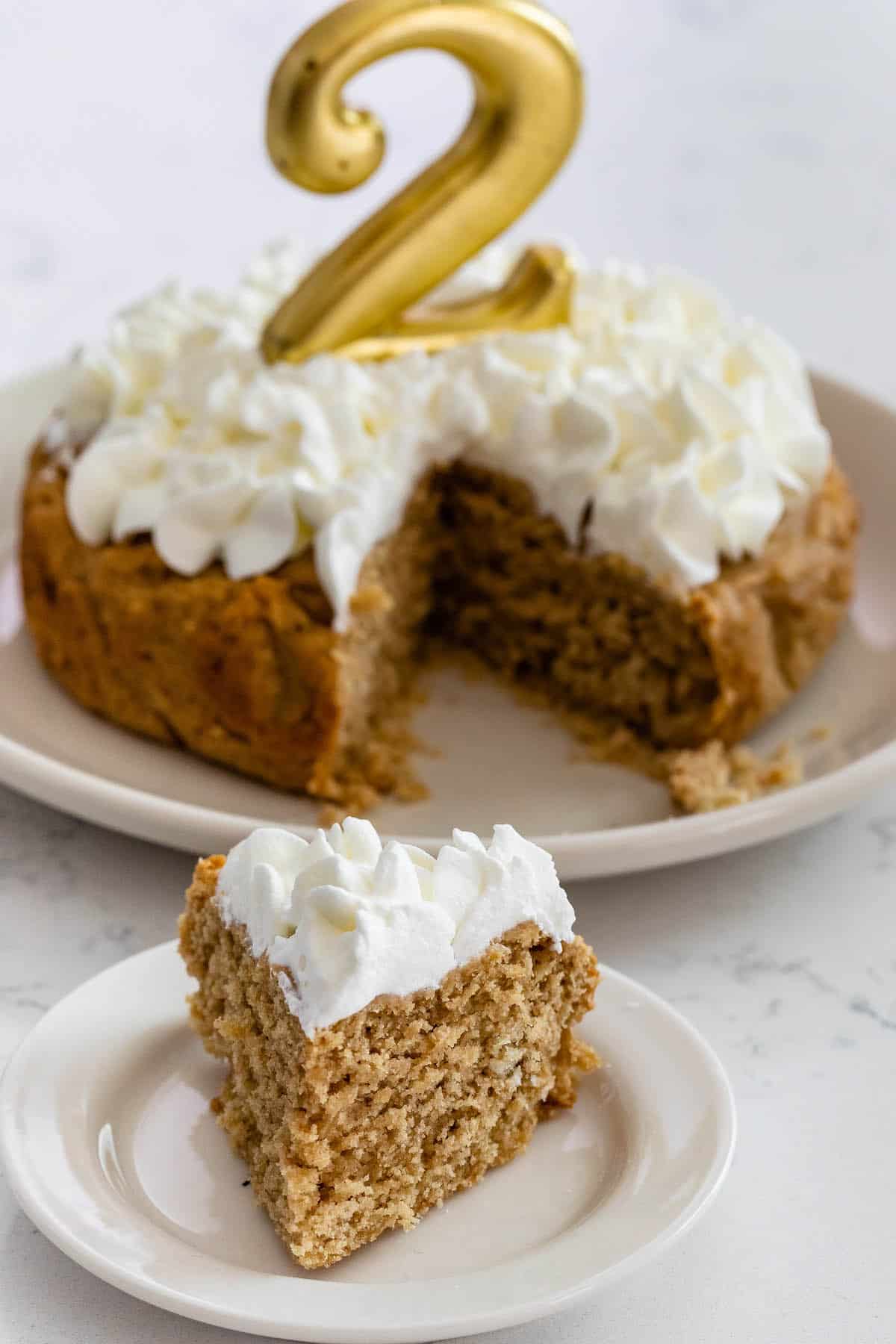 Abby has turned into a rambunctious 2-year-old. She's still her same old anxious self – she's never far from me – but she loves her ball and swimming. She's become almost manic about swimming: the second she sees Jordan or Mel in their swimsuits she's following them around like they're coated in whipped cream. If they happen to forget to bring her outside with them she (literally) throws herself against the door until I let her out. It's part hilarious and part annoying, ha!
Since she's so small (only 15 pounds – her fur makes her look bigger) I let her have all the treats she wants. She doesn't eat much so birthday cake isn't something she needs to worry about consuming. (Ah, if only I had her metabolism.)
Caring for a dog like Abby might be hard but I wouldn't trade it for the world. Whenever someone talks about getting a dog I always tell them it's a lot of work but if you love them enough it'll be worth it!
If there is one thing Abby loves more than me, it's her B-A-L-L. (We have to spell it or she goes bonkers!) We usually only play ball outside because my aim is horrible – I'm good at knocking photos off the walls – so we spend a lot of time outside whenever the weather is nice.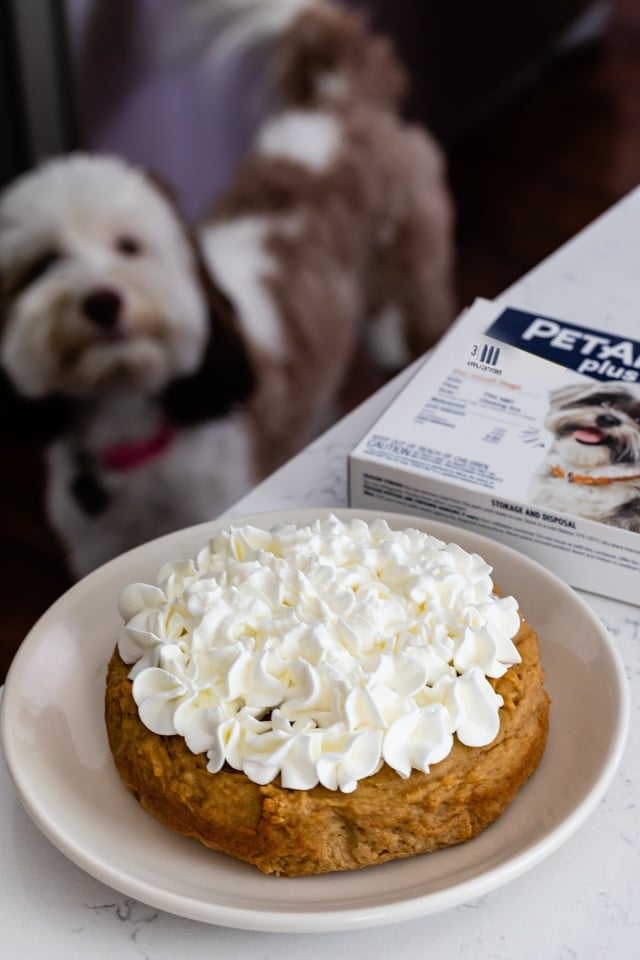 Now that you know the best birthday gift for your pup, let's talk about how you can make them an easy dog cake for their birthday party!
(What? Birthday parties for dogs are a real thing, you know. We always have Abby's BFF, Bucky, over for her birthday!)
Making a dog cake is so much easier than a cake for a human. It has simple ingredients and seriously, they don't care how it looks! You don't need to buy a dog cake mix, just make your own easy cake!
Ingredients for Dog Cake Recipe
They have most of the same ingredients that adult cakes have, but with a few changes:
Sweetener – sugar isn't great for dogs, but since Abby loves her treats on the sweet side, I add a bit of honey to the cake batter.
Flour – you can use whole wheat if you want, but I used all-purpose
Peanut Butter – dogs love peanut butter – but only use one without xylitol.
Applesauce – you can also use pumpkin puree or mashed banana
Oil, leavening, egg – these are all the components that make a cake into a cake.
The best part about making a cake for your dog is that you don't have to worry about if you over cook it. They don't care if it's dry!
I kept the frosting simple by just beating some unsweetened heavy whipping cream. Dogs LOVE whipped cream!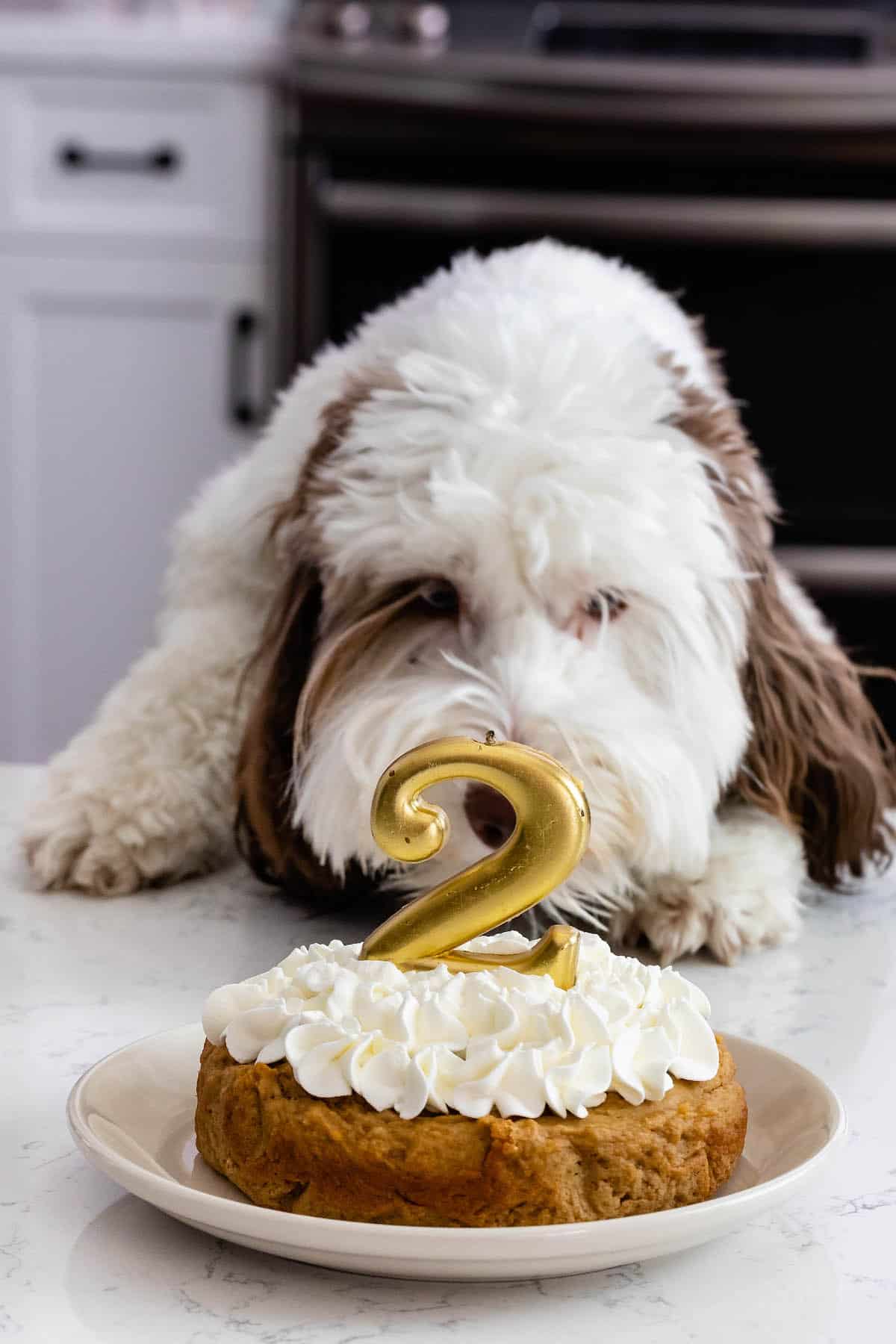 Abby loved her cake. She went to town on the frosting before I could even snap photos! (Also – she had to stand on a box to reach the counter, haha!!)
Want to make dog cupcakes? Check out my Pupcake recipe, my dog cookies and my frozen dog treats!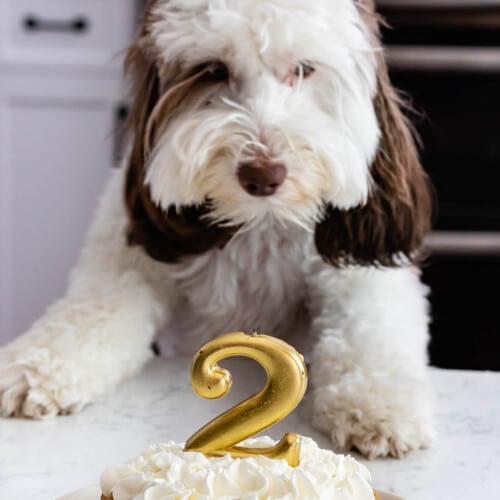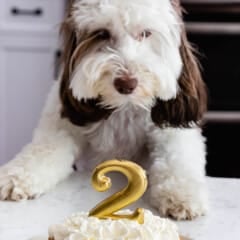 Homemade Dog Cake
This easy homemade Dog Cake is a peanut butter cake perfect for your pups birthday!
Ingredients
For the Cupcake
¾

cup

(93g) all-purpose flour

½

teaspoon

baking soda

¼

teaspoon

baking powder

1

large

egg

2

tablespoons

(33g) peanut butter

(see important note)

2

tablespoons

(30ml) oil

¼

cup

(62g) applesauce

unsweetened

2

tablespoons

(42g) honey
For the Frosting
½

cup

(118ml) heavy whipping cream
Instructions
Preheat oven to 350°F. Line a 6-inch round cake pan (or a 9×5-inch bread pan) with parchment paper and spray with nonstick cooking spray.

Stir flour, baking soda, baking powder, peanut butter, oil, applesauce, egg and honey. Pour into pans. Bake 20-30 minutes, until browned and a toothpick inserted in the center comes out clean. Cool completely before frosting.

To make frosting: beat heavy whipping cream until stiff peaks form.

Frost cake as desired. You can double the frosting recipe and torte the cake (cut the cake in half horizontally) to make it a 2-layer cake.

Store covered in refrigerator for up to 3 days.
Recipe Notes
Please use your discretion when it comes to feeding your dog. I am not a vet nor am I a doggy nutritionist. If you think your dog is allergic to any of the ingredients please take caution. This cake has been enjoyed by many dogs just fine – but use your knowledge of your dog and your common sense when feeding. Crazy for Crust is not responsible for how your dog reacts to a recipe.
PEANUT BUTTER: do NOT USE anything with xylitol – be sure to read the ingredients list. Natural peanut butter is best.
Recipe Nutrition
Serving:
1
cake
|
Calories:
1423
kcal
|
Carbohydrates:
123
g
|
Protein:
28
g
|
Fat:
95
g
|
Saturated Fat:
35
g
|
Cholesterol:
374
mg
|
Sodium:
825
mg
|
Potassium:
622
mg
|
Fiber:
5
g
|
Sugar:
44
g
|
Vitamin A:
2055
IU
|
Calcium:
180
mg
|
Iron:
5.9
mg
Nutritional information not guaranteed to be accurate
Favorite Recipes From Crazy For Crust
This post was sponsored by Mirum in 2019, but opinions expressed are my own. Abby loved her birthday cake and present, thanks to Mirum! Since we spend so much time outside I always treat Abby for fleas and ticks. PetArmor Plus just launched at PetSmart and is NOW available at PetSmart stores and on PetSmart.com, which makes it so easy to purchase. I love taking Abby to PetSmart to see the other dogs and pick out new toys (she's so spoiled!) so I can grab my flea and tick protection while I'm there. (A trip to the vet is just another errand – I love that I can just do all my shopping in one trip!)
Last Updated on September 12, 2023