16
Jan 04
Datevitation: The Perfect Gift for Any Occasion!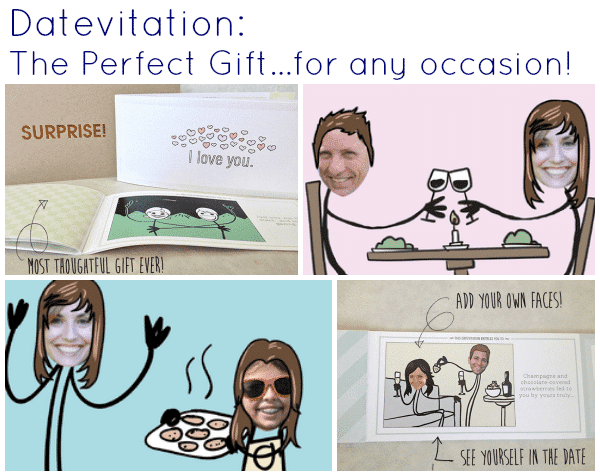 Okay, okay. I know – we just finished the biggest gift-giving holiday of the year. But what about all those people who have birthdays in January? Or anniversaries? Or Valentine's Day?
I know, I mentioned Valentine's Day. On January 4. But guess what? Red and pink and candy and hearts has been in the stores since pretty much the day after Christmas. Yes, it's time to start thinking about your Valentine!
Now, I don't know about you, but in our house, the child is pretty much the ruler of Valentine's Day. It used to be all about the husband and wife, the love, going out for a romantic dinner. Now? Now it's about creating the perfect mustache themed class valentine, making the perfect heart-shaped pancakes, sandwiches, pizza, and cookies, and pretty much telling our kid how much we love her.
How, exactly did Valentine's Day become a kid holiday again? Anyway, I digress.
If you are looking for a gift for a birthday, an anniversary, Valentine's Day, or pretty much any occasion, I have the perfect thing for you: a coupon book from Datevitation.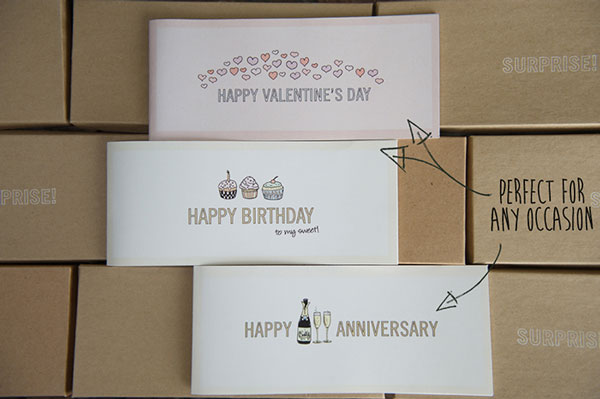 We love coupon books in our family. Ever since Jordan was little she's made one for her dad for Valentine's Day. She also likes to make them for me occasionally (although he's way more fun than I am).
I thought it would be super cute if I made one for her for a change – turn the tables. And the Datevitation coupon books are so freaking cute you're going to die.
I know, from the name, that it sounds like it's for dating. And it is. But these books are perfect for any occasion and any gender. You can select if you are a man, woman, girl, or boy and then do the same for who you're making the book for. It tailors the scenes for you so you won't find a "romantic dinner for two" if I'm making one for my daughter.
And you know the best part about these coupon books? You can put your faces on them. Yes! It's kind of like that dancing elf thing you do at Christmas, but printed in a coupon book.
Want to see some of what I put into Jordan's book? I know you do!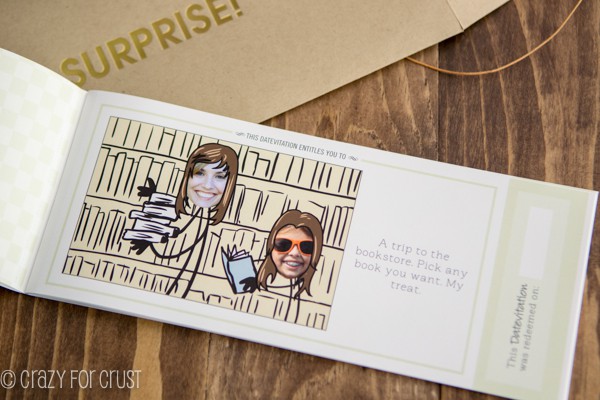 A trip to the bookstore for a new book (or seven – I can't ever say no).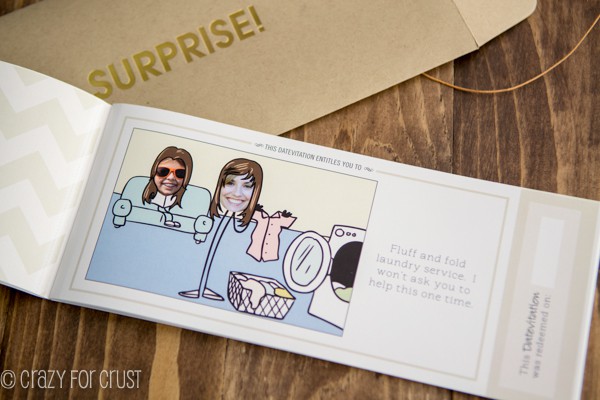 I'll fold her laundry for her. Do you have an 8 year old? Then you probably understand why this will make her happier than anything.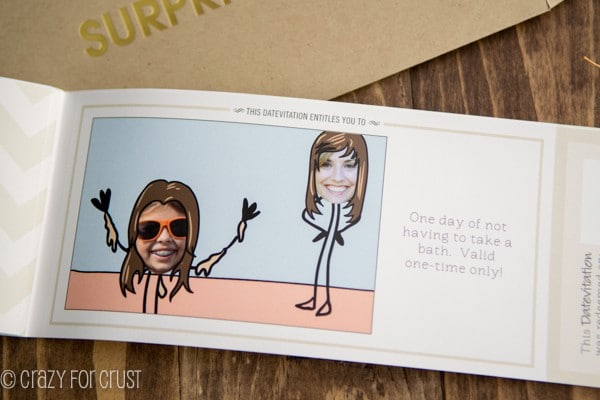 Well, except for this one: no bath night. (Why is it so hard to take a bath? WHY?)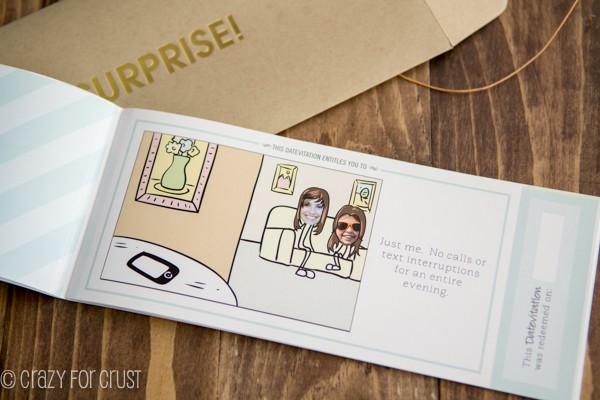 A phone free evening. It's totally needed!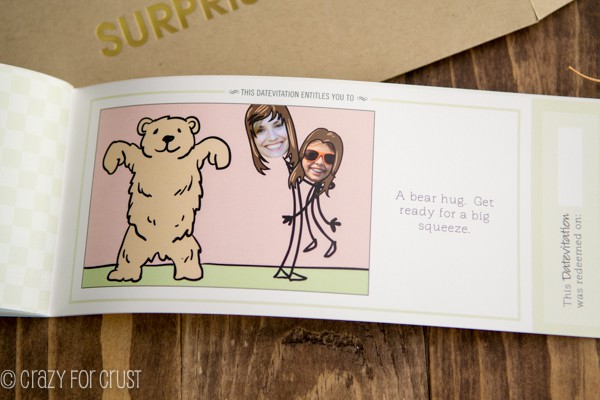 And a great big bear hug!
What's amazing about Datevitation is that they have over 500 "date" ideas that include every category, from adventure, to eating out, to shopping and more! And, if you are making one for your sweetie, you can enter their "adults only" area to include more steamy coupons, and ones involving adult activities.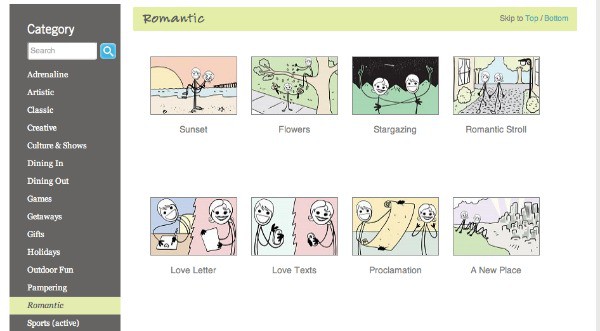 I haven't made one for my husband yet, but they have so many fun choices. I actually made one of my husband getting a massage, but figured he'd kill me if I posted the pic of a stick man getting massaged with his face. 🙂
The Datevitation Coupon Books are perfect for:
Birthdays
Anniversaries
Valentine's Day, St. Patrick's Day, stocking stuffers or any holiday!
Father's Day
Mother's Day
For a friend just because!
Proposals
Just to say I love you
Datevitation is a family business run by the husband-wife team of Alex and Olga Karpman. It's the first online platform where you can create a custom coupon book. You get to pick what scenes you want, what text you want, and even add your photos. Then Datevitation will print it and ship it to you.
You're going to have so much fun just playing with the website, I promise. I think I've made about 3 books now, I just have to find a reason to print them!
Valentine's Day is coming, my friends. It's going to be here before you know it. Are you ready?
Books normally start at just $25 so it makes for a thoughtful yet economical gift.  But as a special treat for my followers, you can use the code 'CRAZYFORCRUST' for $10 off your purchase plus free shipping (total value of $13.50)  That means you can get your loved one a one-of-a-kind gift starting at just $15! This code is good through February 27, 2014 but order for Valentine's Day before the end of January to get it shipped to you in time.
But wait – first you need to enter to win one. Because if you have more than one kid or more than one sweetie (kidding, just checking to see if you're reading!) you need to win one too. And I'm giving one away!
The prize: Winner will receive a coupon code for a Datevitation coupon book with 5 personalized pages and free general shipping. (Additional pages are $1 each.  Tax will be applied to books shipped to California.  Books ship to U.S. only.)
Please enter via the rafflecopter form below. Open to U.S. residents only, must be 18 years or older to enter. Winner will be notified via email of their win. Winner has 48 hours from sending of said email to respond or a new winner will be chosen. Good luck!

 Subscribe via email and have sugar delivered straight to your inbox!