This post may contain affiliate links. For more information, read my disclosure policy.
That name is a mouthful, isn't it? So are these shortbread bars: they're gooey, rich, and full of chocolate, toffee, and almonds!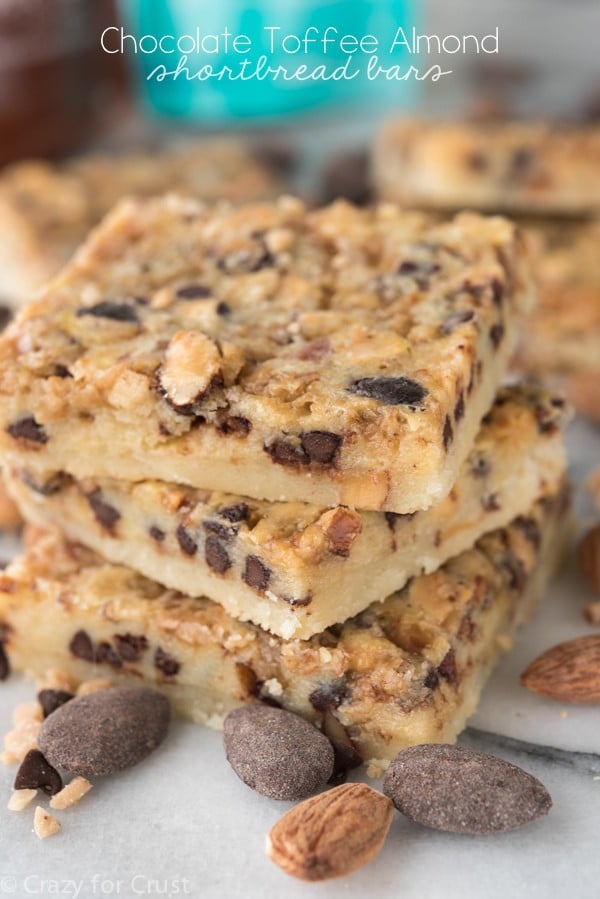 How much screen time do you allow your kids? I'm asking for a friend. (Kidding, I'm asking for me, because my babysitter is a Chromebook.)
Personally I don't think it matters how much screen time Jordan is getting as long as she's also doing her homework, getting exercise, and being a well-rounded good and respectful person. Kids work hard these days – a long day at school followed by homework, reading, sports, activities…it's no wonder when they just sit to unwind they want to watch TV instead of playing dolls.
(I know that's what I do after a long day – not even a book relaxes me after working. It's gotta be mindless TV!)
As we head into summer I'm starting to work on an electronics plan: how to work a full day and not have her spend 8 hours on Google Drive.
(Although I must say, she's better at Drive than I am. She creates slideshows on her favorite topics like a pro and she can draw lifelike images on Google Draw. In about 3 years I'm hiring her as my social media manager. Tick tock.)
This topic really has nothing to do with these Chocolate Toffee Almond Shortbread Bars except that Jordan watched me work on the internet so that I could post them. Total stretch, but whatever.
These bars are one of my favorite recipes. A thick shortbread crust filled with a gooey filling of toffee, chocolate, and chopped almonds. That's what dreams are made of, don't you agree?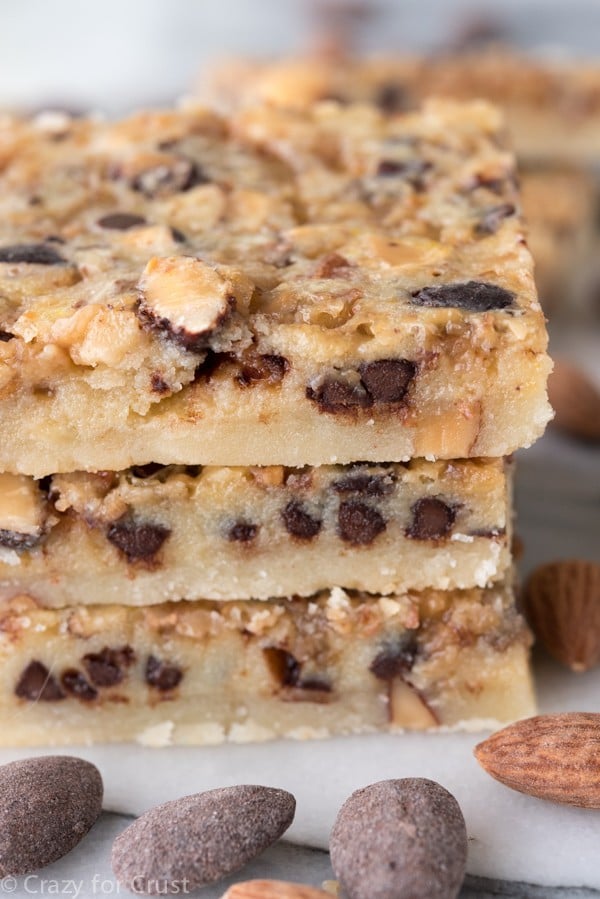 I normally only make these bars at the holidays but then I thought…that's kind of dumb. Why make something good only once a year? (Snowballs, anyone?) This recipe, in fact, is one of the only repeat recipes; that is one of the only ones I repeat year after year!
The base of the bars is a thick, buttery shortbread. When you're mixing the dough you're going to think it's too wet. Don't worry, it comes together in the end. The result is a super tender, thick, and delicious cookie crust.
One of the things that makes the crust special is that you not only incorporate almonds into the topping, but into the base as well. I always used to use basic raw almonds, but no more. Now I'm forever going to use Sea Salt and Dark Chocolate Almonds in my gooey shortbread bars. You guys. THESE ALMONDS!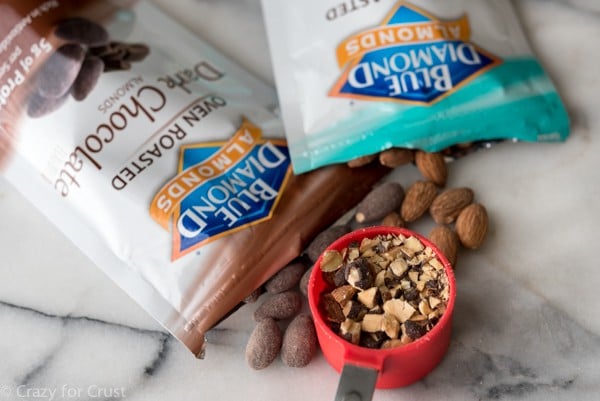 By now you know how much I adore Blue Diamond. The company is local to me, here in Sacramento. In fact, California produces about 80% of the world's almonds, did you know that? Many of them are grown right here in the central valley.
This month I got to try the Sea Salt and Dark Chocolate Blue Diamond Almonds. They're oven roasted and they taste so good, just by themselves. We eat a lot of almonds in our house; they're a great afternoon snack that Mel and I both enjoy. I've tried lots of brands of salted roasted almonds (regular and chocolate) and I gotta say, these oven roasted ones are the best and most flavorful.
It was only natural that I decided to try them in my favorite almond dessert, these toffee shortbread bars.
Once you pre-bake your shortbread crust for 15 minutes, you pour a gooey topping over the top. The gooey comes from sweetened condensed milk that's mixed with an egg (so the bars "set" more than they would when you're making a magic bar) and a hefty dose of chocolate, toffee bits, and even more chopped almonds.
The result? Soft, chewy, gooey, and crunchy. It's a party going on!
I dare you to eat just one. Go on, try.

That is, if you don't eat all the almonds before you get them in the bars! 🙂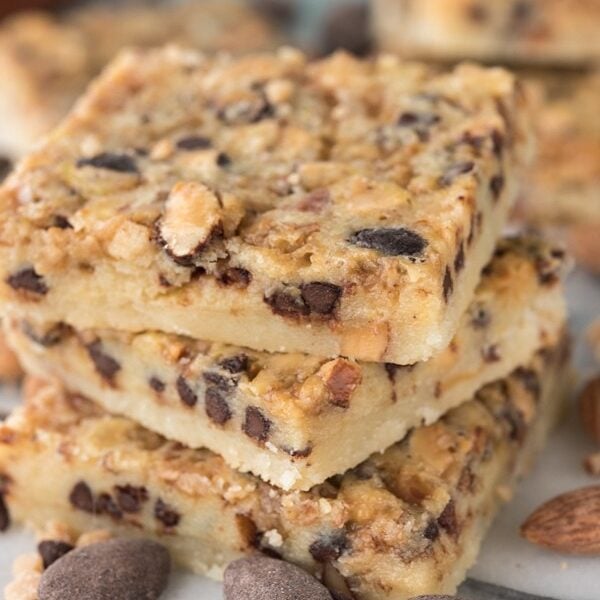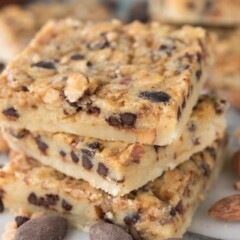 Chocolate Toffee Almond Shortbread Bars
A thick shortbread bar covered in a gooey topping filled with chocolate, toffee, and almonds!
Ingredients
1 1/2

cups

all purpose flour

1

cup

unsalted butter

softened

1/2

cup

powdered sugar

3/4

cup

chopped Blue Diamond almonds

divided

1/4

teaspoon

salt

1

can

14 ounces sweetened condensed milk

1

large egg

1

teaspoon

vanilla extract

1/2

cup

toffee bits

1/2

cup

mini chocolate chips
Instructions
Line a 9x13" pan with foil and spray with cooking spray. Preheat oven to 350°F.

Place butter, flour, salt and powdered sugar in the bowl of a stand mixer fitted with the paddle attachment (or use a hand mixer). Mix until smooth. Stir in 1/4 cup chopped almonds. The mixture will be wet to the touch.

Place shortbread in the prepared pan. Spray your hands with cooking spray and press to a thin layer in the pan. Bake shortbread layer for 15 minutes.

While the crust is baking, stir together sweetened condensed milk, egg, and vanilla. Stir in toffee bits, chocolate chips, and remaining 1/2 cup chopped almonds. After 15 minutes of baking, pour the milk mixture carefully over the hot crust. Continue baking for about 18 minutes until the sides start to look golden brown.

Cool completely before cutting into bars. Store in an airtight container for up to 3 days or freeze for up to one month.
Nutritional information not guaranteed to be accurate
Chocolate Chip Cookie Gooey Bars
Almond White Chocolate Magic Bars
Sweets from friends:
Coconut Almond Sheet Cake by The Food Charlatan
Almond Coconut Chocolate Donuts by Lemons for Lulu
No Bake Butterscotch Bars (with Oreos and Almonds!) by Very Culinary
This post was sponsored by Blue Diamond Almonds. All opinions are 100% my own.
Last Updated on May 12, 2020