This post may contain affiliate links. For more information, read my disclosure policy.
I hate flipping pancakes. It takes so darn long. And I can't walk away and do other things because then they turn black and smell up your house. #truestory
That's why baked pancakes are perfect. Simply whisk, pour, bake and they're done. Easy peasy!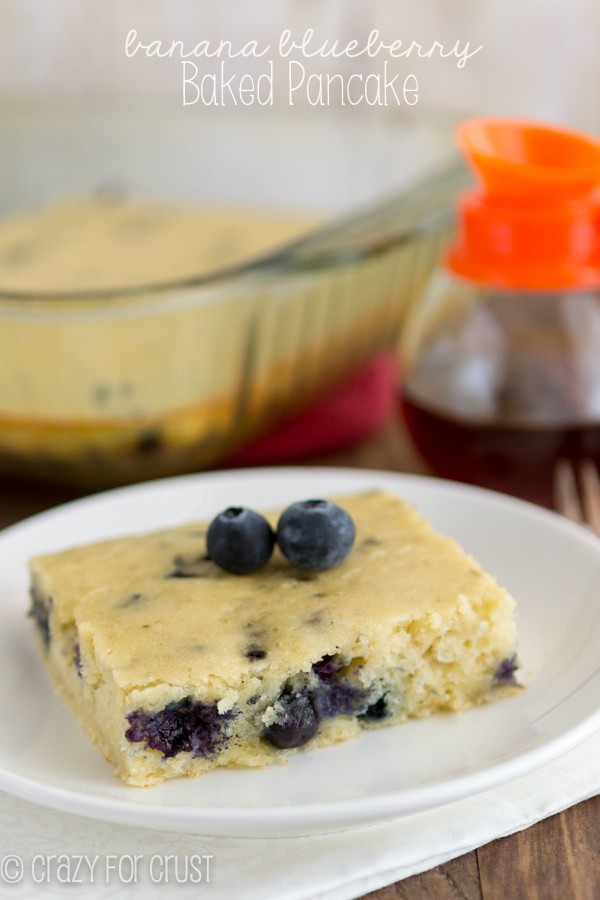 How is Sunday Mother's Day? How is it MAY already?
I'm always on the hunt for easy breakfast ideas. Jordan is tired of cereal and she always wants pancakes but…I hate making pancakes in the morning. All that flipping makes me irritable. It just takes so loooooong and all I want to do is drink coffee and check Facebook.
I think I need to teach Jordan how to flip pancakes. But then my kitchen would be even messier so maybe…not.
Instead I'll bake pancakes instead. It's way easier and just as good.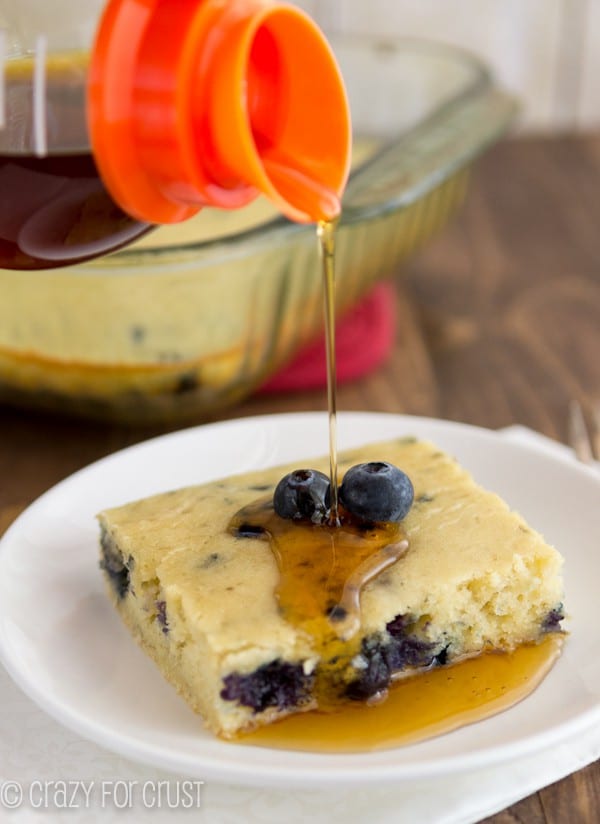 This would also be a great Mother's Day breakfast. Jordan always wants to make me breakfast in bed and Mel usually looks at me like a deer in headlights whenever she says that. I can almost feel his anxiety.
This baked pancake is easy enough for dads kids to do. Just a bowl, a measuring cup, one pan, and an oven. You can even make it the day before and just leave instructions on how to reheat it:
"Kids,
Slice. Place on a plate. Heat for 30 seconds not 30 minutes. Add 1/8 of the amount of syrup you would use. You know how many vegetables you like on your dinner plate? That's how much syrup I want.
Feel free to bring to me in bed, but it better be light out. Rather, it better be after 7am.
Love you,
Mom"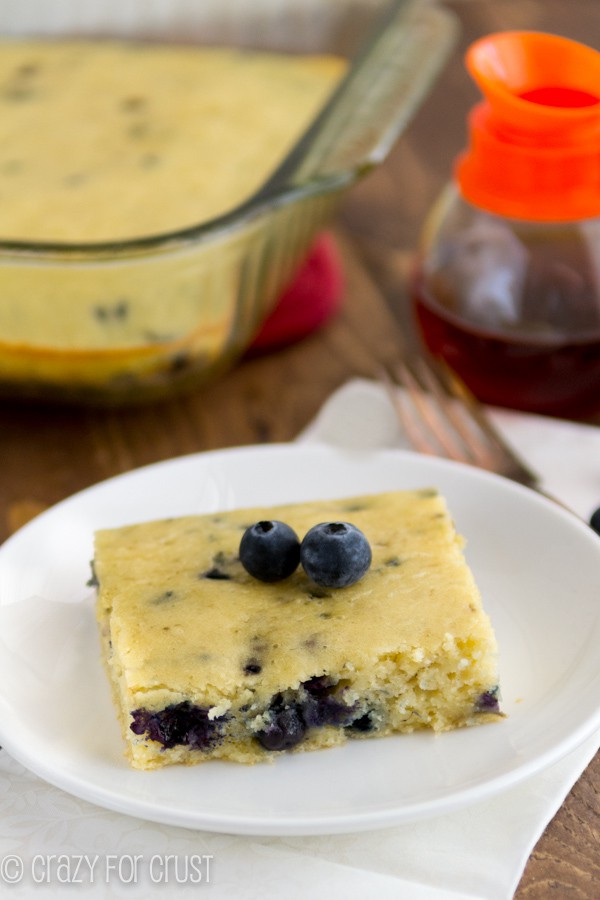 A few notes about the recipe:
I like to mix banana with the milk for my pancake recipes. I mash the banana, then add enough milk to make 1 2/3 cup. You can just use 1 2/3 cup of milk, but the banana adds a little extra sweetness and some vitamins to the pancakes.
I used frozen mini blueberries in this recipe. Jordan won't eat anything with big blueberries in it (read: normal sized ones) so I find mini ones frozen at Whole Foods. That's the only place I've ever found them. Feel free to substitute regular frozen or fresh blueberries to this recipe. Even canned and drained would probably work.
After baking for about 30 minutes, the sides are golden but the top stays light colored. The result? A fluffy, soft, and sweet baked pancake! Serve it warm, or let it cool then slice and store in sandwich bags. Store leftovers in the freezer for quick school mornings!
I'd probably eat this without syrup, but if you have a cute syrup dispenser, totally serve it up to Mom with it. (Mine came from CB2.)
Baked Pancakes are the perfect any day Mother's Day breakfast!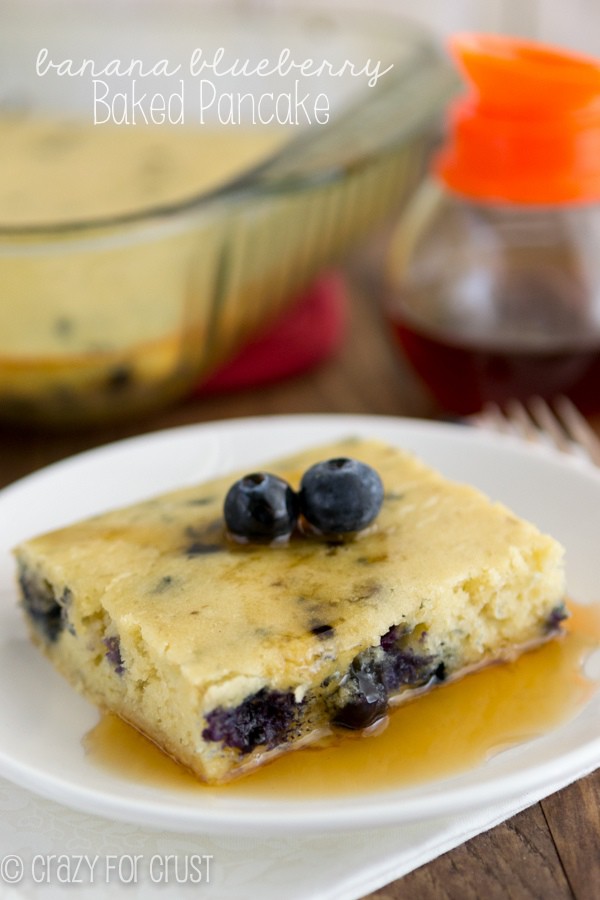 Enjoy!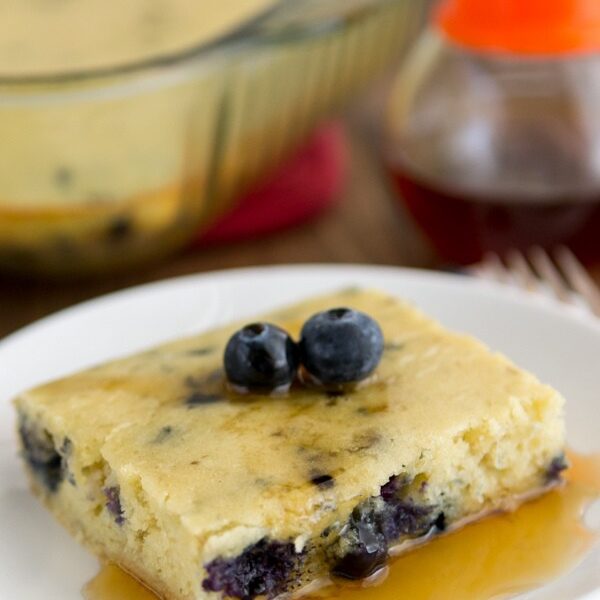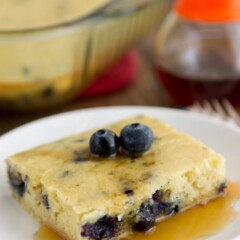 Banana Blueberry Baked Pancake
A pancake made in a pan and BAKED!
Ingredients
1 1/2

cups

all-purpose flour

3

tablespoons

granulated sugar

1

tablespoon

baking powder

1/2

teaspoon

salt

1

medium banana

mashed plus enough nonfat milk to make 1 2/3 cup (see instructions)

2

eggs

1/2

teaspoon

vanilla extract

1/4

cup

vegetable oil

1

cup

blueberries

I used frozen mini blueberries, you may want to use more if you're using normal sized berries (see note)
Instructions
Preheat oven to 350°F. Spray a 9x13" baking dish with cooking spray.

Whisk flour, sugar, baking powder, and salt in a large bowl. Set aside.

Place a banana in a large measuring cup and mash it with a fork. Add milk, a little bit at a time, stirring it into the banana, until the level in the measuring cup is 1 2/3 cup total (milk and banana). Whisk in the eggs, vanilla, and oil. (I like to use a 4 cup measuring cup and just whisk it all in there, but you can use a bowl if your measuring cup isn't big enough to hold all the liquid.)

Pour milk mixture into the dry ingredients and whisk until smooth. Stir in blueberries and pour into prepared pan.

Bake for 22-25 minutes, until it starts to get slightly golden around the edges and is no longer wet-looking in the center. It won't get very brown on top. Cool slightly before serving with syrup.

Eat warm, or slice and store in an airtight container in the refrigerator. Or place in ziploc baggies and freeze for up to 1 month. Great for reheating in the microwave for fast breakfasts!
Nutritional information not guaranteed to be accurate
Click HERE for more PANCAKE & WAFFLES recipes!
Sweets from friends:
Blueberry Dutch Baby Pancake by Averie Cooks
Oatmeal Chocolate Chip Buttermilk Pancakes by Something Swanky
Cinnamon Sugar Pancake Muffins by A Kitchen Addiction

Last Updated on February 2, 2023