We celebrated my daughter's 6th birthday last weekend. Well, we celebrated with her friends. She's a lucky girl; she's got another party with family this weekend (for her actual birthday). The theme of the party was "Disneyland," complete with character cut-outs, themed games, and cake.
Of course there was cake. There still is cake, 4 days later. Only now we have cake, and valentine treats, and candy. Oh my.
I'm buried in sugar.
And I love it.
I got one of those giant cupcake pans for Christmas, and I really wanted to use it. I wanted to do a Mickey Mouse hat on the top of the cake, and the top of the giant cupcake resembles that shape. But of course, you can't just have a giant cupcake cake. No way. You have to layer it on top of another large cake. (To maximize the leftovers, of course.)
I wanted the bottom half of the giant cupcake to resemble a cupcake liner, so I glazed it with a powdered sugar and milk mixture. In hot pink, of course. Is there another color for a 6-year-old girls' birthday? (Besides regular pink and purple?)
The ears and Mickey Mouse shapes on the sides of the bottom tier were made with frosting dough. I'm not sure where I originally found the recipe (I think it was Family Fun magazine) but it's a way to make decorations that look like fondant, but without having to buy fondant. It's super simple, made from canned icing and powdered sugar. I cut two circles for each ear and pressed them together with a Popsicle stick in between.
Frosting Dough
The cake and frosting were my favorite yellow and chocolate recipes. (One layer of each tier of each flavor.) There was chocolate filling and vanilla buttercream for the outer layers. (I used this
chocolate cake and chocolate frosting
recipe, the
yellow cake
from Annie's Eats and the
vanilla buttercream
from Baked Bree.) The bottom tier was made with two 9×9″ square pans. I used double the chocolate cake recipe and one and a half recipes of the yellow cake, one batch of the chocolate frosting, and a double batch of the vanilla buttercream.
I think she liked it, because she kept opening the refrigerator to look at it before her party. 🙂
Warning: be careful when lighting candles on the bottom layer under a giant cupcake. The flame from the candles seem to melt the frosting on the giant cupcake. Not that this happened or anything…
Happy Birthday to Jordan!
Glaze for bottom of Giant Cupcake
Ingredients:
3 cups powdered sugar
1 teaspoon vanilla
3-4 tablespoons milk
Food Coloring, if desired
Mix powdered sugar, vanilla, and milk (slowly) in a large bowl. Tint with food coloring, if desired. Line a cookie sheet with foil and place the bottom of the giant cupcake upside down on a rack on the cookie sheet. Pour the glaze over the cake, using a spatula to spread on all sides. Let set until hardened, at least 15 minutes. You can also refrigerate to harden.
Frosting Dough
Ingredients:
1/2 cup white frosting (not whipped)
1 1/2 cups powdered sugar
Food coloring, if desired
Mix frosting and powdered sugar until combined, then knead with your hands until a smooth dough forms. Work in food coloring, adding more powdered sugar if dough is too sticky. Form into or roll out and cut into shapes. Refrigerate to set, then place on cake.
Recipes on CrazyforCrust.com
Sources: Frosting Dough from Family Fun Magazine and Giant Cupcake Glaze from Woman's Day.
Recipe Linked With: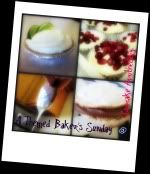 All text and images © DOROTHY KERN for Crazy for Crust. Please do not use my images without prior permission. If you want to republish this recipe, please re-write the recipe in your own words, or link back to this post for the recipe. Disclaimer: Nutrition information shown is not guaranteed to be accurate.
This post may contain affiliate links. For more information, read my disclosure policy.
Published on: February 16, 2011