This post may contain affiliate links. For more information, read my disclosure policy.
Heading to Disneyland? Don't miss these Disneyland Secrets EXPOSED! Do they work…or not? Check out our discovery of 6 Disney secrets to see if they're worth trying before your trip. Thanks to Mediavine for making this post possible.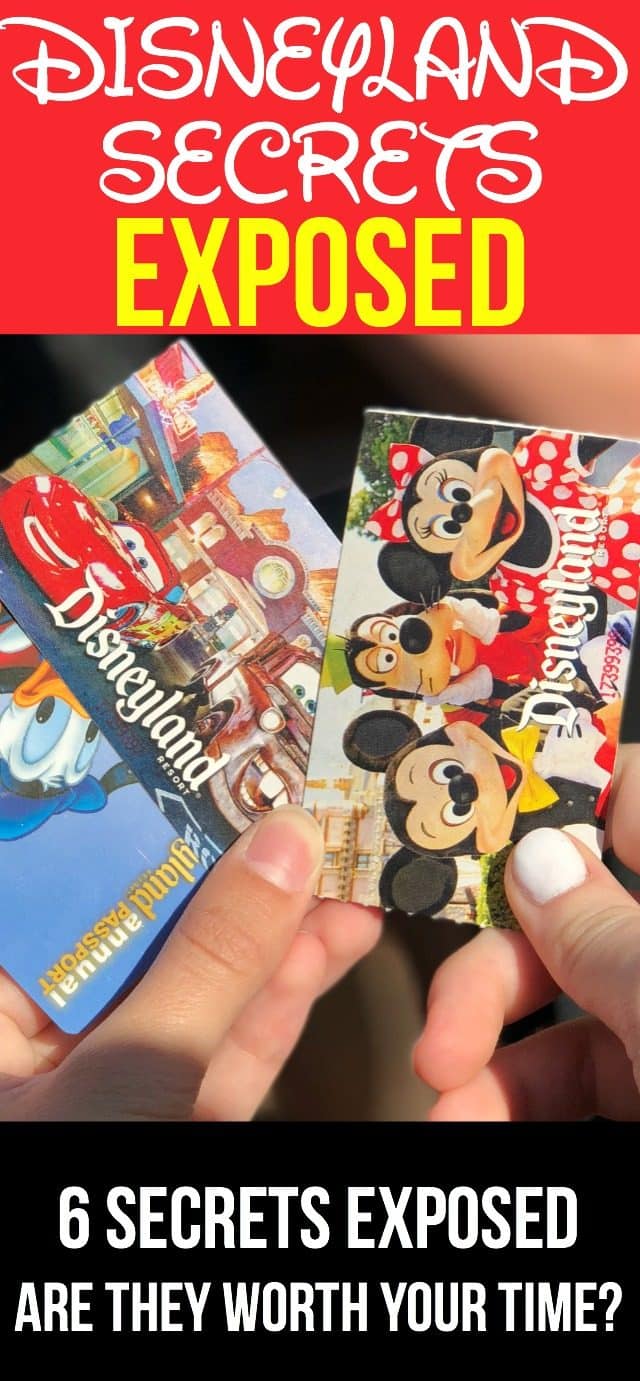 Have you ever researched Disneyland Secrets? There are a ton out there, just check on Pinterest. They range from small (noticing the apartment above the Fire Station on Main Street, where Walt Disney used to stay) to large and explosive (that the skull in Pirate's is REAL).
Disneyland secrets range from just knowing things, like the skull (because really, you can't go up to check it out yourself), to things you can actually do and try to see if they work. But do you want to spend your time trying? That's what this post is for: 6 Disneyland secrets EXPOSED. Tried and true – did they work or didn't they?
If you love Disneyland as much as we do, you've probably researched some of these secrets. And if you go as often as we do, you have time to seek them out. But what if you're visiting Disney for the first time or have limited touring time? We are taking the guesswork out of these secrets: pick and choose the ones that work that you really want to see or do!
Before we get into this post, I'd like to thank Mediavine for their support. Because of them, I was able to take my daughter and her friends who'd never been to Disneyland to visit the parks before they move. This post has been created as part of their new initiative for Mediavine, the Future Bloggers of America. Jordan and her friends were the creative directors behind the video and content below, I was just there to film it for them. 🙂
6 Disneyland Secrets Exposed: are they worth your time to explore?
Watch the video below to find out!
1. Indiana Jones Line
Pull the rope even when it says not to for a surprise!
2. Does asking a cast member how their day is get you a free pickle?
Whichever way it turns out, the Disneyland pickles are the best ones ever!
3. The Haunted Mansion…drinking ghosts?
This secret may not be appropriate for kids, but we loved it!
4. The Phone Call
You may be looking for those phones with mysterious messages all over Tomorrowland and Main Street. Check out the video to see the truth!
5. The Jungle Cruise Joke
Do the natives really talk about DISCO?
6. Buzz Lightyear Astro Blasters
Is there an easier way to get points????
Want even more? Subscribe to Crazy for Crust to get new recipes and a newsletter delivered to your inbox. And stay in touch on Facebook, Pinterest, Twitter, and Instagram for all my latest updates.
Last Updated on September 10, 2022